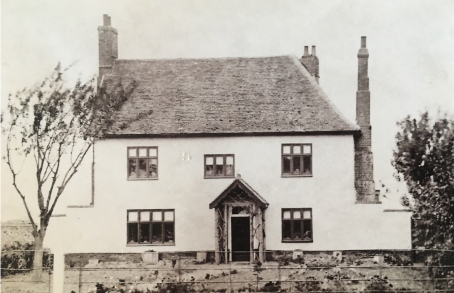 Bury Hall, Great Ellingham. Courtesy of Emma Wilson
To be unable to meet the demands of creditors would have been bad enough for William Barnard and his family to endure, but it seems that this Barnard family suffered additional heartache.
William Barnard
A son of James and Sarah Barnard (née Rose), William Barnard was born in Great Ellingham (most likely at Bury Hall) around 1835. The census returns from 1841, 1851 and 1861 capture William with his parents and siblings at Bury Hall.
By 1871, William became the head of the Bury Hall household. His mother, Sarah, had died in 1868. However, his elderly father, James (then in his eighties), continued to live with William at Bury Hall, but died just two years later in 1873.
Although William's parents were married in the Parish Church in Great Ellingham (and are both buried in the churchyard), I have not found baptism entries in the parish registers for any of their children (including William). It is possible that this was a non-conformist family, perhaps Methodists or Baptists.
The 1881 census undertaken on April 3rd, 1881 finds 46 year old William Barnard, a farmer of 256 acres, at Bury Hall with his wife Harriet and young sons, one year old James H and three month old George William. William employed seven men and one boy. The family also had a servant – local girl, thirteen year old Sarah Jane Reynolds. William Barnard married Harriet Clarke (who was some 18 years his junior) two years earlier in 1879.
Liquidation Proceedings
At the time of the 1881 census, William Barnard was in financial difficulties. Whether this was from his own negligence (or bad management of his affairs) or sheer bad luck, I don't know. In any event, this must have been a testing time for William Barnard. However, at least the Debtor's Prison was not staring William in the face, as the Debtors Act of 1869 had abolished imprisonment for debt (unless there were exceptional circumstances).
A draft of an Agreement dated 26th April 1881 between Norwich Auctioneer, Henry John Ireland, and the Rt Hon Thomas, Lord Walsingham of Merton Hall, tells us that William Barnard was unable to meet his engagements with his creditors.
Earlier, on the 5th January, Barnard's creditors had instituted proceedings in the Norwich County Court for liquidation by arranged composition with creditors under Sections 125 and 126 of the Bankruptcy Act, 1869.
At a General Meeting of the Creditors taking place in Norwich on the 25th January, 1881, it was resolved that:
the affairs of William Barnard should be liquidated by arrangement not in bankruptcy
H J Ireland should carry on the farm (Bury Hall) until Michaelmas next
H J Ireland and Lord Walsingham (the freeholder of Bury Hall), agreed to this course of action. The 1881 Agreement also dealt with the surrender and variation of a 12 year Lease which had been granted to William Barnard by Lord Walsingham in 1873, to allow for H J Ireland to carry on the farm.
In the Agreement, Bury Hall's description included barns, stables, outhouses, yards, gardens, orchards, inclosures, allotments, parcels of arable, meadow and pasture land containing altogether 256 acres, one rood and 27 perches, all then (in 1881) occupied by William Barnard.
It is unclear when William Barnard with his family vacated Bury Hall. The Register of Electors for 1882 lists William Barnard at Bury Hall. However, his name does not appear on the Register of Electors in Great Ellingham for the following year.
The Demise of William & Harriet Barnard
I believe the William Barnard late of Bury Hall, Great Ellingham is the William Barnard who died in Attleborough on the 18th March, 1885. The registration of William Barnard's death gives his occupation as a Licensed Victualler. He was aged 49 and had been suffering from jaundice and congestion of the kidneys. William's brother, James Barnard of Rockland St Peter, was present at the death.
Norfolk Pubs website lists William Barnard as the licensee of The Swan Public House in Exchange Street, Attleborough between 1883 and 1885. These dates tie in with the Barnard family leaving Bury Hall after the 1881 census and William's death.
Less than a year later, William Barnard's young widow, 31 year old Harriet Barnard died of consumption at The Hospital, Norwich on the 1st January 1886. Harriet was said to be the widow of William Barnard, farmer of Attleborough.
I have not found corresponding burials for either William or Harriet Barnard.
What became of their Children?
Sadly, it seems that both children listed with William and Harriet on the 1881 census also died. Just a few weeks (or months) after the 1881 census, the death of a George William(s) Barnard aged under one year was registered in the Wayland District. Two years later, the death for three year old James Henry Barnard was registered in the Wayland District during January and May 1883.
It is possible that William and Harriet had further children. The birth of a William George Barnard with a mother's maiden name 'Clarke' was registered during the June Quarter of 1882 in the Norwich District.
A registration of a child named James Barnard (again with mother's maiden name 'Clarke') was registered between October and December 1883 in the Wayland District. However, a death registration for a one year old James Barnard also appears in the June Quarter of 1885 in the same District.
To conclude this story on a positive note, it may be that William and Harriet Barnard left a surviving child in William George Barnard.
Sources:
Copy Draft/Agreement for Surrender of Lease. 26th April 1881. H J Ireland Esq & The Rt. Hon. Lord Walsingham. Courtesy Emma Wilson
www.parliament.uk website. https://www.parliament.uk/about/living-heritage/transformingsociety/laworder/policeprisons/case-study/introduction/debtors-relief-acts/ accessed 12.04.2020
"England, Norfolk Register of Electors, 1832-1915," database with images, FamilySearch (https://familysearch.org/ark:/61903/3:1:S3HT-D1DS-MH5?cc=1824705&wc=MX6S-KNL%3A161034801%2C161824201%2C161383801 : 21 May 2014), Norfolk > Southern division > 1882 > image 9 of 142; Record Office, Central Library, Norwich. Accessed 12.04.2020
"England, Norfolk Register of Electors, 1832-1915," database with images, FamilySearch (https://familysearch.org/ark:/61903/3:1:S3HT-D1D9-1MS?cc=1824705&wc=MX6S-V6D%3A161034801%2C161824201%2C161384701 : 21 May 2014), Norfolk > Southern division > 1883 > image 2 of 179; Record Office, Central Library, Norwich Accessed 12.04.2020
GRO Index. https://www.gro.gov.uk accessed 12.04.2020
GRO Index. FreeBMD website.
https://www.freebmd.org.uk/cgi/information.pl?cite=AgtLe3voigN%2FVJrd0U%2FzxQ&scan=1 Accessed 12.04.2020
https://www.freebmd.org.uk/cgi/information.pl?cite=%2FjC9XKkVQeGVh6VueW65mg&scan=1 Accessed 12.04.2020
1881 census RG11/1974/94
http://norfolkpubs.co.uk/norfolka/attleborough/attlws.htm accessed 15.05.2020
Death Certificates: 18th March 1885 William Barnard; 1st January 1886 Harriet Barnard. General Register Office