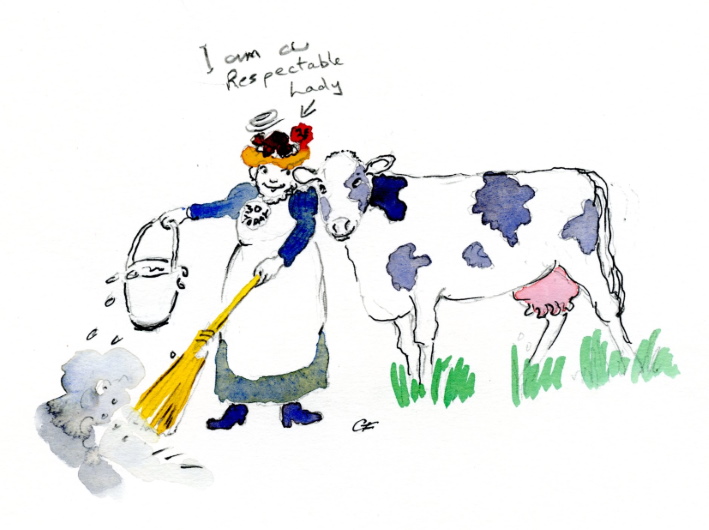 Advertisement for Housekeeper
An advertisement for a 'housekeeper to a working man' appeared in the 'Wanted' section of the Norwich Mercury of 25th February, 1905. It was stated that the housekeeper should be around the age of 30, respectable and preference would be given to applicant's with small dairy experience.
I wonder how many applications were received by the person who placed the notice – 'H. Long' of Great Ellingham? Who was 'H. Long'?
1911 census Herbert & Florence Long
The 1911 census finds Stow Bedon born Herbert Long living at Primrose Farm, Long Street, Great Ellingham with his wife Florence Mary and one year old daughter Evelyn Ellen. 38 year old Herbert was a self employed farmer.
Could this be the 'H. Long' who advertised for a housekeeper six years earlier?
Bachelor Herbert Long
The 1901 census captures unmarried Herbert Long, a farmer, living with his mother, 53 year old Emma Bennett in Long Street. 19 year old agricultural labourer (also described as a servant) James Dixon is with Herbert and his mother. The census states that Emma Bennett is married but there is no 'Mr Bennett' listed with the household.
Moving back 10 years to 1891, 23 year old Herbert Long, a coal dealer, is living with his mother 43 year old Emma Bennett (described as married and a housekeeper) at the home of his maternal grandfather 70 year old widower John Long in Mere Road, Stow Bedon. John Long was born at Morley and his daughter Emma in Thompson.
1909: Herbert Long marries Florence Williamson
Herbert Long married Florence May Williamson in 1909, two years before the 1911 census and four years after advertising for a housekeeper. A marriage between the couple was registered between July and September of 1909 in the Wayland District.
On January 2nd, 1910 their daughter Evelyn Ellen was baptised in the church of St James, Great Ellingham. Sadly, Evelyn Ellen died at the age of 5 and was buried in the churchyard of St James on January 23rd, 1915.
A year later, an entry appears in the Great Ellingham parish registers for Herbert Long, buried on November 27th, 1916 aged 46.
Nearly six years later, Herbert Long's mother Emma Bennett was also buried in the same churchyard. The burial took place on August 2nd, 1923. She was 75. At the time of her death, Emma had been living in Attleborough. The burial entry also states that Emma Bennett was known as 'Long'.
Was 'H. Long' Herbert Long of Primrose Farm?
It may well have been the Herbert Long of Primrose Farm, Long Street advertising for a housekeeper in 1905. Perhaps his mother Emma Bennett (Long) moved to Attleborough after the 1901 census (and before Herbert married in 1909) and Herbert needed someone to keep house for him and help him in the dairy.
It is also possible that Herbert's future wife, Florence Williamson, applied for the position of housekeeper but, of course, this is only speculation.
Sources:
Norwich Mercury 25th February 1905
GRO Index. FreeBMD website. https://www.freebmd.org.uk/cgi/information.pl?cite=1hHO5OtjTgp5K5vmNBjMrQ&scan=1 Accessed 30.01.2020
1911 census RG14/11473/64
1901 census RG13/1867/79
1891 census RG12/1550/7
Great Ellingham Parish Registers. Norfolk Record Office. PD/609