This story touches on the tragic death of one year old Harriet Maud Hall.
I thought carefully about whether to write about Harriet's death in 1890. It is not a happy story, but it reflects the reality of life, particularly at that time. Tragedies happened – and, unfortunately, still do. Accordingly, I came to the conclusion that I should talk about Harriet and, by doing so, Harriet will be remembered.
Loss of Children
Before many childhood diseases were controlled or eradicated, and before the discovery of antibiotics, it was once common for many families to experience the tragic loss of a child (or children).
In 1910, the first two children born to my paternal grandparents died within a month of each other. At that time, they were my grandparents' only children. James was sixteen months old and his sister Florence just six months. James died as a result of laryngitis and bronchitis, and Florence from bronchial catarrh. My grandparents must have been bereft.
However, a childhood disease or infection was not the cause of Harriet's death. She died from choking whilst eating her tea.
Harriet Maud Hall
The sixth child of Charles and Rebecca Hall (née Beales), Harriet was born on the 21st October, 1888, in a 'two-up two down' cottage in Long Street.
By July 1890, Charles and Rebecca Hall had seven children – Charles aged 10, Ellen 9, Alice 6, George 4, Amelia 3, Harriet 1 and nine month old Arthur. Save for baby Arthur, all the children had been baptised in the Parish Church in Great Ellingham.
Tragic Meal
It was on Saturday the 26th July, 1890, whilst the family were having tea, that one year old Harriet began to choke on her food. We can only imagine the horror and panic of the situation. Charles and Rebecca called on their neighbour for help. Perhaps the elder children were sent 'next door' to fetch 66-year-old Jemima Beales. However, despite all efforts, tragically, Harriet died.
Inquest
On the following Tuesday, the coroner held an inquest at the Chequers Public House. The Eastern Daily Press subsequently reported on the inquest. The verdict was that Harriet died from 'being accidentally choked'.
The inquest heard from Jemima Beales (whose husband was a cousin to Rebecca's father), that "both parents were kind and careful with their children".
The coroner also heard that Harriet suffered from a throat problem. However, the problem was not explained. Was the choking a common occurrence for Harriet? What 'throat problem' did she have?
Burial
On the 31st July, 1890, Harriet Maud Hall aged just one year and nine months, was buried in the churchyard of St James's Church.
Baptism of Arthur
A few days after Harriet was buried, ten month old Arthur was baptised in the same church. Perhaps the death of Harriet prompted Charles and Rebecca Hall to have Arthur baptised sooner rather than later.
Further Children
We do not, of course, know what effect the loss of Harriet had on the Hall family, particularly as it was in such traumatic circumstances.
However, just over a year later on the 12th September, 1891, Rebecca Hall gave birth to William. He was also baptised in the Church of St James. William was followed by Frederick in 1894, Florence in 1896 and Rose in 1901.
The family continued to live in a four-roomed property in Long Street.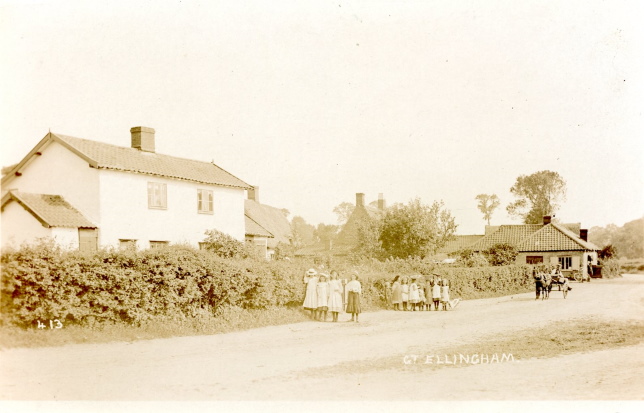 Double cottage in Long Street, Great Ellingham. Perhaps Charles & Rebecca Hall and their children lived in a similar cottage? Postcard from author's collection
1911 census
The 1911 census captures Charles and Rebecca in Long Street with some of their children: George 25, Arthur 20, William 19, Frederick 16 and nine year old Rose. Charles and Rebecca are now both in their fifties. Like their father, George, William and Frederick are all farm labourers. Arthur is also working on a farm, but as a horseman. Rose is attending school.
The Hall family's home, like many others in the village, must have been somewhat crowded when all family members were at home. Where did they all sleep?
Nonetheless, with Charles and his sons in work, I think it is fair to think that the combined income was sufficient to support them all.
Burials of Charles and Rebecca
I believe Charles and Rebecca remained living in Long Street for the rest of their lives.
Charles Halls died at the age of 65. His burial took place in the churchyard of St James on the 10th April, 1922. Three years later, 65 year old Rebecca died. She was buried on May 4th, 1925, in the same churchyard.
Sources:
Great Ellingham Parish Registers. Norfolk Record Office. PD 609. Also available at https://www.familysearch.org
30 July 1890 Eastern Daily Press. Viewed via https://www.britishnewspaperarchive.co.uk 6 July 2021
1881 census RG11/1974/90
1891 census RG12/1549/79
1901 census RG13/1867/78
1911 census RG14/11473/74