We are fortunate that the Norfolk Record Office holds an abundance of documentation relating to Great Ellingham. This includes paperwork from the 'Great Ellingham Inclosures' c.1799 and a map dated 1802.
According to the Great Ellingham Inclosure Statement of Claims, Thomas Beales claimed:
- One Cottage and Garden occupied by Thomas Margetson
- One Barn and 12 acres of Land, occupied by John Mann
Some of Thomas Beales' land was copyhold: one acre and two roods (1a 2r 0p) of the Manor of Ellingham Hall, two roods (2r 0r 0p) of Ellingham Rectory, and one messuage (presumably the Cottage and Garden) and ten acres three roods and twenty perches (10a 3r 20p) copyhold of the Manor of Bury Hall.
A schedule to a Particulars & Valuation c.1800, again prepared at the time of the Great Ellingham Inclosures, confirm that Thomas Beales owned the following which was occupied by Thomas Margetson:
No.556 House, Outbuildings, Barn, Yard and Garden comprising 0a 1r 14p 
Save for a few exceptions, the numbering used on an 1802 map of Great Ellingham concurs with the numbering used in the Particulars & Valuation. Accordingly, we can pinpoint exactly where Thomas Margetson was living around that time.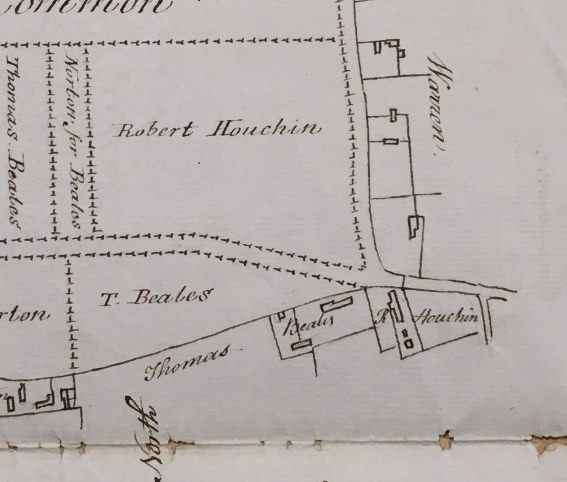 The image on the left shows an extract from a 19th century map. This shows the position of Thomas Beales's ' House, Outbuildings, Barn, Yard and Garden' towards the bottom of the map. This is marked 'Beales'. The extract from the 1802 map (image on the right) shows the same property numbered '556' with the letter 'B' near to the centre of the map.
Thomas Margetson's home owned by Thomas Beales lies along Watton Road towards Rocklands, just past the junction with Bow Street.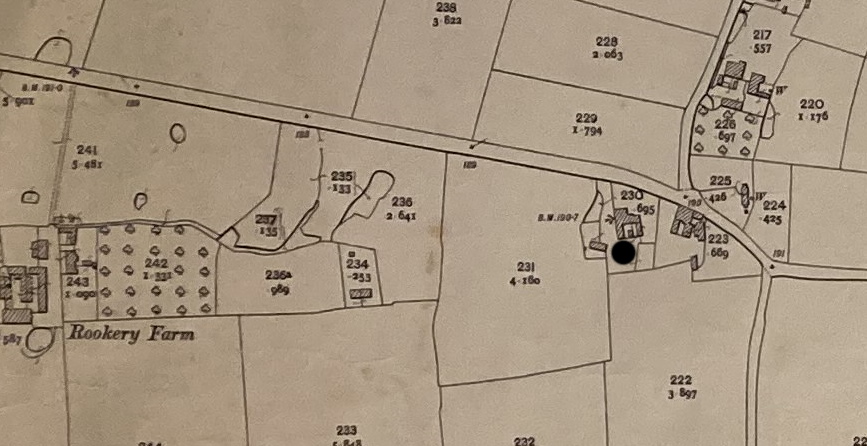 Extract from 1906 Ordnance Survey Map. Second Edition. Surveyed in 1881. Author's Collection
The above extract from a 1906 Ordnance Survey Map (drawn from a survey carried out in 1881), reveals that there was still a building (I assume a house) on the very same parcel of land.
This house was subsequently known as 'Pond Farm' and still exists today. However, I cannot say whether the house standing today is the very same house which Thomas Beales owned and was occupied by his tenant, Thomas Margetson, in 1800.
The Margetson Family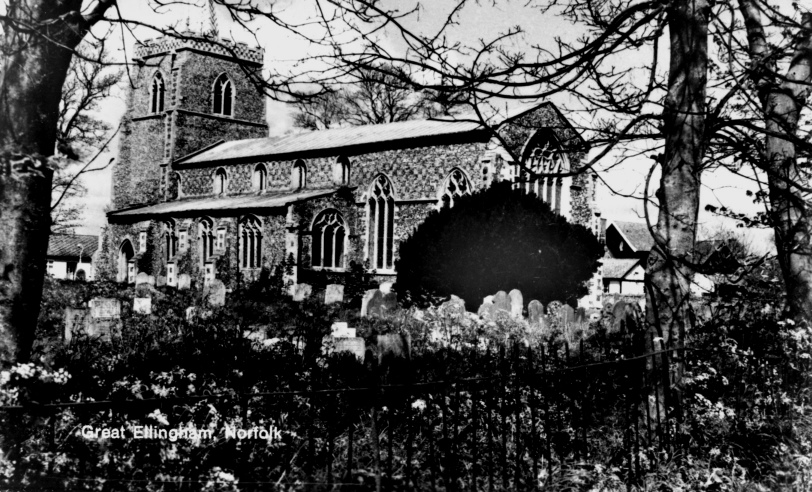 Great Ellingham Church of St James. Postcard Brian Vidler
The parish registers for Great Ellingham reveal a marriage between Thomas Margratson and Hannah Beales taking place at St James's Church on the 7th April, 1778. Both Thomas and Hannah were single and of Great Ellingham.
Differences in the spelling of names is not uncommon during the period when many people could neither read nor write.
At least 8 children of Thomas and Hannah Margratson were baptised in St James:
John on the 25th April, 1779, William on January 17th, 1781 (buried January 28th, 1781), William on October 13th, 1782, Hannah baptised October 31st, 1784, Edward on November 5th, 1786 (buried March 9th, 1810), Michael on April 19th, 1789 (buried November 25th, 1815), Mary 5th February, 1792 and Robert baptised August 2nd, 1794 (buried September 29th, 1811).
I do not know exactly how long the Margetson family lived in the house on Watton Road. However, looking at a Survey of Great Ellingham 1817-1819, it appears that Thomas Margetson has moved from Watton Road, as he is now occupying one of two cottages owned by John Robert Barnard in the Town Green area.
Thomas Beales
During the 18th century, there were at least two Beales families living in Great Ellingham.
One family was Thomas and Mary Beales (née Capes). The couple married in the Church of St James on the 28th November, 1757.
Baptisms for children of Thomas and Mary Beales appear in the parish registers between 1758 and 1781. These entries include the baptism of Hannah on November 1st, 1759 and Thomas on July 31st, 1768.
Thomas Beales senior was buried in the churchyard of St James on September 1st, 1793. His widow, Mary (née Capes) was buried on November 28th, 1797.
Their daughter Hannah married Thomas Margetson who lived in the copyhold house Watton Road owned by 'Thomas Beales'. I wonder if the owner of the house was actually Hannah's brother, Thomas Beales born c.1768.
Given that the Inclosures Statement of Claims and the 1817-1819 Survey does not show that Thomas Beales owned (or lived in) another dwelling in the village, it follows that Thomas Beales did not live in Great Ellingham at that time.
New Owners & Occupiers
William Chaplin & Edward Chaplin
The position of boundaries and the size of parcels of land can change over time. A landowner may purchase or acquire additional land. I think this is what happened to Thomas Beales' property between 1800 and 1819, as I cannot find the 'House, Outbuildings, Barn, Yard and Garden comprising 0a 1r 14p' in the Survey of 1817-1819.
However, at this time (1817-1819), I believe that Thomas Beales's house, barn, yards and garden (in a parcel of land comprising 0a 2r 6p) is now owned by Edward Chaplin, in succession to William Chaplin.
John Gall & Henry Harvey
An Estates & Occupations of Great Ellingham dated c.1836 (but no later than 1840), reveals that Edward Chaplin still owned a house in Watton Road. A manuscript annotation on the document indicates that John Gaul (Gall) later purchased the property, and it was occupied by Henry Harvey.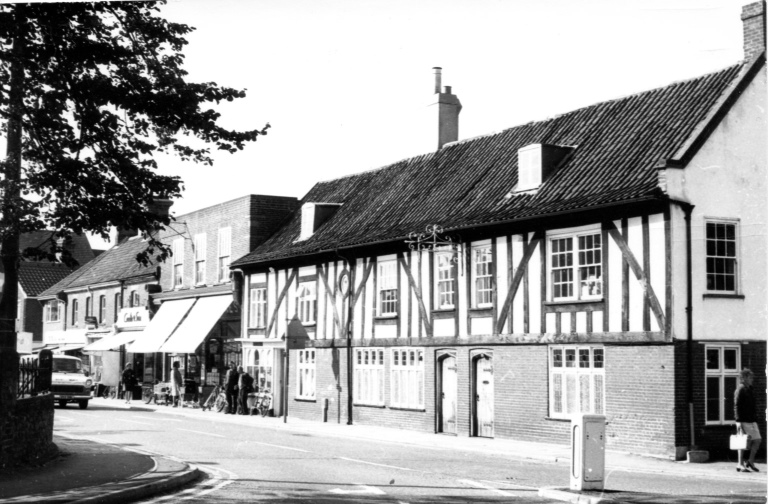 Crown Public House building Church Street Attleborough. Postcard Liz Simpson
In 1842, John Gall Jnr of New Buckenham offered the property (with three other lots) for sale by auction. The auction was held at the Crown Inn, Attleburgh on the 11th August, 1842. Lot 1 comprised:
A highly desirable Little Farm situate by the side of the road from Great Ellingham to Rockland comprising a convenient farm-house, barn, stable and other buildings with well planted orchard and garden and several inclosures of good arable land containing together about 15 acres now in the occupation of Mr Henry Harvey
The auction details also confirm that the buildings and 10a 2r 29p are copyhold of the Manor of Bury Hall, 1a 3r 17p copyhold of Ellingham Hall and 0a 2r 19p copyhold of Ellingham Rectory.
Given that I can identify the neighbouring properties (including the property later known as Rookery Farm) on the Survey of 1817-1819 as well as on the later Estates & Occupations c.1836, I am confident that the property described as Lot 1 at the auction on the 11th August, 1842, is the same property which Thomas Beales owned and Thomas Margetson occupied in 1800.
1841
The 1841 census captures 65 year old farmer Henry Harvey with his 75 year old wife Elizabeth living in Great Ellingham. Although the census does not speficially state where the couple were living, they do occupy a dwelling in an area which covers Watton Road. [NB. the ages for people aged 15 years and over were rounded down to the nearest multiple of 5. Accordingly, Henry may have been over 65 and his wife older than 75].
1851
Ten years later, the 1851 census finds 78 year old Henry Harvey and his 81 year old wife in Bow Street. However, it appears that the census lists those households in Watton Road and which are near to Bow Street as being in 'Bow Street'. Accordingly, it is likely that Henry and Elizabeth Harvey are living in the same dwelling which they occupied in 1841. By 1851, Henry Harvey had retired from farming.
Henry's retirement may have prompted John Gall to sell the property the following year.
Sources:
Great Ellingham Parish Registers. Norfolk Record Office PD 609. Also available at www.familysearch.org
1802 Russell James Colman Plans. Great Ellingham. Norfolk Record Office. Catalogue Ref. C/Ca 1/84.
1799-1842 F W Horner, Records of the Surveyors to Commissioners for Inclosure in Parishes in Norfolk and Suffolk. Great Ellingham (Act 1799). Norfolk Record Office. Catalogue Ref: NRO, BR 90/2
1800 Inclosure Commissioner's Particulars and Valuation, Great Ellingham. Norfolk Record Office. Catalogue Ref: NRO, MC 2213/119
1799 Statement of Claims. Great Ellingham Inclosure. Norfolk Record Office. Catalogue Ref: MC 2213/118
18th Century Map. Pennell & Anchor Commons in Great Ellingham. Norfolk Record Office. Cat. Ref. MC2213/114
30th July 1842 Norwich Mercury
1841 census HO107/781/8
1851 census HO107/1823/113