According to Norfolk Pubs website, Theodosia Morley became the Landlady at the Queen's Head Public House at Great Ellingham around 1865.
White's Directory of 1864 lists her husband, Samuel Morley, at a Beerhouse in Great Ellingham. I think the 'Beerhouse' is most likely the Queen's Head.
Samuel and Theodosia Morley
The 1861 census captures the couple both aged around 46 living at Baconsthorpe, Attleborough, an area not that far from the Queen's Head in Great Ellingham. Samuel Morley, described as a Chelsea Pensioner, was born in Bressingham and his wife over the border in Suffolk at Horringer.
The couple had married relatively late in life at East Harling on 21st October, 1858. The marriage register describes Samuel Morley as a 42 year old bachelor of East Harling and his occupation a pensioner. Theodosia Gostwick was said to be single, aged 43 and a servant of Bridgham. Her father was Matthew Gostwick, as shepherd. No name of a father for Samuel was entered in the register. The omittance of a father's name can indicate that a person had been born out of wedlock.
A baptism entry for Samuel appears in the Bressingham Parish Registers for the 10th May, 1818: Samuel son of Sarah Morley, single woman, born 21st March 1816.
Samuel and Theodosia Morley moved from Baconsthorpe to the Queen's Head before Samuel died on the 29th October, 1864 aged 48. Samuel's death at the Queen's Head was reported in the Norfolk News of the 5th November, 1864. He was buried in the churchyard of St James in Great Ellingham on November 3rd.
Widow, Theodosia Morley
The 1871 census captures 50 year old widow Theodosia Morley as the innkeeper at the Queen's Head. With her is her friend, 45 year old Bridgham born John Musk, a horse trainer and her nephew,14 year old scholar Samuel Sare.
Theodosia Morley died on the 14th September, 1876 aged 62 years. She was also buried in the churchyard of St James.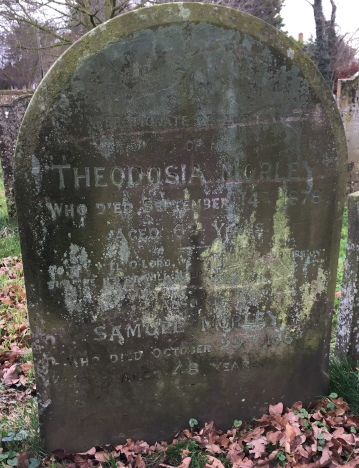 Headstone for Theodosia Morley and her husband Samuel Morley in the churchyard at Great Ellingham
Auction
Notice of an intended Auction by Executors to sell property belonging to the late Mrs Theodosia Morley appeared in the Norfolk Chronicle & Norwich Gazette of the 30th September, 1876.
The auction would take place at the Queen's Head, Great Ellingham on Monday, 9th October, 1876 and would include the following: a bay pony described as quiet to ride and drive; a short-horn cow – said to be in full profit; two sows and a boar and a few farm implements and household furniture.
Sources:
Great Ellingham Parish Registers. Norfolk Record Office PD/609. Also available at FamilySearch.org https://www.familysearch.org/search/image/index?owc=4J8C-CB7%3A29627201%3Fcc%3D1416598
East Harling Parish Registers. Norfolk Record Office PD/219.FreeReg website. https://www.freereg.org.uk/search_records/58182eebe93790eb7f52b132/theodosia-gostwick-samuel-morley-marriage-norfolk-east-harling-1858-10-21?locale=en accessed 25.01.2020
Bressingham Parish Registers. Norfolk Record Office PD/111. Norfolk Family History Society. Transcription of Bressingham Baptisms 1559 to 1837. https://www.norfolkfhs.org.uk/ accessed 25.01.2020
1861 census RG9/1237/38
1871 census RG10/1841/92
Norfolk News 5th November 1864
Norfolk Chronicle & Norwich Gazette 30th September 1876
Norfolk Pubs Website. http://www.norfolkpubs.co.uk/norfolkg/gtellingham/gtelqh.htm Accessed 25.01.2020
1864 White's Directory. Attleborough Heritage Group, Community Enterprise Centre, Church Street, Attleborough, NR17 2AH