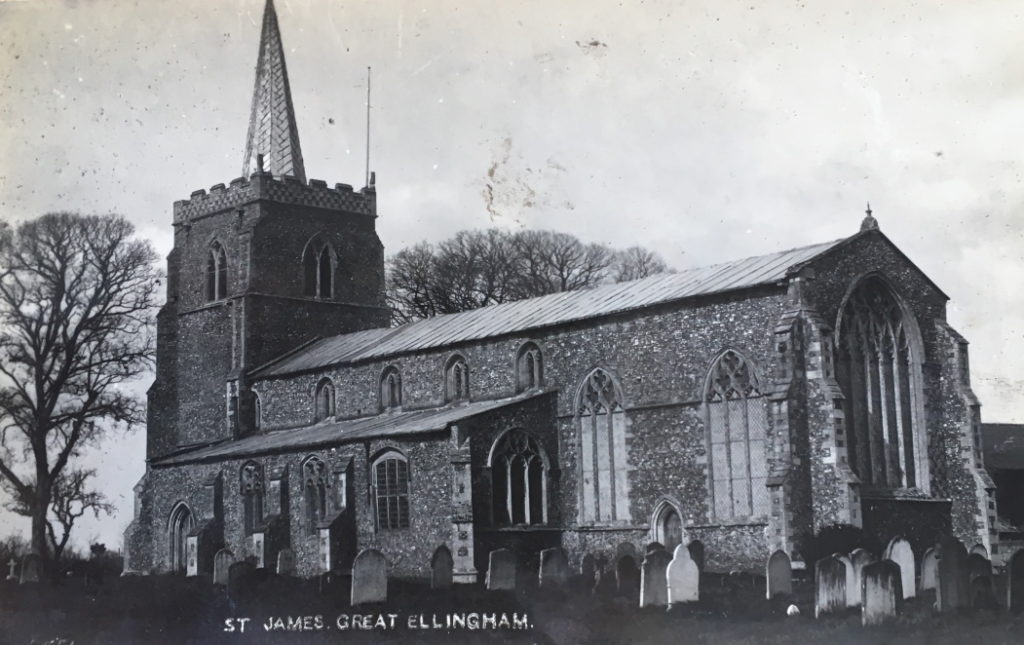 Church of St James, Great Ellingham. Postcard courtesy of Attleborough Heritage Group
Court Appearance
24 year old Samuel Spencer was amongst the prisoners appearing at the County Sessions in Norwich, on the 6th January, 1836.
Spencer stole 26 lbs of lead from the roof of the parish church in Great Ellingham. He was found guilty, and sentenced to six months' imprisonment.
Who was Samuel Spencer?
Birth
A son of Thomas and Margaret Spencer (née Page), Samuel was born on the 16th October, 1811, in the village of Brooke, some 7 miles south of the city of Norwich.
Marriage
Samuel married Elizabeth Newman in the Church of St James, Great Ellingham on the 25th October, 1832. They were both single and living in the village at the time of the marriage.
Elizabeth Newman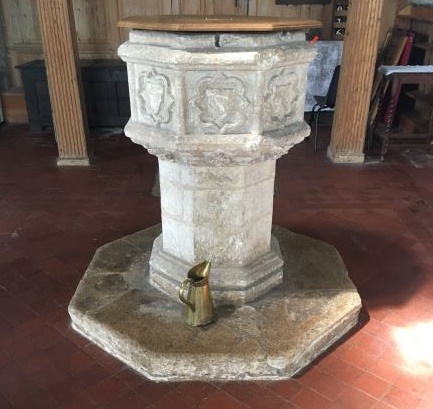 The font in St James's Church, Great Ellingham which would have been used for the baptism of Elizabeth Newman (later Spencer) in 1812 and, later in 1834, for the baptism of her daughter Lucy
Elizabeth was one of at least 7 children of labourer Thomas Newman and his wife Elizabeth (née Burroughes). She was baptised with her brother Mathew in St James's Church on April l5th, 1812.
Daughter Lucy
Two years before Samuel's appearance at the County Sessions, Elizabeth Spencer gave birth to Lucy in Great Ellingham. The couple took Lucy for baptism in the same Parish Church on the 2nd February, 1834.
1841
The 1841 census finds Samuel and Elizabeth Spencer with seven year old Lucy. Like many of the men and youths in the village at that time, Samuel is working is an agricultural labourer.
1851
By 1851, the family had moved away from the village to the town of East Dereham.
Sources:
Bury & Norwich Post 13th January 1836. Viewed via British Newspapers Archive https://www.britishnewspaperarchive.co.uk 8th April 2021
Brooke Parish Registers. Norfolk Record Office PD 599. Transcript of Brooke, Baptisms 1772 to 1853. Norfolk Family History Society. www.norfolkfhs.org.uk
Great Ellingham Parish Registers. PD 609. Also available at www.familysearch.org
1841 census HO107/781/8
1851 census HO107/1825/97