The Rosher Family's Home in Great Ellingham
The 1911 census captures Alfred Rosher with his wife and children living in a three-roomed property in Town Green, Great Ellingham, which was said to be 'Near the Hall Gates'.
Assuming that the position of the gates leading to Great Ellingham Hall has remained unchanged since at least 1911, I believe that the Rosher family's home was opposite the entrance to Great Ellingham Hall, at the corner of Town Green and Penhill Road.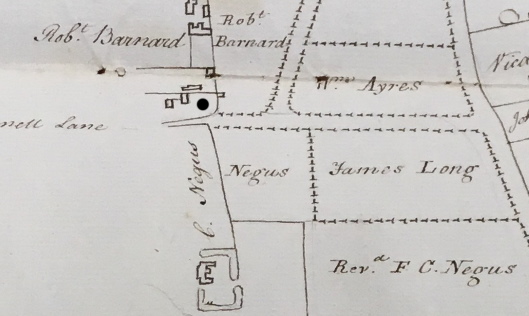 Extract from 18th Century Map. Town Green, Hyrne and Broad Commons in Great Ellingham held at Norfolk Record Office. Cat. Ref. MC2213/113, 941X7. With kind permission of NRO.
The black dot on the above extract from an 18th century map (drawn some 100 years before the Rosher family's arrival in Great Ellingham), shows where I believe the Rosher family lived. Great Ellingham Hall is to the south of Alfred Rosher's home (to the bottom of the plan).
The Rosher Family
Gressenhall born 38 year old Alfred Rosher married 25 year old Sarah Martha Leggett (of Besthorpe) in Gressenhall on the 14th November, 1892.
The 1901 census finds the couple with three children, Dorothy 7, Horace 6 and three year old Edward living in White Horse Street, Attleborough.
Whilst living in Attleborough, Alfred and his wife Sarah (who was born in Halstead, Essex), had at least three of their children baptised in St Mary's Church – Edwin (Edward) Victor Patrick on the 9th February, 1898, Bernard on the 8th November 1900 (but sadly buried two weeks' later on 26th November), and Charles Lawson (Lawrence) on the 22nd November, 1903.
Following the birth of Alfred Leonard in 1906, the family moved from Attleborough to Great Ellingham.
The 1911 census lists the family as 52 year old Alfred Rosher, his 43 year old wife Sarah Martha, and children Horace Samuel aged 16, Edward Victor Patrick 13, Charles Lawrence 7 and Alfred Leonard 4.
Alfred Rosher was a self employed fruit and seed buyer working from home. Horace worked for his father, and Edward and Charles were both attending school. The census also reveals that Sarah had given birth to seven children, five of whom were still living.
Private Edward V P Rosher
Like so many families, the events of WW1 touched this family. Aged 19, Edward Victor Patrick Rosher, a Private with the 4th Bedfordshire Regiment, was killed in action on the 23rd April, 1917. He is remembered at the Arras Memorial, France.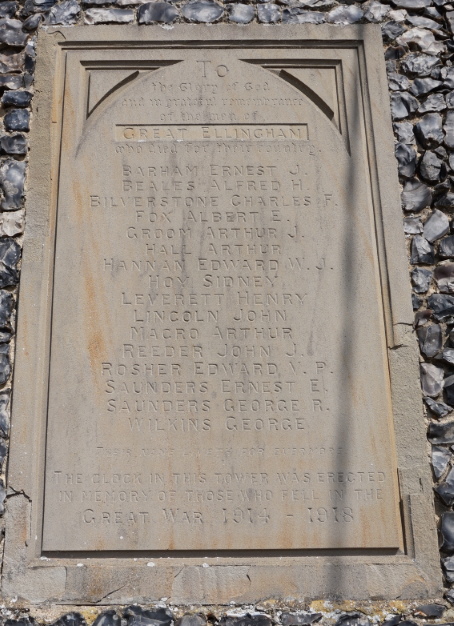 Edward's name also appears on the memorial tablet on the west side of St James's Church, Great Ellingham.
Burials in Great Ellingham Churchyard
Alfred and Sarah Rosher may well have continued to live in Great Ellingham until Alfred died at the age of 80 in 1935. He was buried in the churchyard of St James on the 3rd May, 1935.
Having outlived her husband by 20 years, Sarah Martha Rosher aged 87 years, of 214 Yarmouth Road, Thorpe St Andrew, was buried in the same churchyard on October 26th, 1955.
Sources:
1911 census RG14/11473
1901 census RG13/1867/17
Gressenhall Parish Registers. Norfolk Record Office. PD 715. Transcription FreeReg website https://www.freereg.org.uk Accessed 09 December 2020
Attleborough Parish Registers. Norfolk Record Office. PD 438. Transcript of Attleborough Baptisms 1552-1948, Transcript of Attleborough Burials 1552-1901. Norfolk Family History Society. www.norfolkfhs.org.uk accessed 09 December 2020
Great Ellingham Parish Registers.Norfolk Record Office. PD 609. Also available at www.familysearch.org
Commonwealth War Graves website. https://www.cwgc.org Accessed 09 December 2020
18th Century Map. Town Green, Hyrne and Broad Commons in Great Ellingham. Norfolk Record Office. Cat. Ref. MC2213/113.