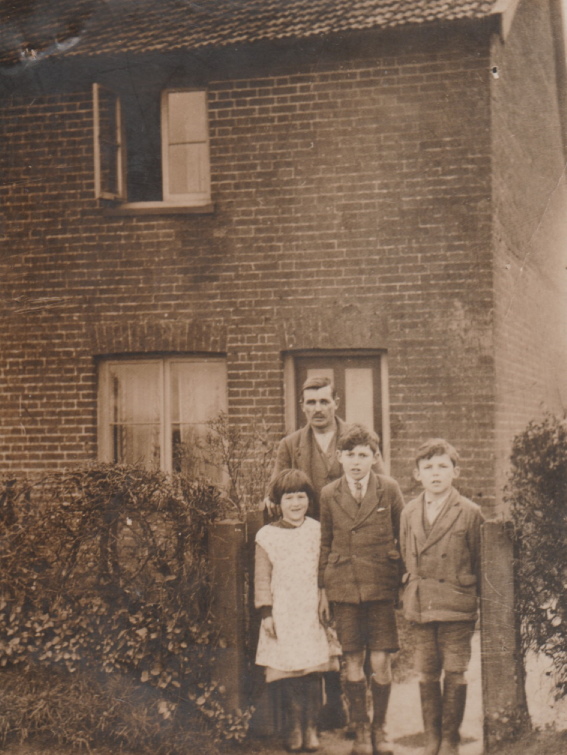 Frank Newby with three of his children. Thought to have been taken in the 1930s. Photograph courtesy of Sue Gent
Frank Newby
This is a lovely photograph capturing Great Ellingham born Frank Newby with three of his children – sons Arthur B (known to the family as Ben) born 1923, Basil born two years later in 1925 and one of his daughters – at their home in Watton Road, Great Ellingham.
At the age of 22, Frank Newby married Estella (or Estelle) Downes, who was also 22. The marriage was registered in the Wayland District between April and June, 1912. The couple may well have moved into the cottage in Watton Road soon after their marriage.
The Newby's Home in Watton Road
The Newby's 'two up-two down cottage' was one side of several pairs of semi-detached cottages which stood (and remain standing) along the Watton Road towards Rocklands, just before the detached property known as the Prince of Wales Inn. It is believed that the Newby's home was the right hand side of the last pair of cottages before the Prince of Wales Inn.
When the Newby's moved in, the cottage did not have electricity and the family obtained their water (including water for drinking) from a well, which they would have shared with their neighbours. The cottage likely had a privy (an outside toilet) in a small shed at the back of the house. It was not until 1930 that electricity arrived in the village.
When were the cottages built?
The Ordnance Survey Map First Edition Six-inch to the mile between 1879 and 1886 reveals the cottages along Watton Road. It also shows a well to the rear of the semi-detached cottages next to the Prince of Wales Public House.

Row of Cottages on the Watton Road. The Newby's Home was to the right of the cottages hidden by the trees. Photograph taken October 2019
The earlier Tithe Map c.1840 does not show the cottages. Accordingly, the row of semi-detached cottages (and the Prince of Wales Inn) were built between 1840 and the 1880s.
The Newby Children
Frank and Estella Newby had 8 children between 1915 and 1931: Harry in 1913, Ethel M two years later in 1915 followed by Doreen in 1919, Georgina a year later in 1920 with Gladys in 1921, Arthur B (Ben) in 1923, followed by Basil in 1925 and finally Edith in 1931. In addition to their own children, Frank and Estella cared for Pat who became very much part of the family.
Descendants of Frank and Estella Newby still live in Great Ellingham.
Sources:
Map Explorer website. Norfolk County Council. historic-maps.norfolk.gov.uk accessed 23.05.2020
GRO Index. https://www.gro.gov.uk/gro accessed 23.05.2020
GRO Index. Free BMD website.
https://www.freebmd.org.uk/cgi/information.pl?cite=qGLbj4%2B6UhhgcOgEkXaWlg&scan=1 accessed 23.05.2020
https://www.freebmd.org.uk/cgi/information.pl?cite=UwSOn4uz6aVA1OVByxixUQ&scan=1 accessed 23.05.2020
A Little History of Great Ellingham W R Lebbell & S Fay
My thanks to Sue Gent