Stalland Common
Stalland Common is one of several commons in Great Ellingham at the turn of the 19th century.
It lies to the north of the village, and is divided by the road to Hingham. Over the years, Stalland Common has been referred to by many variations including 'Stolland', 'Strolling' and Stolling.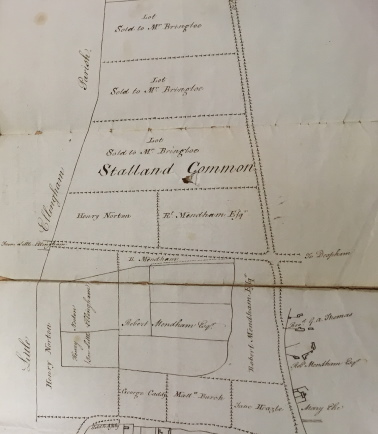 Extracts from an 18th century Map. Stalland and Bush Green Commons, Great Ellingham. All rights reserved Norfolk Record Office. Catalogue Ref NRO, MC 2213/116.
Just after the Inclosures (c.1800), Stalland Common was made up of allotments. These allotments were in different ownership, although some owners had more than one allotment on the common.
The black dot on the extract of an 18th century map indicates where a cottage (much later occupied by Edward Leech) was built.
Edward Leech's Cottage
The cottage on Stalland Common was probably built before 1844, when the Tithe Map for Great Ellingham was drawn. The cottage (or at least an earlier building), appears on the Great Ellingham Tithe Map.
Extract from 1802 Map of Great Ellingham. All rights reserved Norfolk Record Office. Russell James Colman Plans. Cat. Ref. C/Ca 1/84.
The black dot on the above extract from a map of 1802 shows exactly where the cottage was built. It was erected on an allotment which (in 1802) was owned by Jane Heasell. Jane and her husband Reuben Heasell lived at a nearby farm (later called Rose Farm) just into Bow Street, off the road to Hingham.
Edward Leech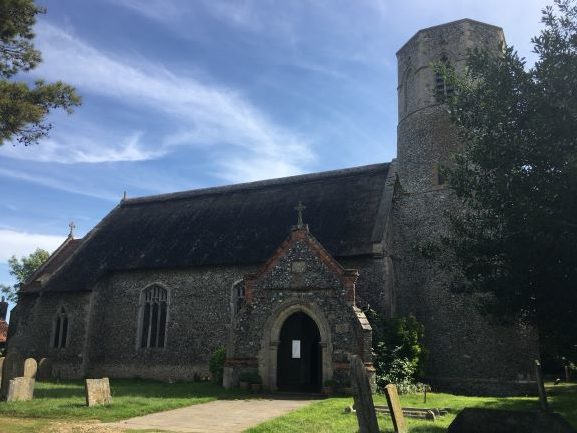 Rockland St Peter Church
Edward Leech was born to George and Emma Leech on the 18th May 1886 in Rockland St Peter. Some four months later, Edward was baptised on the 9th September in St Peter's Church, along with his brothers, Robert, James and Jesse.
According to the 1911 census, Edward (known to the family as 'Ted') was one of eleven children. Sadly, by 1911 only eight of those children were still alive (including Edward).
1891 census
Edward was probably born in the family's home in Magpie Lane, Rockland St Peter. The 1891 census captures four-year-old Edward with his parents and brothers, Robert 11, Charles 9, James 8 and Jesse 6, in a four-roomed dwelling in Magpie Lane. His father, 46-year-old George Leech, is working as an agricultural labourer
1901 census
Ten years later, George and Emma Leech together with three of their sons (including 14-year-old Edward), are still in Magpie Lane. The 1901 census shows that 56-year-old George Leech is now employed as a pork butcher. Edward, together with his brothers George 24 and James 19, is employed as an agricultural labourer.
1910 Marriage to Alice Key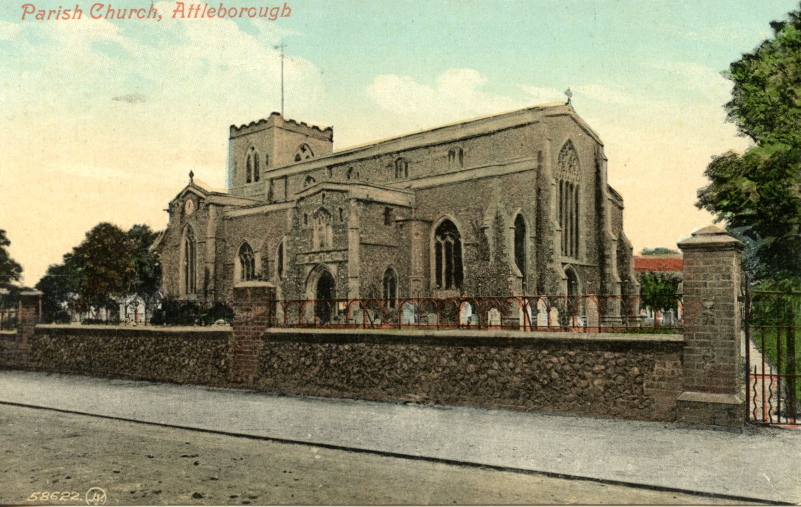 St Mary's Church, Attleborough. Courtesy Brian Vidler
On the 21st August, 1910, Edward Leech married farmer's daughter, Alice Ann Key, in St Mary's Church, Attleborough. The bride and groom were both single and aged 23. Although at the time of her marriage, Alice was a resident of Attleborough, she was born in Mattishall.
Edward and Alice began their married life in Rockland St Peter.
Children
Edward George Leech
A son was born within months (if not weeks) of the marriage. The birth of Edward George Leech was registered in the Wayland District in the 3rd Quarter (July to September) of 1910. Sadly, baby Edward's death was registered in the same quarter.
Alice Leech was probably pregnant at the time of the 1911 census, which captures Alice and Edward in Rockland St Peter.
This is the first census which records the number of completed years of a couple's marriage, as well as listing the number of children born during that marriage – those still living and those who have died.
However, in the case of Edward and Alice, the census does not record that the couple had one child who had died. Was this omitted in error or deliberately left off the census?
Alice Maud Leech
Within months of the census, Alice gave birth to a daughter, Alice Maud. Tragically, Alice Maud's death is registered in the same quarter as her birth i.e. between July and September.
Violet May Leech
We can only imagine how the couple felt when, at the end of 1912, Alice Leech found herself once again pregnant. Were Edward and Alice apprehensive about the forthcoming birth? Were they of the opinion 'third time lucky"?
Unfortunately, this pregnancy would again end in heartache. The birth and the death of their daughter Violet May was registered between April and June 1913. The loss of three babies must have been a devastating loss for Edward and Alice.
Given that the children's birth registrations also record the mother's maiden name of 'Key', I am confident that Edward George, Alice Maud and Violet May were Alice and Edward's first three children.
Childhood Diseases
Before many childhood diseases were controlled or eradicated, and before the discovery of antibiotics, it was once common for many families to experience the tragic loss of a child (or children).
In 1910, the first two children born to my paternal grandparents died within a month of each other. At that time, they were my grandparents' only children. James was sixteen months old and his sister Florence just six months. James died as a result of laryngitis and bronchitis, and Florence from bronchial catarrh. Like Edward and Alice Leech, my grandparents must have been bereft.
Further Children – Percy & Elsie
The couple would experience much happier times when on the 28th June, 1915, Alice gave birth to Percy William. Six years later, Elsie Alice was born in 1921.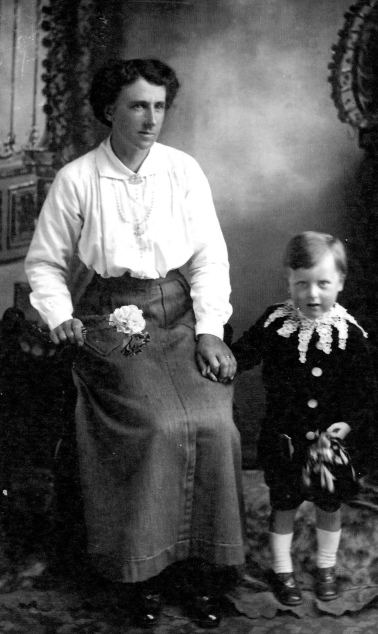 Left: Alice Leech née Key with her son Percy. Right: Brother & Sister Elsie & Percy Leech. Courtesy Dennis Leech
The Leech Family's Home at The Stalland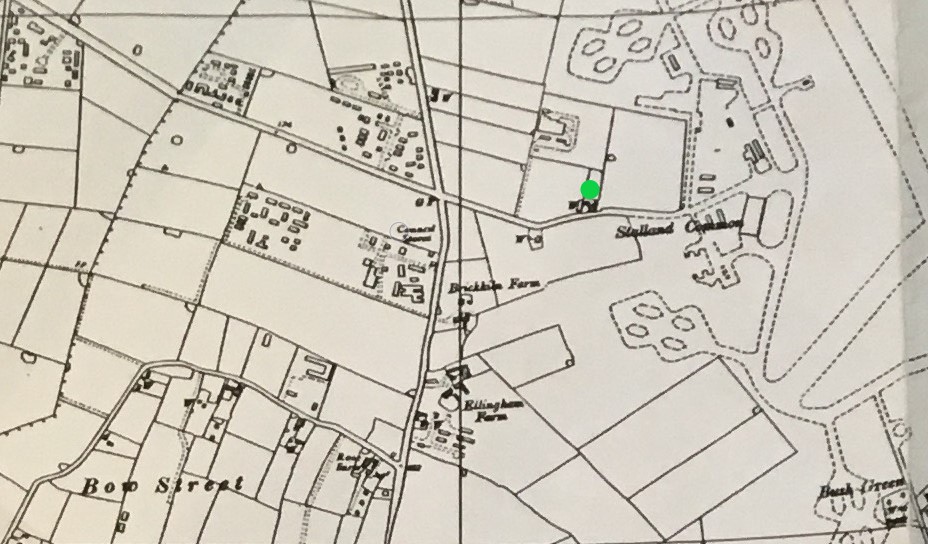 Left: Extract from O.S. Map c.1945. Courtesy Ray & Maureen Beales. The green dot identifies Stalland Farm. Right: Stalland Farm
I am unclear exactly when Ted (Edward) and Alice Leech with their two surviving children, Percy and Elsie, moved to the cottage at The Stalland. Their home was known as Stalland Farm – although, I understand Ted Leech referred to it as Stolland Farm.
However, it seems that the Leech family moved to Great Ellingham around 1923, as the records for Rocklands School suggest Percy moved to Great Ellingham School around that time. Nevertheless, it is not until 1928 that Edward and Alice are listed on the Electoral Register as being at 'Stolling Common'.
Percy & Elsie
Both Percy and his sister Elsie attended the local Board School in Hingham Road. In those days, the Boys School and Girls School were separate.
On the 7th August, 1927, Percy Leech was part of the Great Ellingham School Relay Team who succeeded in winning the challenge cup. Percy along with Alec Dove, Leslie Mills and John Hudson, won the flat race.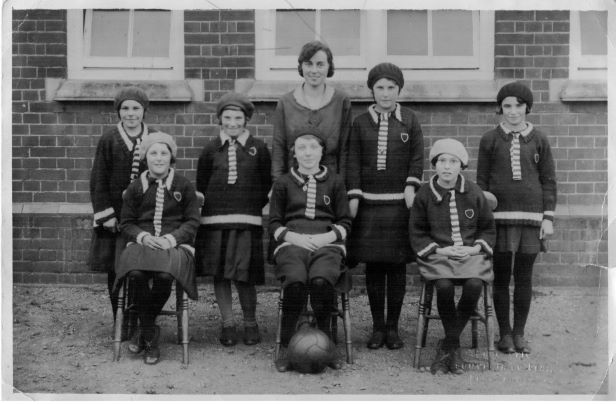 Great Ellingham Girls' Netball Team including Elsie Leech seated far right. Courtesy Carol Ewin
Elsie was part of the school's netball team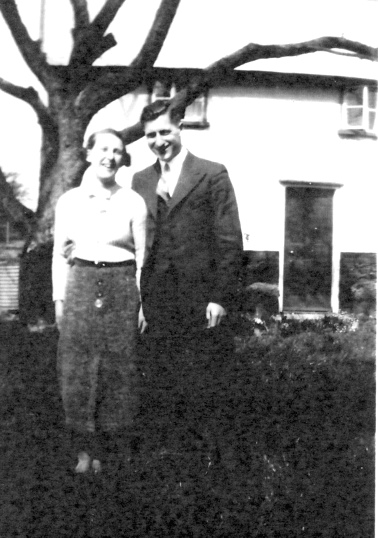 Siblings Elsie & Percy Leech. Taken at Stalland Farm. Courtesy Dennis Leech
Percy Leech moves to Redbourn
By the time Percy celebrated his 21st birthday, he had moved away from Great Ellingham to Redbourn, Hertfordshire. He rented a room at the Red Lion Public House in Redbourn. His parents and sister Elsie remained in Great Ellingham.
Kelly's 1937
Kelly's Directory of 1937 lists Edward Leach as a smallholder in Great Ellingham. Also in the village at that time was Alice's brother, Fred Key, who was a saddler and shoe repairer. His shop was adjacent to the Crown Public House.
1938 The Leech Family move to St Albans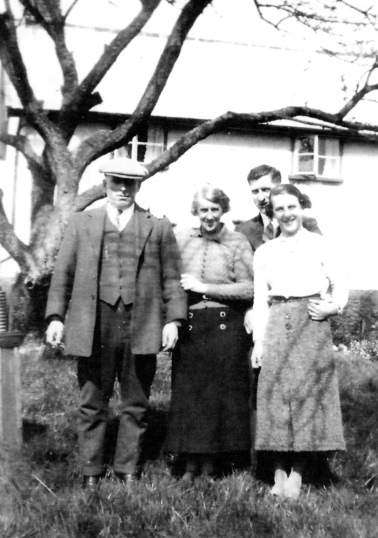 Ted (Edward) Leech with wife Alice and children Percy and Elsie. Taken at Stalland Farm. Courtesy Dennis Leech
Around 1938, Edward (Ted), Alice and Elsie also moved to Redbourn.
A year later, Percy Leech married Nellie Jarman in the St Albans District.
The 1939 Register captures Edward and Alice Leech at Watling Street (later known as Dunstable Road), Redbourn, near St Albans. Now aged 18, I believe that Elsie was still with her parents, Edward and Alice.
Percy and his wife Nellie are also captured living in Redbourn.
Sadly, Percy's wife Nellie died aged just 37 at the end of 1947. However, in 1951, widower Percy Leech married Frances Catlin in Hertfordshire.
Some years later, Edward and his son Percy would return to Great Ellingham.
Alice Leech Dies
Edward and Alice were still living at their home in Redbourn when Alice died at the age of 66 on the 18th February, 1953.
Her brother, Fred Key (the saddler and shoe repairer who also once lived in Great Ellingham), died some years earlier leaving a widow, Jessie Key.
Jessie Key Buys Property in Long Street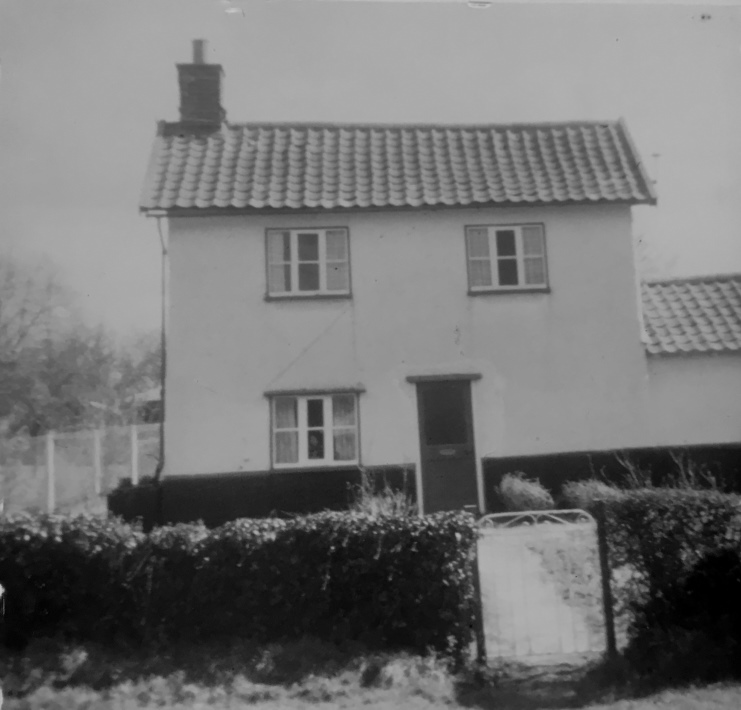 Jessie Key's Cottage in Long Street. Courtesy Ian Butler
On the 7th April 1948, widow Jessie Eliza Key of Great Ellingham purchased a detached cottage in Long Street, Great Ellingham – not far from the Post Office.
Edward Leech marries Jessie Key in Great Ellingham
Later, and both widowed, Ted Leech met up with his late wife Alice's sister-in-law Jessie Key in London.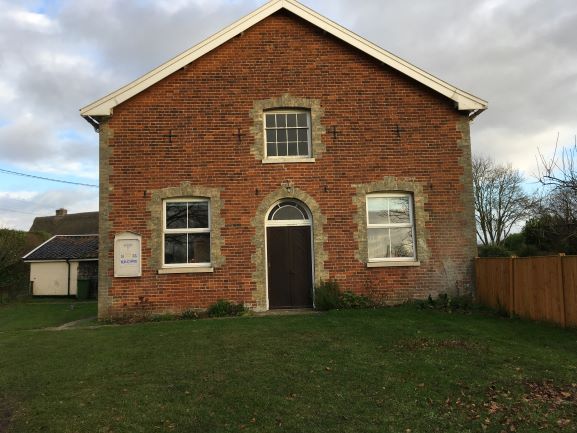 Great Ellingham Methodist Church
On February 27th, 1960, Ted and Jessie married in the Methodist Church in Great Ellingham. They may well have made their home in Jessie's cottage 'Alberta' in Long Street. It was around this time that Percy purchased the family home, 31 Dunstable Road, Redbourn from his father.
Ted and Jessie Leech participated in village life. They were captured attending one of the garden parties in the 1960s held by Margaret Dannhorn at her home in Church Street.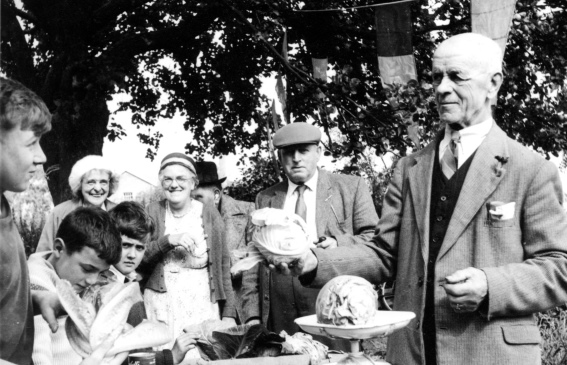 Jessie and Ted Leech (couple in centre – Ted with cap) captured at one of the garden parties held at Margaret Dannhorn's home in Church Street. c.1960s
Edward Leech died on the 1st June, 1968. Jessie Leech died on the 30th September the following year.
Percy Leech returns to Great Ellingham
On the 10th February, 1970, Edward's son, Percy Leech returned with his wife and son to Great Ellingham. He purchased Jessie's cottage 'Alberta' in Long Street.
Frances Leech died in 1990. Percy died in 2003.
Sources:
Rockland St Peter Parish Registers. Norfolk Record Office PD 336. View via www.ancestry.co.uk
Attleborough Parish Registers. Norfolk Record Office.PD 438. Transcription viewed via https://www.norfolkfhs.org.uk
1891 census RG12/1550/79
1901 census RG13/1868/75
1911 census RG14/11483/23
GRO Index https://www.gro.gov.uk/gro
GRO Index via FreeBMD website. https://www.freebmd.org.uk
Register of Electors, 1928. Southern Parliamentary Division of the County of Norfolk. Polling District of Ellingham, Great.
Great Ellingham Primary School Centenary 1896-1996 Complied by J E Watts
1939 Register (Series RG101), The National Archives, Kew, London, England. Viewed via www.ancestry.co.uk. Ancestry.com. 1939 England and Wales Register [database on-line]. Lehi, UT, USA: Ancestry.com Operations, Inc., 2018.
1953 Alice Ann Leech. England & Wales National Probate Calendar (Index of Wills and Administrations 1858-1995. Principal Probate Registry. Calendar of the Grants of Probate and Letters of Administration made in the Probate Registries of the High Court of Justice in England Viewed via www.ancestry.co.uk Ancestry.com. England & Wales, National Probate Calendar (Index of Wills and Administrations), 1858-1995 [database on-line]. Provo, UT, USA: Ancestry.com Operations, Inc., 2010.
1968 Edward Leech. England & Wales National Probate Calendar (Index of Wills and Administrations 1858-1995. Principal Probate Registry. Calendar of the Grants of Probate and Letters of Administration made in the Probate Registries of the High Court of Justice in England Viewed via www.ancestry.co.uk Ancestry.com. England & Wales, National Probate Calendar (Index of Wills and Administrations), 1858-1995 [database on-line]. Provo, UT, USA: Ancestry.com Operations, Inc., 2010.
Butler Family Deeds
Thanks to Dennis Leech