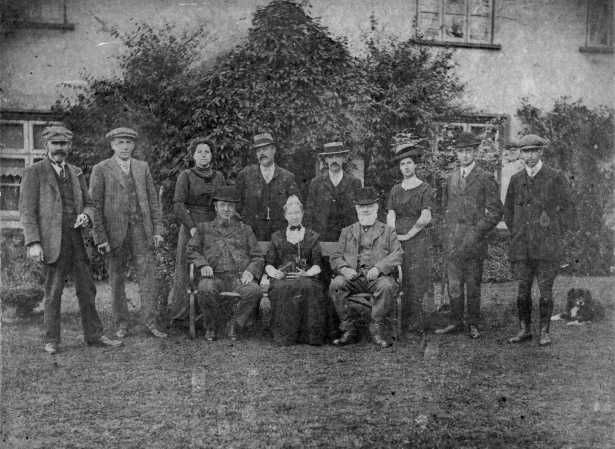 Family Gathering before 1920 at Pound Farm, Rockland All Saints, the home of John and Mary Gladden (neé Warren). George Downes back row fourth from the left and likely John and Mary Gladden are seated to the left (as facing the photograph). Photograph courtesy of Lucinda Bell-Tye
1911
The 1911 census captures 73 year old farmer, John Miller Gladden, with his wife 65 year old Mary (née Warren), at Pound Farm, Rockland All Saints. The Gladden's ten-roomed farmhouse was on the Attleborough Road opposite to the junction with Thieves Lane.
1901
Ten years earlier, the 1901 census finds the couple at a farm in Swannington (a village north-west of Norwich, between Lenwade and Felthorpe).
1868 Marriage Unites Farming Families
Stratton Strawless born John Gladden was thirty years old when he and Mary Warren (then aged around 23), married in the Church of St Peter Mancroft, Norwich on the 13th August, 1868.
The marriage united two farming families. John Gladden's father, also named John, farmed some 105 acres at Stratton Strawless. Mary's father, Great Ellingham born John Warren, farmed around 89 acres in Little Ellingham.
Married Life
1871
John and Mary Gladden began their married life with John's parents. The 1871 census finds John and Mary Gladden and their one year old son, Charles William Gladden, with 87 year old Aylsham born John Gladden and his wife, 75 year old Louisa, in Stratton Strawless. The household has a 20 year old domestic servant, Harriet Wright. John and Mary's two year old daughter, Ada Louisa Gladden, is with her maternal grandparents, John and Elizabeth Warren, in Little Ellingham.
1881
The couple continued to live in Stratton Strawless for at least the next ten years. The 1881 census reveals 43 year old John M Gladden as head of a household at Dudwick, Stratton Strawless.
It is possible that the John Gladden took over his father's farm on the death of John Gladden senior the previous year.
The census shows 86 year old widow Louisa Gladden with John and Mary and their children 13 year old Charles, 11 year old George, Agnes 8 and Henry nine months. 16 year old domestic servant, Louisa Bircham, completes the household.
1891
By 1891, the John and Mary Gladden had moved to Swannington where they likely remained living until their move to Pound Farm, Rockland All Saints between 1901 and 1911.
Death of Children
Sadly, the 1911 census tells us that three of the five children of John and Mary Gladden had died, leaving the couple with two surviving children.
Just two years after her marriage to John Thurston, 23 year old Ada Louisa Thurston (née Gladden) died in 1892. Four years later, John and Mary Gladden's surviving daughter Agnes Elizabeth died in 1896, aged just 21 years.
At the age of 40, Charles Warren Gladden, the eldest son of John and Mary, died on July 18th, 1910. Charles is buried in the churchyard of St James in Great Ellingham. His memorial incription tells us that his wife, Esther, survived him by around 34 years, and is interred at Hardwick. Their son, Charles Reginald Gladden is also remembered. He died in Canada in 1977.
Surviving Children
The two surviving children of John and Mary Gladden were sons George and Henry. George Gladden married his first cousin, Annie Matthews Warren, the daughter of Daniel William Cocking Warren and Hannah Maria Matthews.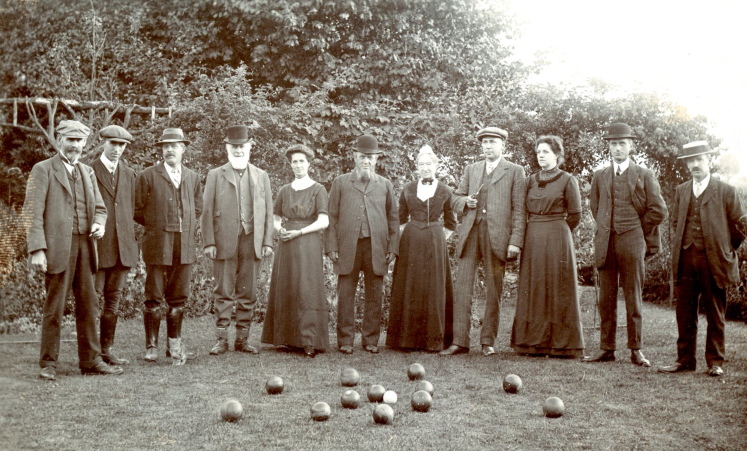 Gathering for a game of bowls at Pound Farm, Rockland All Saints the home of John & Mary Gladden before 1920. George Downes third from left (as facing photograph). Likely John and Mary Gladden are in the centre of the photograph.
Photograph courtesy of Lucinda Bell-Tye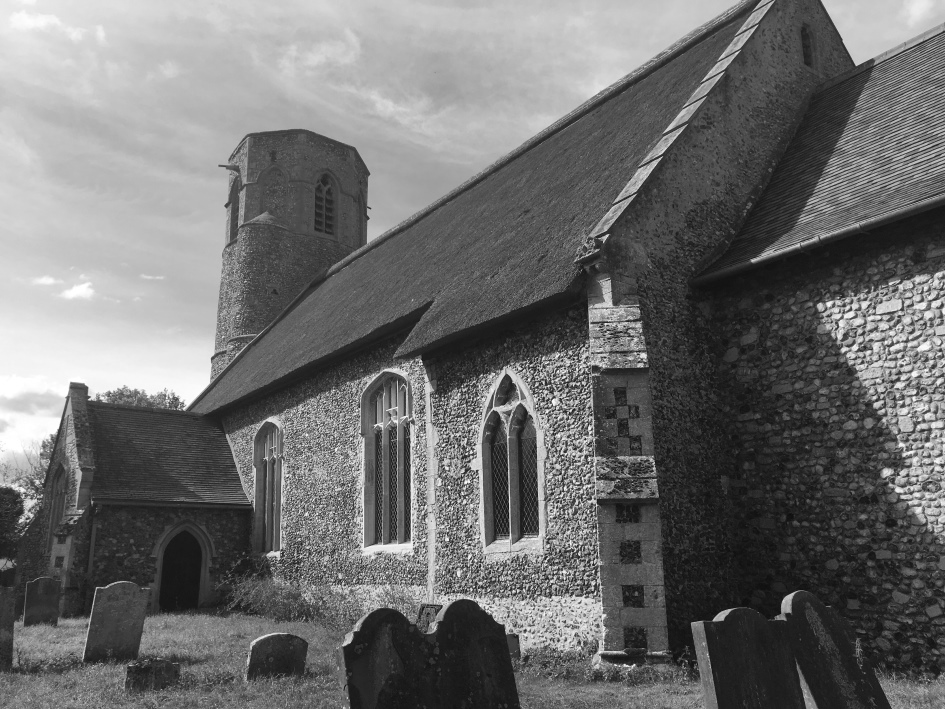 Parish Church of Rockland St Peter
Deaths in 1920
Both John and Mary Gladden died in 1920. Their memorial inscriptions in the churchyard at Rockland St Peter, confirm that John Miller Gladden was born on the 9th March, 1838 and died on the 8th November, 1920. His wife Mary (née Warren) was born on December 12th, 1845 and died on the 30th March, 1920.
Sources:
GRO Index. https://www.gro.gov.uk
GRO Index via FreeBMD website:
Death Registration Ada Louisa Thurston https://www.freebmd.org.uk/cgi/information.pl?cite=3AUoBciYaFwRiCbv71WkhQ&scan=1 Accessed 26th September, 2020
Death Registration Agnes Elizabeth Gladden https://www.freebmd.org.uk/cgi/information.pl?cite=XnvSLmtSkfbIHmuvY32O5Q&scan=1 Accessed 26th September, 2020
Marriage Registration John Thurston & Ada Louisa Gladden https://www.freebmd.org.uk/cgi/information.pl?cite=vPYMbXHBQoL0u1yy8jJkeA&scan=1 Accessed 26th September, 2020
1911 census RG14/11483/74
1901 census RG13/1832/22
1891 census RG12/1516/43
1881 census RG11/1931/118
1871 census RG10/1804/121
Norwich, St Peter Mancroft Parish Registers. Norfolk Record Office PD26. Transcription, Norwich, St Peter Mancroft, Marriages 1806 to 1965. Norfolk Family History Society.
Rockland St Peter Monumental Inscriptions 1787 to 1981. Great Ellingham Monumental Inscriptions 1499 to 2008. Norfolk Family History Society.
www.norfolkfhs.org.uk Accessed 26th September 2020