Newspaper report of the Inquest
The Norfolk Chronicle of January 27th, 1900 reported on the sudden death of 54 year old Alfred Brighton at the parish Reading Room in Great Ellingham on the previous Tuesday, the 23rd January.
At the Inquest held on the following day, Alfred's wife Sarah Ann Brighton told the County Coroner that her husband had always been in good health. She was "greatly surprised to hear of his death." A postman for over 25 years, Alfred Brighton had travelled a round of 20 miles.
William Wilkins, the sub-postmaster at Great Ellingham, told the Coroner that the deceased appeared quite well after he left the post office to go home after his day's work. He later saw the deceased in the Reading Room playing bagatelle with his son. Suddenly, the deceased appeared to faint and despite trying to support himself against a desk, he fell to the floor.
A further witness at the Inquest was farmer William West. He told the Coroner that he too was at the Reading Room and saw the deceased fall to the floor. Both William Wilkins and William West went to the deceased's assistance. However, there was little they could do. Alfred Brighton died almost at once.
In the opinion of Dr C G Ellis of Attleborough, the deceased died from "sudden failure of the heart's actions, arising from exertion after a long day's walking". He was also of the opinion that "if the deceased had taken a meal in a reasonable way, and gone to bed to recuperate himself, he would probably have been alive now."
The Coroner returned a verdict of "death from natural causes".
Albert mistakenly reported as Alfred
I had difficulty in finding Alfred Brighton on the 1891 census which was undertaken some 9 years before his death. However, I found a rural postman Albert J Brighton born in Wilby and of a similar age living in the Street, Caston in 1891. With Albert was his wife Sarah and children Catherine 14, Bazett 8 and Beatrice aged 3.
I also found a burial for an Albert James Brighton in the Great Ellingham Parish Registers on the 26th January 1900 aged 55 years.
Accordingly, I believe reference to the deceased being Alfred Brighton in the newspaper report of January 27th, 1900 was erroneous. It should have read Albert Brighton.
The 1901 census captures 49 year old widow Sarah Brighton (born in Old Buckenham) with son Amos aged 27 a journeyman baker, 24 year old daughter Catherine, a dressmaker, 18 year old son Bazett, a bottle washer and thirteen year old daughter Beatrice living in Attleborough Road, Great Ellingham.
By 1911, Sarah with her daughter Beatrice had moved from Great Ellingham to Oak Street, Norwich.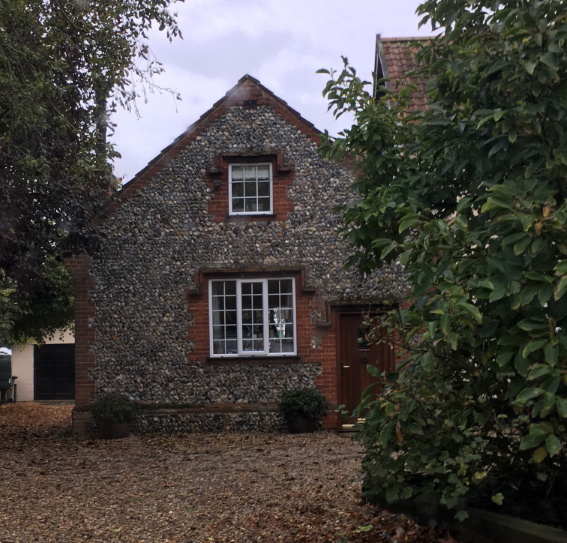 Formerly the National School built in 1865. Later used as a Reading Room and Village Hall.
The Reading Room in the village was the former National School Building adjacent to the Old Parsonage on the Attleborough to Watton Road.
Sources:
Norfolk Chronicle January 27th, 1900
1891 census RG12/1550/51
1901 census RG13/1867/81
1911 census RG14/11257/228
Great Ellingham Parish Registers. Norfolk Record Office. PD/609