Fellow local historian, Cynthia Budd, has meticulously researched the men listed on the Great War Memorials throughout the Shellrock Benefice (Great Ellingham, Little Ellingham, Rockland All Saints, Rockland St Peter and Shropham with Snetterton).
She has kindly allowed me to reproduce her tributes to the Great Ellingham men, on the Great Ellingham One-Place Study website.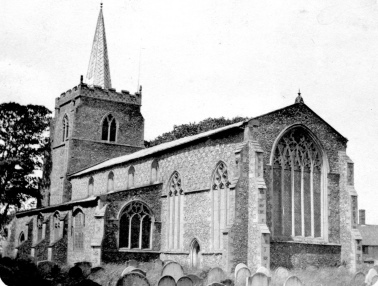 The following is Cynthia's piece commemorating Stoker 1st Class K/39160, Frederick Charles Reeve, Royal Navy. Frederick's name does not appear on the Great War Memorial tablet at St James's Church. He is, however, buried in the churchyard.
Frederick was born in Cranworth 17 October 1888 and baptised there 25 November 1888. His parents were William, an agricultural labourer (later shepherd) and Ellen nèe Abel. Frederick was the second of their three children, he had an older sister, Florence, and a younger brother, Alfred. 
The family lived in Cranworth on Census day 1891. In 1901 and 1911 they were in Long Street, Great Ellingham. Frederick became a gamekeeper. His marriage, in Swaffham District, was registered in the first quarter of 1913, spouse; Great Ellingham born Lucy May Carter. The birth of a daughter, Freda, was registered in the first quarter of 1914, Swaffham District.
Frederick's Royal Navy Service Record commences 28 December 1916. On that day he and several other men were transferred to the Navy from the Royal Naval Volunteer Reserve (RNVR). The RNVR fought as infantry, initially under the authority of The Admiralty, later the War Office. 
There is no record of how long Frederick had been serving in the RNVR. On joining the Navy he was described as 5' 5", chest 38", dark brown hair, grey eyes, fresh complexion, former occupation; game-keeper. He had a scar on the forefinger of his left hand. 
He commenced his service as Stoker 2nd Class at HMS Victory, a shore-based training establishment. He began his sea-going service in April 1917 on HMS Maidstone, a submarine supply-ship and remained with her throughout his Naval career, character; 'very good'. He was promoted to Stoker 1st Class 13 September 1917. 
The Maidstone was still carrying out War Operations on 24 July 1919 when Stoker Reeve lost his life. His cause of death is recorded as 'Heat Apoplexy onboard' (or heat-stroke). His death was registered in Devonport District and his body returned to Great Ellingham for burial. 
His grave is in the south area of the churchyard marked with a private headstone. 
His CWGC commemoration reads; 
'Son of Mr. and Mrs. W Reeve, of Hardingham Rd., Hingham … husband of Lucy M Thetford (formerly Reeve), of Church St., East Bradenham, Norfolk'. 
Frederick's parents appear to have left Great Ellingham by 1913. Lucy's mother, Anna Carter lived in the village throughout the War years, in Town Green. It is possible that Lucy and her daughter were living with Anna when Frederick died. Lucy remarried in 1920 (registered Q1 Mitford District). Her spouse was Robert Thetford and they went on to have five children. Lucy died in 1984.
Stoker Reeve was awarded the British War Medal. 
With many thanks to Cynthia Budd and Chris Clarke.
Cynthia's sources. Please note that the sources include research carried out in relation to all the 'fallen' of the Great War throughout the Shellrock Benefice. Accordingly, not all the sources will be applicable to Great Ellingham :
Ancestry UK: Birth, Marriage, Death and Parish Records. Census Records and Electoral Rolls. Probate Records.Military Records; Army/Navy Service Records. UK Soldiers Died in the Great War Roll. Medal Index Cards. Medal Award Rolls. The Register of Soldiers' Effects. War Diaries. Canadian Military Records.
Archant Archives, Norwich. Also Thetford Library; The Thetford & Watton Times.
Australian War Records Websites: https://rslvirtualwarmemorial.org.au https://recordsearch.naa.gov.au
Commonwealth War Graves Commission
FindMyPast; Military Service Records. Electoral Rolls. British Newspaper Archive. The 1939 Register.
The General Record Office.
The History of the Norfolk Regiment 1914-1918 F Loraine Peter OBE
The London GazetteThe National Archives
The Norfolk Heritage Centre, The Forum, Norwich. Breckles and District Deanery Magazines. Norwich Mercury (Microfiche)
The Norfolk Record Office.
Norwich Cathedral Library; 1919 Diocesan Roll of Honour.
Picture Norfolk https://www.norfolk.gov.uk/libraries/picture-norfolk
The Red Cross https://grandguerre.icrc.org
Various Regimental Websites