We may think it unusual today to see an item of clothing or bedding mentioned as a legacy in a will, unless, of course, it was of some sentimental value.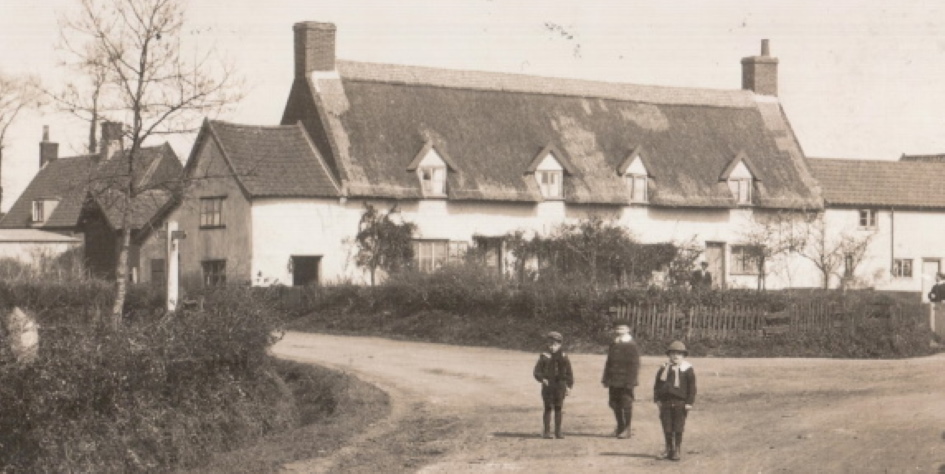 The thatched house in the centre of the postcard is believed to have been once the home of shopkeeper, Sarah Smith. Courtesy of Carol Ewin
However, in 1784 when Sarah Smith, a shopkeeper of Great Ellingham, made her will, it was not unsual for wearing apparel and household goods to be mentioned in a will. In Sarah's time, these were valuable items and were often left as gifts in wills.
Wills can provide a family historian with additional information. Often family members or friends are referred to by name along with their occupation and place of abode. 'Missing' names could mean that a husband, wife, child or other relative had died before the will was made – or that there was some other reason why they are not named!
The gifts of specific items gives us an insight of what the deceased owned and what he or she may have treasured.
Sarah Smith buried 10th May 1784
Sarah Smith, spinster, was buried in the Church of St James at Great Ellingham on May 10th, 1784. No age was given in the register.
However, given that the life expectancy for a newborn child was only around 40 years by 1800 (in the sixteenth century and up until then, only around the mid-thirties), Sarah may well have been no more than 40 when she died. There were, of course, exceptions to the rule so this is little more than a guess.
Content of Sarah Smith's Will
In her will, Sarah Smith appointed her brother John Smith of Old Buckenham and her sister, Ann Smith, of Attleburgh (also a shopkeeper) as her executor and executrix.
Sarah gave the dwelling where she lived (together with the outhouses, yards, garden ground and everything else which belonged to the dwelling and to her occupation as a shopkeeper), to her kinswoman (blood relative) Sarah Smith. This dwelling adjoined another which was also owned by Sarah but occupied by John Turner.
Sarah Smith left the dwelling occupied by John Turner to her sister Ann Smith, but only for the 'term of her natural life' and on condition that Ann paid (with the beneficiary Sarah Smith) an equal share of the expenses in respect of repairs, policies, quit rents etc on the whole premises (i.e. both properties together).
On the death of Ann Smith, the property occupied by John Turner would pass to Sarah Smith (kinswoman of the Testatrix), who also inherited all of Sarah Smith's furniture, linen and personal estate subject to the payment of the deceased's debts, funeral expenses and probate expenses and subject to the following legacies:
Sarah Smith bequeathed the sum of "Pound One Shilling" to her brother Thomas Smith.
Sister Ann Smith was allowed to chose any part of Sarah Smith's apparel.
To her kinsman Thomas Smith (this would be another blood relative with the name Thomas Smith but not likely Sarah's brother Thomas Smith), she gave one large silver table spoon and one silver punch ladle – although Thomas could choose to have half a dozen silver teaspoons in the place of the silver punch ladle.
William Smith (also referred to as Sarah's kinsman) was also to receive one silver table spoon with either the silver punch ladle or the half dozen silver teaspoons – whichever Thomas Smith chose not to have.
To each of her kinsmen Thomas and William Smith, Sarah gave "one pair of fine Hempon sheets marked SS"
To her kinswoman Jane Smith, Sarah left one half of her wearing apparel (the remainder of what her sister Ann Smith did not choose) together with 'half a dozen figured Damask napkins also one fine Holland sheet and one Russia Duck sheet and one pair of fine pillowcases"
The will was signed by Sarah Smith on the 28th day of February, 1784 and in the presence of three witnesses – Alice Sippons (Sippens), William Reeve and Susannah Cockle.
Following Sarah Smith's burial in May 1784, probate was granted to her brother John Smith (with power reserved to her sister Ann Smith).
Sources:
Wills, S. (2013) How Our Ancestors Died. Pen and Sword Family History. p 4. ISBN9781781590386.
Norfolk: Norwich – Index of Wills Consistory Court 1751-1818. 1784. Smith, Sarah, Great Ellingham, N, shopkeeper 312 Whitesides. Viewed on microfilm at the Norfolk Heritage Centre.
Great Ellingham Parish Registers. Norfolk Record Office PD/609. Also available at FamilySearch.org https://www.familysearch.org/search/image/index?owc=4J8C-CB7%3A29627201%3Fcc%3D1416598