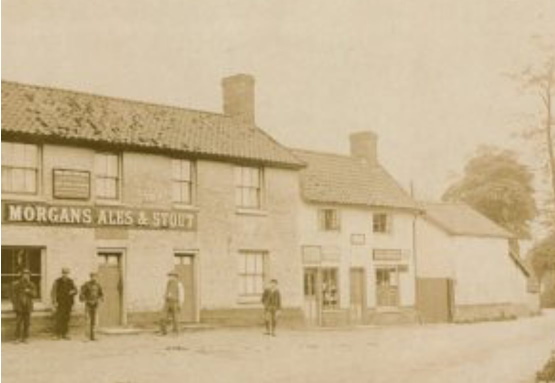 Crown Inn with neighbouring shops. Postcard Carol Ewin
Auction 13th August 1868
Amongst the properties being auctioned by Messrs Standley & Sons at the Crown Inn, Attleburgh (Attleborough) on Thursday 13th August 1868, were premises adjoining the Crown Inn in Great Ellingham.
The premises were described as a freehold cottage and shop with stable, hayloft, other buildings and garden occupied by James Dye. The premises were also said to adjoin the public road leading to Deopham and Rockland.
James Dye, Grocer
I believe the James Dye referred to as the occupant of the premises, to be the James Dye, found on the 1871 census at Hingham.
James, a Grocer, and his wife Anna Maria (Anna Mary) were both born in Ellingham. In 1871 they were living in the Market Place at Hingham. Their elder daughter Alice aged 11 was born in Surrey, the "middle" daughter, 7 year old Anna was born in Attleborough, and their youngest daughter Kate aged 4 was born in Ellingham.
Assuming 'Ellingham' to be Great Ellingham (and I do not believe it to be otherwise), then this ties in with this James Dye and his family most likely being in Great Ellingham in 1868.
A baptism for a James Dey (Dye) the son of Richard & Mary Dey appears in the Great Ellingham Parish Registers for 29th May 1831. Incidentally, the name Dye is written as Dey and Dye in the Parish Registers.
In 1851, James is living with his parents and brother Robert at Low Common, Great Ellingham.
Moving forward, the 1881 census finds James and Anna Dye in Norwich Street, Dereham. Their three daughters are still with them along with a son, Frederick W aged 4. James is described as a greengrocer. This census confirms that both James and his daughter Kate were born in Great Ellingham and wife Anna born in Little Ellingham.
By 1911, James Dye is widowed and still living in East Dereham. He occupies a six-roomed dwelling. Living with James is his unmarried daughter, 37 year old Anne Mary, and 17 year old grandson Basil Allen, a steel and brass screw maker, also born Great Ellingham. James, now aged 78, is no longer a grocer but a carrier's delivery agent.
Earlier Dye Family
James's father Richard is likely to be the Richard Dey baptised with his brother Charles in Great Ellingham Parish Church on October 12th, 1794, the sons of Richard & Anne Dey.
Anne was formerly Anne Clarke. Going further back in the Parish Registers, a Richard Dey son of Jonathan and Mary Dey was baptised on January 5th 1759.
Sources
1851 census HO107/1823/124
1871 census RG10/1824/82
1881 RG11/1979/104
1911 census RG14/11519/219
Great Ellingham Parish Register NRO/PD/609
Norfolk Chronicle & Norwich Gazette July 25th 1868