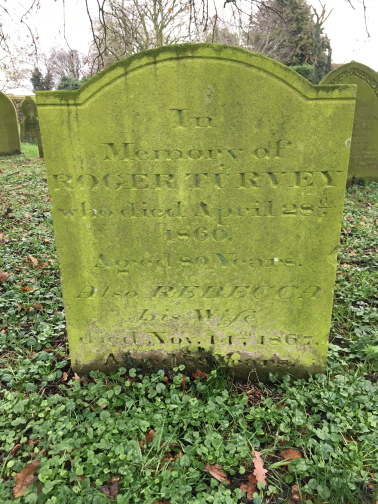 Headstone memorial for Roger Turvey and his wife Rebecca in Great Ellingham Churchyard
Roger Turvey died on April 28th, 1860 aged 80 years. He was buried in the churchyard of St James's Church a few days later on the 4th May.
Who was Roger Turvey? Was he a local man?
The 1841 census captures Roger and Rebecca Turvey living in Great Ellingham. The census undertaken 10 years later tells us that Roger Turvey was born in Wortham, Suffolk and his wife Rebecca in Reymerston(e) just over 6 miles from Great Ellingham.
The Turveys were living in Great Ellingham from at least 1832. The Norfolk Register of Electors for Great Ellingham for the year 1832 lists Roger Turvey living in the village and being an owner and occupier of a farm-house and land at 'Penhill Common'.
The 1851 census shows Roger and Rebecca Turvey living in 'Pen Hill'. I believe that Roger and Rebecca continuously lived in Penhill Road from at least 1832 for the remainder of their lives. Indeed, the 1859 Norfolk Register of Electors lists Roger Turvey as a 'Farm' owner and occupier in Penhill Road.
At the time of his death in 1860, Roger Turvey owned a double cottage with agricultural buildings and land at Penhill, Great Ellingham together with an enclosure of land containing just over two acres also at Penhill. The double cottage and the enclosure of land adjoined the road leading from Shropham to Ellingham – Penhill Road as we know it today.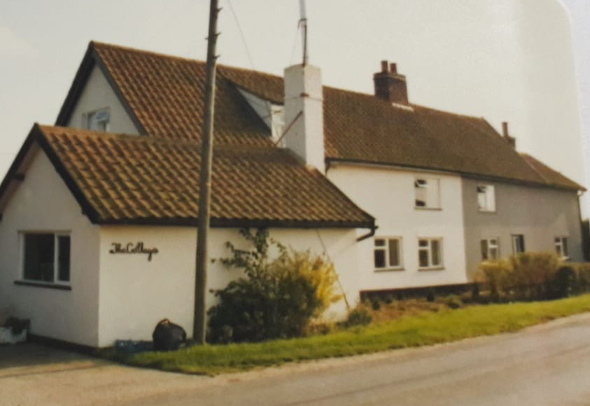 Double Cottage at Penhill Road believed to have been occupied by Roger & Rebecca Turvey and later William & Lucy Brighton from around 1830s to 1880s. Photograph courtesy of the McDouall family
Roger Turvey's Last Will & Testament
In his last Will and Testament dated the 28th July, 1859, Roger Turvey of Great Ellingham appointed James Rose, a shopkeeper of Attleborough, and his grandson-in-law William Brighton, farmer, of Great Ellingham as his executors.
The two executors proved the Will together with a Codicil in the Norwich District Probate Registry on the 23rd May, 1860, less than a month after Roger Turvey had died. The Codicil was said to be immaterial to the property referred to in Roger Turvey's Will.
Roger Turvey left all is property to his wife Rebecca 'for and during her natural life' after which his property would pass to his granddaughter Lucy Brighton on the same terms. Lucy was the wife of William Brighton, one of his executors.
In the event that Lucy died before her husband William Brighton, then Roger Turvey's property would pass to William Brighton 'for and during his natural life' and on the death of both Lucy and William Brighton, the property would pass equally to the 'lawful' children of Lucy and William.
Lucy Allison
The Turvey's granddaughter Lucy Brighton was formerly Lucy Allison. A Lucy Allison was baptised in the parish church at Rockland All Saints on the 4th October, 1835. Lucy, born on the 24th September, 1835, was the daughter of Miles Allison and his wife Sophia (maiden name Turvey). I have no doubt that Sophia was the daughter of Roger and Rebecca Turvey.
The 1841 captures 5 year old Lucy Allison living with Roger and Rebecca Turvey in Great Ellingham. The family have three male servants: 19 year old William George, 26 year old Robert Houchin and 14 year old Joseph Turvey. 65 year old Amy Barrat completes the household.
Twenty two year old Sophia Allison of the parish of Rockland St Andrews was buried in the churchyard at Great Ellingham on the 22nd May, 1836. The loss of her mother could be the reason why Lucy Allison is with her maternal grandparents in 1841 and remained living with them.
The 1851 census shows 15 year old Lucy with her grandparents, Roger and Rebecca Turvey at 'Pen Hill'. 18 year old George Offord, a farm servant and 21 year old farm labourer, John Lock, described as a lodger is also with the family. The Norfolk Register of Electors for Great Ellingham for the year 1851 lists Roger Turvey as an occupier and owner of a farm in Penhill Road. It is likely that the Turvey household occupied the double cottage.
Lucy Allison and William Brighton
Around three years before her grandfather died, Lucy Allison married William Brighton. Their marriage was registered in the Wayland District during the period July to September 1857.
A year after Roger Turvey's death, the 1861 census finds 25 year old William Brighton at the head of the household in Penhill Road. William is farming around 37 acres and employed one man and one boy. Wife Lucy is also 25 and the couple have two sons, George aged 2 and four month old William. Lucy's grandmother 74 year old Rebecca Turvey is also with the Brighton family together with a 15 year old house servant, local girl Elizabeth Carter.
Rebecca Turvey died at the age of 80 on November 14th, 1867. She was also buried in the local churchyard.
The Brighton family continued to live in Penhill Road until at some point after the 1881 census, they moved to Mill Common Farm, Snetterton. By 1901, they had moved to Downham Grove, Wymondham and by 1911, William and Lucy Brighton (then both aged 75) were living in Silfield, Wymondham.
Lucy Brighton died on the 10th August, 1924 and her husband William Brighton outlived Lucy by three years. He died on the 27th August, 1927. According to the 1911 census, the couple had had sixteen children eight of whom had died (by 1911).
It was only after William Brighton's death that the property and land owned by his grandfather-in-law Roger Turvey in Penhill Road some 90 years earlier was sold. After the Brighton's vacated the property and moved to Snetterton some time after 1881, the double cottage was rented out until it was sold in 1929 to George and Mary Hutson by William and Lucy's son, William. All the surviving children of William and Lucy Brighton were then aged over the age of 21 years. Their son Frederick farmed at nearby Penhill Farm.
The property today comprises of two separate cottages.
Sources:
1841 census HO107/781/8
1851 census HO107/1823/112
1861 census RG9/1237/82
1871 census RG10/1841/78
1881 census RG11/1974/82
1891 census RG12/1549/125
1901 census RG13/1851/25
1911 census RG14/11344
England, Norfolk Register of Electors, 1832-1915, database with images, FamilySearch (https://familysearch.org/ark:/61903/1:1:2HB6-WZJ : 18 July 2017), Roger Turvey, 1832; citing , Western division, Norfolk, England, Record Office, Central Library, Norwich; FHL microfilm 2,149,022. England, Norfolk Register of Electors, 1832-1915," database with images, FamilySearch (https://familysearch.org/ark:/61903/1:1:2HTT-QBM : 23 July 2017), Roger Turvey, 1859; citing Great Ellingham, Eastern division, Norfolk, England, Record Office, Central Library, Norwich; FHL microfilm 1,596,768. England, Norfolk Register of Electors, 1832-1915," database with images, FamilySearch (https://familysearch.org/ark:/61903/1:1:2HTL-XSG : 23 July 2017), Roger Turvey, 1851; citing Great Ellingham, Western division, Norfolk, England, Record Office, Central Library, Norwich; FHL microfilm 1,596,767
Great Ellingham Parish Registers. Norfolk Record Office PD/609. Also available at FamilySearch.org https://www.familysearch.org/search/image/index?owc=4J8C-CB7%3A29627201%3Fcc%3D1416598
Rockland All Saints with St Andrew Parish Registers. Norfolk Record Office PD/335. Norfolk Family History Society. Transcript of Rockland All Saints, Baptisms 1811 to 1896. https://www.norfolkonlinerecordsearch.co.uk/ accessed 05.02.2020
GRO Index. Free BMD website. https://www.freebmd.org.uk/cgi/information.pl?cite=8ONsNdnOp4dxY2kXAV0M%2Bg&scan=1 accessed 05.02.2020
McDouall Family Documents