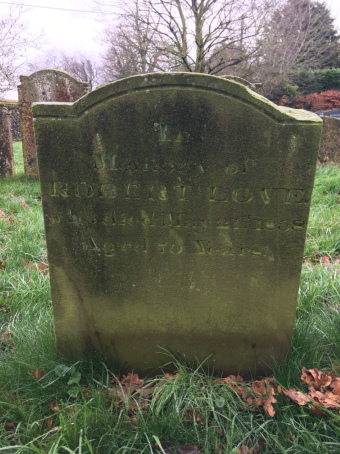 Headstone for Robert Love in the churchyard at Great Ellingham
Marriages, baptisms, misdemeanours and the like all tend to leave a paper trail which, in years to come, is extremely useful to a family historian.
In the case of Robert Love of Great Ellingham, we know from two census returns that Robert was living in Great Ellingham near Low Common from at least 1841 until he died in the May of 1858.
We also know that Robert was a farmer, albeit a modest one, farming only around three acres. He was also a bachelor.
Robert Love was born in Carleton Rode, a village some 14 miles or so from Great Ellingham. Given that the census of 1861 states his age then to be 66, Robert was born around 1784 during the Georgian period, and some 50 years before the beginning of the Victorian era.
However, I have not (yet) been able to find his baptism entry in parish registers, which would give us the name of his parents – or at least his mother's name.
I wonder who it was that arranged Robert's funeral and organised his headstone in the churchyard of St James? It may well have been a good friend, or a family member – perhaps a sibling, a niece or a nephew? Of course, remaining a bachelor, it does not necessarily follow that Robert did not leave any children!
Sources:
1841 census HO107/781/8
1851 census HO107/1823/2
Great Ellingham Parish Registers. Norfolk Record Office PD/609. Also available at https://www.familysearch.org/search/image/index?owc=4J8C-CB7%3A29627201%3Fcc%3D1416598