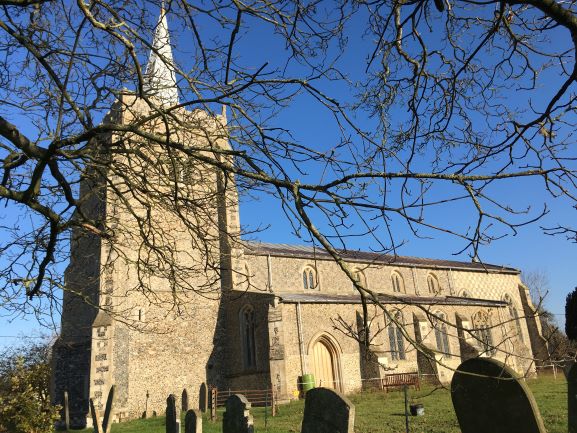 Great Ellingham Parish Church
Baptism
Philip Beales and his wife Sarah brought their infant son Robert for baptism at Great Ellingham Parish Church on December 4th, 1831.
1841 at Bow Street
Around 9 years later, the census of 1841 finds 9 year old Robert Bales (Beales) with his parents, elder siblings James aged 15, George 12, Sarah 12 and younger brother one year old William living in Bow Street, Great Ellingham. The family was still in Bow Street in 1851.
1856 Marriage to Naomi Brown
Robert Beales, a labourer of full age (i.e. he was aged over 21 years) and a bachelor, married single woman and servant Naomi Brown, in the Church of St James on October 1st 1856.
The marriage entry confirms that Naomi was a minor and, as such, would have required the consent of her father, Jeremiah Brown, to the marriage. She was around the age of 19 years.
Children
The 1861 census finds 29 year old Robert and Naomi aged 24 living near to Robert's parents (Philip and Sarah) in Bow Street.
They have two children: two year old Ellis (born 1858) and four month old Frederick. These two children were also baptised in the parish church of Great Ellingham.
In the May of 1863, Robert and Naomi's daughter Harriet was born. Sadly the couple buried Harriet aged just 11 days on May 31st of that year.
The following year, another daughter was born to Robert and Naomi. This child was also named Harriet. The Great Ellingham Baptism Register reveals a baptism for Harriet Bales (Beales) daughter of Robert and Naomi on December 15th, 1864.
Harriet was followed by Alice in 1867 (baptised in the parish church on December 8th) and Philip in 1870 (baptised on January 16th.)
Although the 1871 census does not specifically say whereabouts in Great Ellingham Robert Beales and his family were living, I believe it was probably in Bow Street.
Death of Robert's Parents
Robert's mother Sarah was buried in the churchyard of St James on January 17th, 1878 aged 77 years and his father Philip, who had been living in Little Ellingham when he died, was buried at Great Ellingham on August 8th, 1880 aged 80.
1881 at The Green Little Ellingham
By 1881, the family had moved to The Green at Little Ellingham.
Robert then aged 48 is described on the 1881 census as a Farm Labourer and wife Naomi is now aged 44. Their son Ellis (now aged 22) is described as a corn miller. Other children Alice 13 and Philip 11 were still at school. Daughter Harriet was not with her parents when the census was taken.
Death of Naomi Beales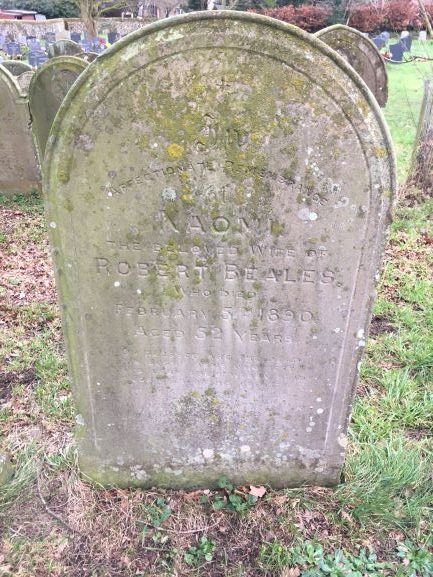 Robert's wife Naomi died in the February of 1890, and was buried in Great Ellingham churchyard on February 10th. According to the headstone, Naomi was aged 52 when she died.
Widower Robert Beales
A year after Naomi's death, widower Robert Beales then aged 64 is back in Great Ellingham living in the Bow Street/Hingham Road area.
The 1891 census shows 23 year old Alice and 21 year old Philip living with their father. Alice is described as a housekeeper and Philip, like his father, is described as an agricultural labourer.
Marriage to Kezia Childerhouse
Later that year, on the 19th September, 1891, Robert Beales married 68 year old widow, Kezia Childerhouse. Kezia was formerly Kezia Howchen the daughter of farmer, Robert Howchen, then deceased.
The 1901 census finds Robert and Kezia living in Attleborough Road, Great Ellingham. Robert (now aged 68) is still working as an agricultural labourer.
Death of Kezia Beales but what happened to Robert?
Kezia Beales was buried in Great Ellingham on November 3rd, 1902 aged 82 years. The Burial Register records that Kezia had died in Attleborough.
I have not yet been able to trace Robert Beales after the 1901 census.
Sources:
Great Ellingham Parish Registers Norfolk Record Office PD/609. Also available at FamilySearch.org https://www.familysearch.org/search/image/index?owc=4J8C-CB7%3A29627201%3Fcc%3D1416598
1841 census HO107/781/8
1851 census HO107/1823/114
1861 census RG9/1237/84
1871 census RG10/1841/80
1881 census RG11/104/9
1891 census RG12/1549/73
1901 census RG13/1867/73