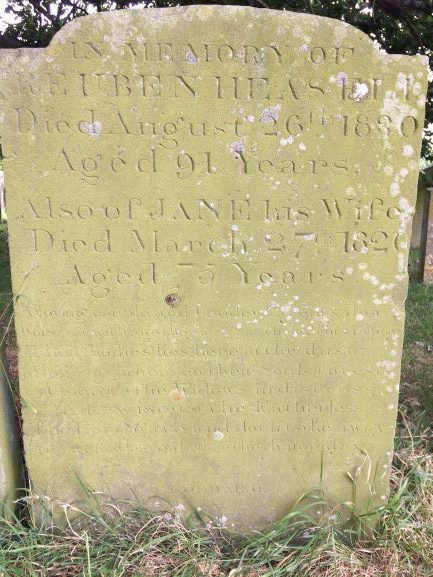 This memorial to Reuben and Jane Heasell particularly caught my eye as it has stood in the churchyard of St James for nearly two hundred years.
Marriage
Reuben Heasell married Jane Beckaton in the parish church of Great Ellingham on the 5th April 1764 following the reading of the Banns. Both Reuben and Jane were single and were living in the parish. Reuben signed his name in the marriage register. Accordingly, it is likely that he could also read. On the other hand, Jane was not able to write her name but put her mark "X" in the register.
Children
The parish registers for Great Ellingham record the baptisms for at least 7 children for Reuben and Jane between 1767 and 1779. A further child, 3 year old Reuben, was baptised in nearby Attleborough on 19th May 1790. However, I understand that they had at least 15 children.
Heasell's Farmhouse
According to auction particulars appearing in the Norfolk Chronicle & Norwich Gazette on 15th July 1820, a Reuben Heasell lived in a farmhouse in Great Ellingham which had a barn, cow house "and other requisite outbuildings". Reuben occupied about forty three acres of "rich arable and pasture land" and was stated to be the proprietor of the property. 
I cannot say with certainty whether the Reuben Heasell living in this farmhouse was Reuben Senior or his son, Reuben. However, the 1841 census finds a 55 year old agricultural labourer Reuben Heasell (with a birth year around 1786) living in Great Ellingham. Accordingly, I think it likely that it was Reuben senior living in the farmhouse which was being auctioned in 1820.
Sources:
Norfolk Chronicle & Norwich Gazette 15 July 1820
Attleborough Parish Registers – Norfolk Record Office PD/438. Also available at FamilySearch.org https://www.familysearch.org/search/image/index?owc=4JZS-4D1%3A29358401%3Fcc%3D1416598
Great Ellingham Parish Registers – Norfolk Record Office PD/609. Also available at FamilySearch.org https://www.familysearch.org/search/image/index?owc=4J8C-CB7%3A29627201%3Fcc%3D1416598
1841 census HO107/781/8
My thanks to Steve Wright