Just months after being awarded an allotment upon Anchor Common under the Great Ellingham Inclosures, George Cady sold his property and land in Bow Street.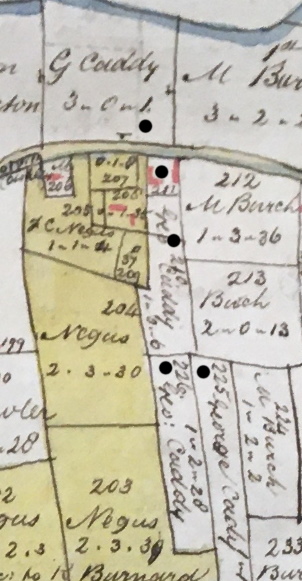 Extract from 1802 Map of Great Ellingham. Original held at Norfolk Record Office. Russell James Colman Plans. Cat. Ref. C/Ca 1/84. With kind permission of NRO
The black dots on the above extract of the 1802 Inclosures Map for Great Ellingham shows the position of Cady's house and land which he sold to the Reverend Lobb.
The Transaction

On the 20th October, 1802, George Cady, a yeoman of Rockland All Saints entered into an agreement with the Reverend William Lobb of Wilby for the sale to Lobb of the following property:
'All the Messuage or Tenement situate in Great Ellingham in which Jonathan Stacy and John Fincham now do or lately did dwell with the barn, stable and other outbuildings and yards, gardens, orchards and the several inclosures pieces or parcels of land and grounds to the same belonging containing by estimation eight acres ...'
Lease for a Year
This agreement was in the form of a 'Lease for a Year'.
It seems that it was once common practice for Leases to act similar to a contract. These were usually Leases of one year with nominal consideration – as is the case here. The purpose being to ensure that the agreement reached is adhered to, and that the parties involved enter into a subsequent Indenture or Conveyance Deed.
However, I have not come across a subsequent Conveyance Deed relating to William Lobb's purchase. Accordingly, I do not know how much Lobb paid for the property.
Nevertheless, I have no doubt that Lobb did indeed purchase the property.
Occupiers
We know from the 1802 Lease for a Year (and other documentation) that the property and land in Bow Street was once occupied by John Fincham and then Jonathan Stacy. I believe that Stacy continued to occupy the premises following Lobb's purchase.
Death of the Reverend William Lobb
However just two years later, the Reverend William Lobb was dead. The report of his death was published in the Bury & Norwich Post on the 9th May, 1804:
'Lately died aged 75, the Rev. W Lobb Rector of Hargham with Wilby, and of Moulton in this county'
He was buried in the churchyard of All Saints Church, Wilby on the 26th April, 1804. The burial entry in the parish register states that the Reverend Lobb was 74 years of age (and not 75 as published in the newspaper), and had been the Rector of Wilby for 35 years.
What became of his tenanted property in Great Ellingham?
The answer lies within William Lobb's last will and testament.
Lobb's Legacies
It appears that the Reverend William Lobb was a single man. He makes no mention of a widow or children in his will.
He left legacies to several beneficiaries. This included significant legacies to his servants, James and Mary Howe.
Real Estate
In addition to owning property in Great Ellingham, Lobb owned a rented property in Piccadilly, Westminster. Along with other legacies, Lobb left this property to his nephew, William John Chute Esq.
However he left the Great Ellingham property to James and Mary Howe (née Shearing) for their respective lifetimes.
Other Legacies
In addition, Mary Howe inherited all the Reverend Lobb's table linen, sheets, shirts, handkerchiefs and stockings as well as as the sum of £50. James Howe received Lobb's clothes, boots and shoes.
William Lobb also provided a trust fund for Mary Howe's 'natural daughter' Mary Shearing. Is this significant?
Perhaps not, as William Lobb also provides for James and Mary's legitimate children. These children (who are specifically named in the will) also benefited from a trust set out in Lobb's will.
In addition, Lobb left a sum of money for the 'putting out' (apprenticeship) of James and Mary's son William in the business of a carpenter 'or other suitable employment'.
James & Mary Howe
Marriage
The couple married in the parish church of Wilby on the 9th November, 1789. At the time of the marriage, both James Howe and Mary Shearin were single and living in Wilby. They both put their mark 'X' in the marriage register. This suggests that (like many at that time) they could neither read nor write.
Mary's Illegitimate Daughter
Just over four years earlier, Mary Shearin aged 25 had given birth to her illegitimate daughter Mary c.1785. The child was baptised in the church at Wilby on February 6th, 1785.
James & Mary's Children
Six known children were born to the couple in Wilby. They were all baptised in the parish church at Wilby between 1790 and 1804:
| | |
| --- | --- |
| James | 12th April, 1790 |
| William | 30th September 1793 |
| Frances | 19th April, 1795 |
| Ann Maria | 6th January 1799 |
| Elizabeth | 17th May, 1801 |
| Shearing | 1st April, 1804 |
As Shearing Howe was born after the Reverend Lobb made his will – and Lobb specifically mentions the children of John and Mary Howe by name, Shearing Howe did not directly benefit from William Lobb's will.
Move to Bow Lane, Great Ellingham
James and Mary Howe were both around the age of 44 when their employer, the Revered Lobb, died in 1804. Mary had also not long before given birth to Shearing.
I assume that following William Lobb's death, the Howe family moved to Great Ellingham. A Poll Book for 1806 lists James Howe as owning and occupying freehold land in Great Ellingham. Further, the Register of Electors for 1836-1837 lists James Howe as owning a freehold house and land in Bow Lane.
James Howe is also said to own a freehold house and land 'by Hingham Road'. I wonder if this is James and Mary's son James?
Death of Mary Howe
Mary Howe died at the age of 75 and was buried in the churchyard of St James, Great Ellingham on the 20th January, 1836.
Shearing Howe
Just over three years later, James and Mary Howe's youngest son, Shearing, was buried in the same churchyard on the 10th July, 1839.
Aged 35 years, blacksmith Shearing Howe left a widow Mary and a thirteen year old son, William. Mary Howe (widow of Shearing) and her son also lived in Bow Street.
Death of James Howe
James Howe outlived his wife by around 9 years. He died in the Spring of 1845 and was buried in the churchyard of St James on the 20th March. He was 84.
I believe James Howe may well have moved out of the property in Bow Street some years prior to his death. I think it very likely that Francis Rivett lived there for a while before William Chaplin took over the tenancy.
Sale of the Property in Bow Street
However some forty years after this death, and following the deaths of both James and Mary Howe, the late Reverend William Lobb's property in Bow Street was sold.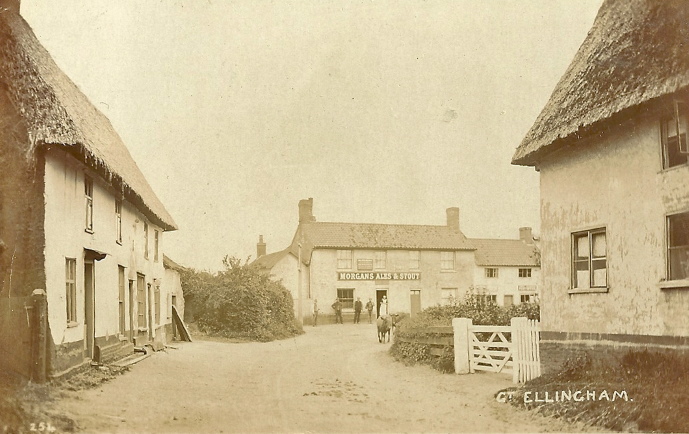 Church Street including the Crown Public House in the centre. Courtesy Attleborough Heritage Group
Auction
Notice of an Auction of a 'Valuable Estate at Great Ellingham' appeared in the Norfolk Chronicle and Norwich Gazette on Saturday 24th May 1845. The auction of the property (in two lots) would take place at the Crown Inn, Great Ellingham on the 2nd June, 1845 at four o'clock in the afternoon.
The notice provides us with a good description of the late William Lobb's property in Bow Street:
Lot 1 - All that MESSUAGE or DWELLING-HOUSE, situate in Great Ellingham aforesaid, comprising Parlour, Kitchen, Wash-house, Dairy, Pantry, Cellar, and three good Sleeping-rooms, with the new built Barn, Stable and Cow-house, Yards, Garden and Orchard, and also two Inclosures of superior Arable and Pasture Land thereto adjoining and belonging, containing together by measure 4A 2R 25P, more or less, now in the occupation of Mr William Chaplin, as Tenant thereof
Lot 2 - All those two Inclosures of very productive Arable Land, in Great Ellingham aforesaid, lying opposite Lot 1, containing together by survey 3A 0R 8P, more or less, also now in the occupation of the said Wm. Chaplin
Highest Bidder
In the event, William Wretham was the highest bidder and subsequently purchased both Lots 1 and 2 at the auction on the 2nd June, 1845.
Sources:
Great Ellingham Parish Registers. Norfolk Record Office. PD609. Also available at www.familysearch.org
1802 Map of Great Ellingham. Russell James Colman Plans. Cat. Ref. C/Ca 1/84. All rights reserved Norfolk Record Office.
Wilby Parish Registers. Norfolk Record Office. PD98. Also available at www.familysearch.org
1806 Poll Book. Shropham Hundred. Great Ellingham. London, England, UK and London Poll Books. London, England: London Metropolitan Archives and Guildhall Library. Ancestry.com. UK, Poll Books and Electoral Registers, 1538-1893 [database on-line]. Provo, UT, USA: Ancestry.com Operations, Inc., 2012.
1836-1837. Register of Electors. 1836-1837. Western division. Great Ellingham. England, Norfolk Register of Electors, 1844-1952. Salt Lake City, Utah: FamilySearch, 2013. Ancestry.com. Norfolk, England, Register of Electors, 1832-1915 [database on-line]. Lehi, UT, USA: Ancestry.com Operations, Inc., 2016.
Reverend William Lobb. Wilby. Probate 24 May 1804. The National Archives; Kew, Surrey, England; Records of the Prerogative Court of Canterbury, Series PROB 11; Class: PROB 11; Piece: 1409. Ancestry.com. England & Wales, Prerogative Court of Canterbury Wills, 1384-1858 [database on-line]. Provo, UT, USA: Ancestry.com Operations, Inc., 2013
24 May 1845. Norfolk Chronicle & Norwich Gazette. Viewed via www.britishnewspaperarchive.co.uk
Private Deeds Collection. Property in Bow Street. Thanks to Roger & Sue Banks