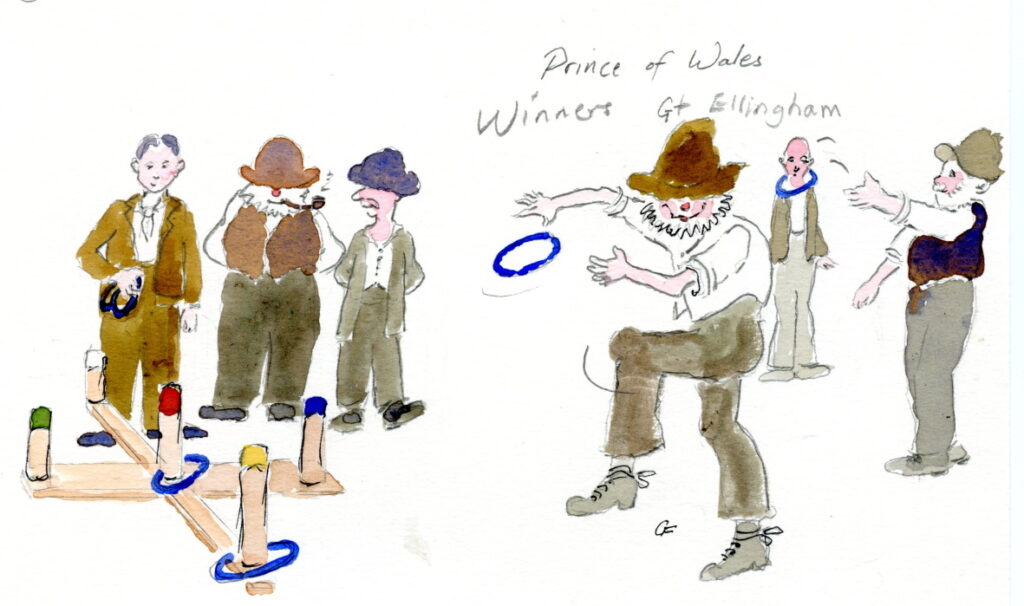 Illustration by Christine Fuller
The Norfolk Chronicle & Norwich Gazette of 7th June, 1902 reported on the Quoits match which took place at the Prince of Wales Inn at Great Ellingham. The match was between the Cock Inn Club of Hingham and the home team of the Prince of Wales Inn.
The result was a win by three points for the Great Ellingham team. Playing for the Prince of Wales Club were: G Purdy, Wilkins, West, W Sharman, W Purdy and R Smith.
Innkeeper George Purdy
The Prince of Wales Inn stood on the road out of the village towards Rocklands, on the left hand side between the school and the turning to Bow Street.
Norfolk Pubs website suggests that George Purdy was the licensee of the Prince of Wales Inn from 1896 to 1904, although I believe he was still the landlord in 1905.
1901 census
The 1901 census (taken a year before the report of the quoits match in the Norfolk Chronicle) finds 54 year old George Purdy, described as an innkeeper and pork butcher, at the Prince of Wales Inn, Attleborough Road. With George is his 60 year old wife Mary and children William aged 24, a life assurance agent working from home, and 19 year old Amy J.
It is very likely that the 'G Purdy' and 'W Purdy' in the Prince of Wales Quits Club team were the landlord and his son.
1891 census
Ten years earlier in 1891, George and Mary Purdy with William and Amy were living at the Street, Rockland St Peter. George was described as a butcher.
1893 Marriage of Daughter Harriet Hattie
The family moved to Great Ellingham between 1891 and 1893. George and Mary's eldest daughter Harriet Hattie Purdy married Leon Phalander Smith, the eldest son of Phalander Smith of Riddlesworth, in the Parish Church of Great Ellingham on March 7th, 1893. Details of the marriage appeared in the Norfolk Chronicle & Norwich Gazette on April 1st, 1893. George Purdy was described as a butcher of Great Ellingham.
1911 census
By 1911, George and Mary Purdy had moved out of the Prince of Wales Inn and were living in a three-roomed dwelling either in Bow Street or Watton Road. The census schedule states the couple to be living in Watton Road but the preceding page, gives the place as Bow Street.
Living in the six-roomed property of the Prince of Wales Inn is the new licensee, 29 year old newly married John Ernest Neale and his 30 year old Letty Alice Neale.
Burials
George and Mary Purdy most likely continued to live in Great Ellingham for the rest of their lives.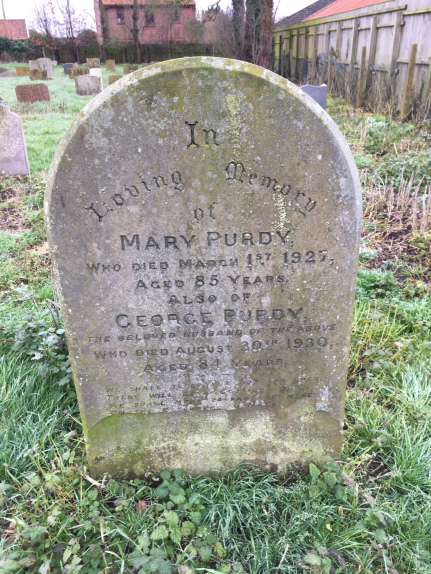 Headstone for George and Mary Purdy. Great Ellingham Churchyard
Mary Purdy was buried in the Church of St James on March 5, 1927 aged 85. George Purdy died just over three years later. He was buried in the same churchyard on September 2nd, 1930. George was 84.
Sources:
Norfolk Chronicle & Norwich Gazette 7 June 1902
Norfolk Chronicle & Norwich Gazette 1 April 1893
1891 census RG12/1550/79
1901 census RG13/1867/73
1911 census RG14/11473/43, RG14/11473/50
Great Ellingham Parish Registers NRO PD/609
http://www.norfolkpubs.co.uk/norfolkg/gtellingham/gtelpow.htm Accessed 29/10/2019