The Norfolk Record Office holds the originals of the burial registers for the Parish Church of St James, Great Ellingham, going back to 1630.
The mortal remains of countless inhabitants of Great Ellingham (and, sometimes, people from further afield), have been laid to rest in the churchyard during the last four hundred years or more. Some of these people will be remembered by the gravestones or monuments (or what remains of them), and some will be remembered only by their name appearing in the burial registers.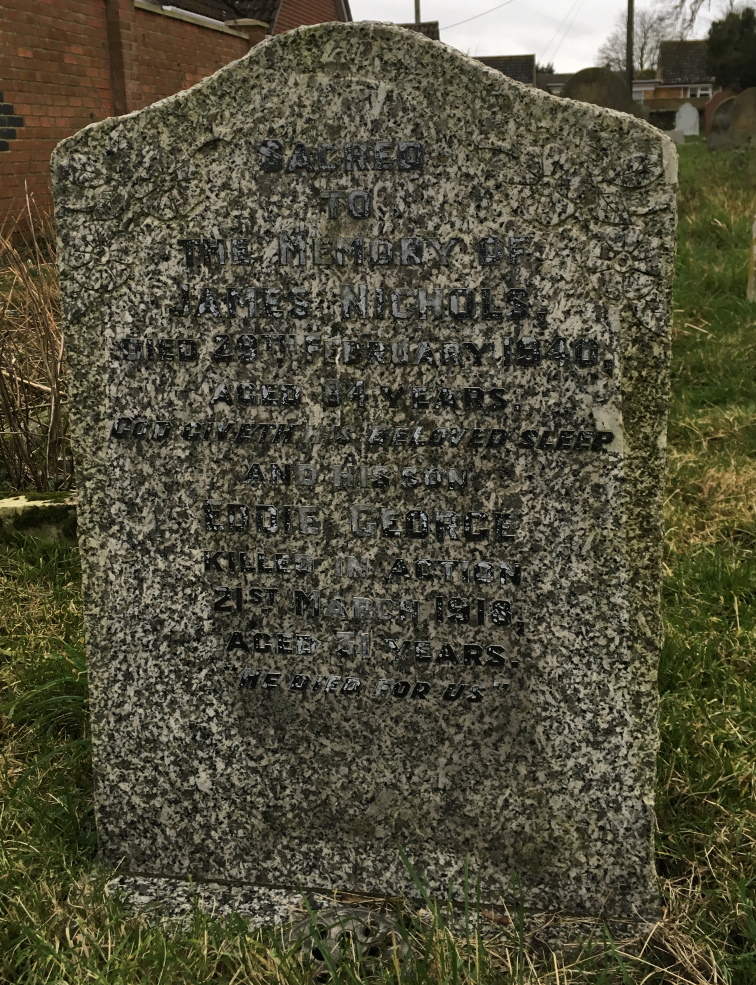 On one of my many walks through the churchyard, I came across the above headstone, which reads:
'SACRED TO THE MEMORY OF JAMES NICHOLS DIED 29TH FEBRUARY 1940, AGED 84 YEARS. GOD GIVETH HIS BELOVED SLEEP. AND HIS SON EDDIE GEORGE KILLED IN ACTION 21ST MARCH 1918, AGED 31 YEARS. HE DIED FOR US'
The headstone caught my attention for several reasons. In my research of the village so far, the name 'Nichols' is not particularly common to Great Ellingham. The first name 'Eddie' seemed unusual – was he actually 'Edward'? Eddie George Nichols was killed in action at the age of 31 years, during the First World War.
Remembered with Honour at Arras Memorial
A search of the Commonwealth War Graves website confirmed that Private Eddie George Nicholls, service number 17396, of the 9th Battalion of the Norfolk Regiment, is remembered with Honour at Arras Memorial in France. The husband of Emily Annie Nicholls, of Church Lane, Runham, Great Yarmouth, Eddie died on March 21st, 1918.
Was Eddie his actual name, and what connection, if any, did Eddie have with Great Ellingham?
'Eddie'
The birth of Eddie George Nichols was registered in the Flegg District of Norfolk between July and September, 1886. His mother's maiden name was Crow.
A son of James and Mahala Jemima Nichols, Eddie was baptised in the parish church of Filby on Good Friday, the 8th April, 1887. James Nichols was a fisherman. The baptism entry records Eddie's name as 'Eddy'.
In 1886, Eddie (or Eddy) was not a popular name, although the names Edward or Edwin were, of course, often shortened to Eddie.
A quick search on the Free BMD website, tells that in England & Wales in 1886, 11 children (including Eddie George Nichols) were registered with the first name of 'Eddie', and 5 children with Eddy, as opposed to 10,454 with the name Edward. Registrations of children with the first name 'Edwin' were 3,113; George 31,065 and Robert 11,579. These figures are only a rough guide as FreeBMD have not yet transcribed the whole GRO Index. However, it does show how uncommon the first name 'Eddie' was when Eddie George Nichols was born in 1886.
Son of James & Mahala Nichols
Eddie George Nichols was the fourth son of James and Mahala Nichols. The 1891 census captures four year old Eddie with his parents and siblings living in a cottage in Thrigby Road, Filby. 36 year old Fleggburgh born James Nichols was described as a fisherman. At that time, James and Mahala had six children all born in Filby (including Eddie) with ages ranging from 10 to two months.
Ten years later, James and Mahala Nichols with nine children (including 14 year old Eddie), were living in Low Road, Runham.
By 1911, Eddie Nichols had married. A marriage between Emily Annie E Childs and Eddie George Nichols was registered in the Flegg District between July and September 1909. The 1911 census finds 24 year old fisherman Eddie G Nichols with his 23 year old wife, Emily A, and seven month old son, Leslie G, at Marsh Wall, Runham, Great Yarmouth. I mention Leslie G again at the end of the blog.
The same census finds Eddie's parents, James and Mahala Nichols with five of their children, at the Post Office, also in Runham. 56 year old James Nichols is described as a farm labourer and his wife a post mistress.
Runham is some 33 miles from Great Ellingham. James Nichols was buried 30 years later in Great Ellingham. What is James Nichols' connection to the village?
Burials in the Churchyard of St James
James Nichols was buried in the churchyard of St James on March 6th, 1940. He was 84. The entry in the burial register records that James was of 'Sunnyside', Clifford Avenue, E. Caister. Nearly four years later, James Nichols' widow, Mahala Jemima Nicholls of Runham, was buried in the same churchyard on July 3rd, 1944. Mahala Nicholls was 82. Neither James nor his wife Mahala were living in Great Ellingham when they died.
However, one other burial entry for the name Nicholls provides a clue to a Nichols family connection to Great Ellingham.
Death of George Robert Nicholls of Homelea Farm
George Robert Nicholls of Great Ellingham was buried in St James's churchyard on April 25th, 1933, aged 34 years.
A notice pursuant to the Trustee Act, 1925 appearing in the London Gazette on 19th January, 1934 relating to George Nicholls Deceased, confirms a connection between the Nichols family and Great Ellingham.
The notice confirmed that George Nicholls died on the 21st April, 1933. He was said to have resided at Homelea Farm, Penhill Road, Great Ellingham. George Nicholls may have died suddenly, and at 34, he may not have thought about putting his affairs in order in the event of his death. He left no will, and letters of administration had been granted to James Nicholls (his father) by the Norwich District Probate Registry on the 25th September, 1933.
Given that George Nicholl's estate was being dealt with by his father, I think it unlikely that George Nicholls was married. However, the fact that James Nichols and his wife Mahala were not buried in the churchyard until after their son, George Robert, I believe there may well be a further Nichols family connection to the village which I have yet to find!
For completeness, George Robert Nicholls was the second youngest child of the family. The birth of George Robert Nichols was registered in the Flegg District between January and March 1899. Both the census of 1901 and 1911, captures George Robert as 'Robert' with his parents and siblings.
Final Note
Tragically at the age of 29, Leslie George Nichols, the eldest child of Eddie George Nichols and his wife Emily, was killed on the 27th May, 1940, during the massacre of Le Paradis in Northern France. A Private with the Norfolk Regiment, Leslie George Nichols is commemorated at Le Paradis War Cemetery, Lestrem. He is also remembered on The Massacre at Le Paradis – Hell in Paradise – May, 1940 website.
Sources:
GRO Index. https://www.gro.gov.uk/
GRO Index. FreeBMD website. https://www.freebmd.org.uk/
https://www.freebmd.org.uk/cgi/information.pl?cite=VSFIx%2FrdnATdcYCni6lLWA&scan=1 Accessed 15th September 2020
https://www.freebmd.org.uk/cgi/information.pl?cite=nMR4JDHw2Eh739lnH1DS%2BA&scan=1 Accessed 15th September 2020
https://www.freebmd.org.uk/cgi/information.pl?cite=VSFIx%2FrdnATdcYCni6lLWA&scan=1 Accessed 15th September 2020
Filby Parish Registers. Norfolk Record Office. PD/190. Also available at FamilySearch.org
Great Ellingham Parish Registers. Norfolk Record Office. PD/609
The London Gazette. 19th January 1934. Viewed online https://www.thegazette.co.uk/London/issue/34016/page/502 Accessed 15th September 2020
1911 census RG14/11108/90; RG14/11108/57
1901 census RG13/1816/98
1891 census RG12/1504/73
Commonwealth War Graves website https://www.cwgc.org/find-records/find-war-dead/casualty-details/2279626/LESLIE%20GEORGE%20NICHOLS/