Fellow local historian, Cynthia Budd, has meticulously researched the men listed on the Great War Memorials throughout the Shellrock Benefice (Great Ellingham, Little Ellingham, Rockland All Saints, Rockland St Peter and Shropham with Snetterton).
She has kindly allowed me to reproduce her tributes to the Great Ellingham men, on the Great Ellingham One-Place Study website.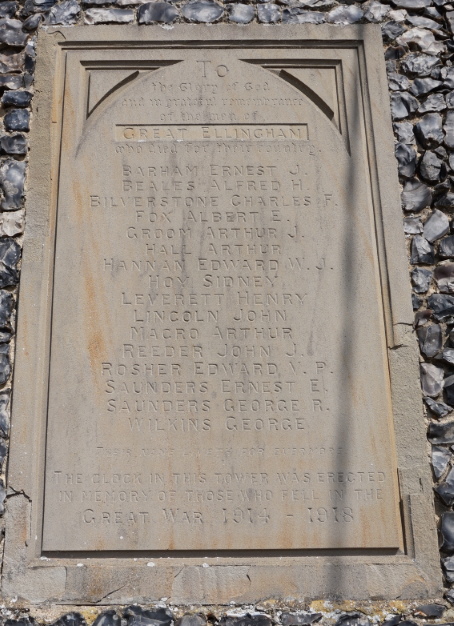 Great War memorial tablet on the west wall of the Church of St James, Great Ellingham
The following is Cynthia's piece commemorating Private 242535, Alfred Henry Beales, 1/5th Battalion Norfolk Regiment:
Alfred was born in Little Ellingham in 1886. His father was Alfred William Beales, a fowl dealer, mother, Emma Margaret, née Downes. He had an older half-brother, William Downes and four younger siblings. The family lived on Goose Common, Little Ellingham in 1891, and Hingham Road, Great Ellingham in 1901. 
Alfred married Maria Long in 1908 and on Census Day 1911, they lived at Beales Cottages, near the Church, Hackford. They had a daughter, Margaret, aged 1.  Alfred was a horse dealer. Another daughter, Minnie, was born in 1913 and Emmeline in 1915. Alfred's name appeared on the Great Ellingham Electoral Roll in 1915, address Mill Road.
His enlistment date is unknown as he has very few military records. All of his service was with the 1/5th Norfolk's and he did not go overseas until after 1915, thus missing the Gallipoli Campaign. His Battalion spent 1916 in Egypt holding trenches and guarding the Suez Canal. 
In February 1917, together with the 1/4th Norfolk's, they were ordered to march across the hostile Sinai Desert to assist in the attack on Palestine. To improve conditions underfoot a 'wire road', wide enough for the men to march in columns of 'fours', was constructed from wire netting and pegged in the sand. This enabled them to march about 12 miles each day and the Desert was crossed by 6 March. The first Battle of Gaza took place 28 March and was not a success. The Allies suffered 4000 casualties, the Turks 2,400. However, the Norfolk Battalion's casualties were light - one officer and two men killed, nine men wounded. 
A second attack was ordered for the following month and Operations began 17 April. At first, all proceeded according to plan, but Orders for the Attack on the 19th were issued very late on the 18th. As a result, most of the night had to be spent making preparations. There was to be a heavy bombardment from 5.30am to 7.30am, then, the Infantry would go forward. Both of the Norfolk Battalions were in the front line. They had been in their positions since 5am. Watching the first stages of the Norfolk's advance an officer wrote "it was a magnificent sight to see them going in extended order as if on a field day".
 In fact, the British bombardment had done little harm and as the officer continued his observation he could only describe the scene as "a perfect hell of artillery and machine gun fire". The British Artillery could not provide adequate support as they had already fired most of their ammunition and the range was excessive. Therefore, "the infantry had to cross some 1700 yards of undulating country in full view of the Turks"
The Roll Call eventually revealed that the 1st/5th Norfolk's had sustained 662 casualties; killed, wounded and missing – the 1st/4th Norfolk's; 478 (one of their number killed was Private Charles Lincoln of Rockland St. Peter). 
Private Beales was aged 30 and is remembered on the Jerusalem Memorial to the missing, recorded as having died 'on or since 19th April, death presumed'. He was awarded the Victory and British War Medals.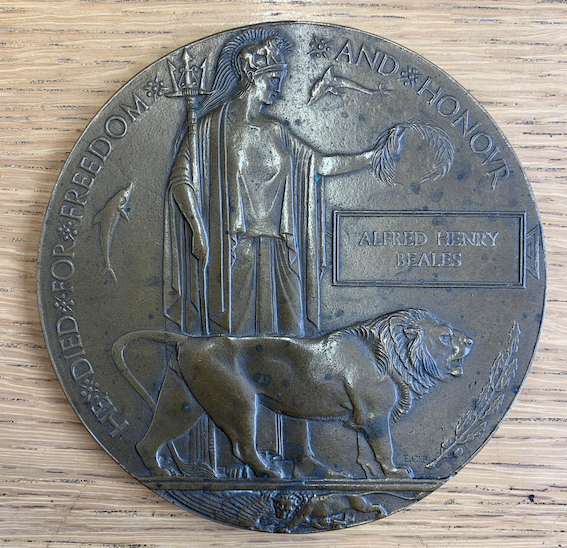 Commemorative Plaque also known as Dead Man's Penny. Alfred Henry Beales
Courtesy Justin Wilkins, great grandson
Footnote: It is believed that Alfred died on the 19th April, 1917 and is remembered on the Jerusalem Memorial Panels 12 to 15.
With many thanks to Cynthia Budd and Chris Clarke.
Cynthia's sources. Please note that the sources include research carried out in relation to all the 'fallen' of the Great War throughout the Shellrock Benefice. Accordingly, not all the sources will be applicable to Great Ellingham :
Ancestry UK: Birth, Marriage, Death and Parish Records. Census Records and Electoral Rolls. Probate Records.Military Records; Army/Navy Service Records. UK Soldiers Died in the Great War Roll. Medal Index Cards. Medal Award Rolls. The Register of Soldiers' Effects. War Diaries. Canadian Military Records.
Archant Archives, Norwich. Also Thetford Library; The Thetford & Watton Times.
Australian War Records Websites: https://rslvirtualwarmemorial.org.au https://recordsearch.naa.gov.au
Commonwealth War Graves Commission
FindMyPast; Military Service Records. Electoral Rolls. British Newspaper Archive. The 1939 Register.
The General Record Office.
The History of the Norfolk Regiment 1914-1918 F Loraine Peter OBE
The London GazetteThe National Archives
The Norfolk Heritage Centre, The Forum, Norwich. Breckles and District Deanery Magazines. Norwich Mercury (Microfiche)
The Norfolk Record Office.
Norwich Cathedral Library; 1919 Diocesan Roll of Honour.
Picture Norfolk https://www.norfolk.gov.uk/libraries/picture-norfolk
The Red Cross https://grandguerre.icrc.org
Various Regimental Websites.
Thanks to Carolyn Boatwright