Inclosure Statement of Claims
Listed at No.7 of the Statement of Claims for the Great Ellingham Inclosure of c.1800, is Nathaniel Hawkes.
Nathaniel claimed one cottage and one acre of land which he occupied. He also claimed various rights on the Commons and Waste Lands in Great Ellingham which included rights of Common and Pasture.
The contemporary Commissioner's Valuation also confirmed that Nathaniel Hawkes owned a cottage, garden and pightle together with an allotment on Anchor Common.
18th Century Map
An eighteenth century map (held at Norfolk Record Office) shows that a landowner "Hawkes" owned property and land to the south of the road to Rocklands – about half way between the Bow Street junction and the road to Anchor Corner.
Sale of Small Dwellinghouse belonging to Nathaniel Hawke
A Notice of a sale of premises situate in Great Ellingham by private contract by a Nathaniel Hawke appeared in the Norfolk Chronicle of April 23rd, 1803. The premises comprised a small dwellinghouse and outbuildings with about three acres of adjoining land "well planted with trees".
Nathaniel Hawkes and his wife Elizabeth Pitts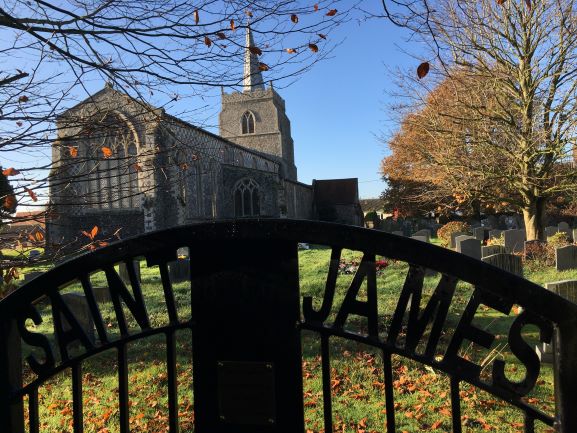 Great Ellingham Parish Church of St James
Nathaniel Hawkes, described as a married man, was buried at the Church of St James, Great Ellingham on February 20th, 1805.
Widow Elizabeth Hawkes (from Little Ellingham) was buried in the same churchyard on April 1st, 1807.
Banns of a marriage between Nathaniel Hawkes a single man of Great Ellingham and Elizabeth Pitts a single woman of Wicklewood, were read in the Church of St James on the 7th, 14th and 21st September 1766.
Assuming that the marriage took place, Nathaniel and Elizabeth had been married for nearly 40 years before Nathaniel died.
I have not found baptisms for children of Nathaniel and Elizabeth in the Great Ellingham Parish Church Registers. However, burial entries for two daughters of Nathaniel and Elizabeth appear in the Church Registers: Elizabeth buried February 16th, 1783 and Emma buried July 27th, 1788.
Sources:
Great Ellingham Parish Registers Norfolk Record Office PD/609. Also available at FamilySearch.org https://www.familysearch.org/search/image/index?owc=4J8C-CB7%3A29627201%3Fcc%3D1416598
18th Century Map – Pennell and Anchor Commons in Great Ellingham – held at the Norfolk Record Office catalogue reference MC 2213/114, 941X7
Inclosure Commissioner's Particulars and Valuation 1800 held at Norfolk Record Office catalogue reference MC 2213/119, 941X7
Norfolk Chronicle April 23rd 1803