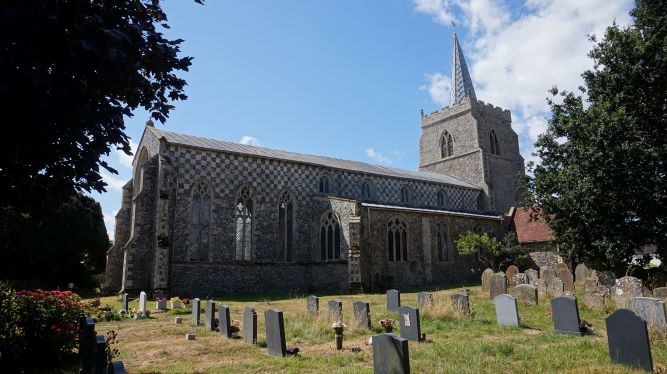 Great Ellingham Parish Church
Abigail Studd was buried in the churchyard of Great Ellingham Parish Church on March 16th, 1867. She was aged 42 years.
Abigail's burial entry is one of only three burials for the name Studd in the Great Ellingham Parish Registers between 1813 and 1878. In the same period, there are no entries for Studd in the baptism registers for the same parish.
Who was Abigail and what is her connection to Great Ellingham?
Working back from Abigail's age in the burial entry, Abigail was born about 1824.
1861 census
The census of 1861 finds Abigail Studd aged 37 years with husband 41 year old George Studd and children George aged 8, Samuel 7, Emma 4 and one year old Arthur living in Russell Place, East Dereham.
The census tells us that George Studd was born in Pentney, Norfolk and was a Corn Merchant. Abigail was born in Great Ellingham and the children in East Dereham. George and Abigail have a "servant of all work" 17 year old Elizabeth Hilton. Catherine Hill, a retired farmer's wife, is visiting the family.
Marriage of Abigail Warren and George Studd
A marriage between George Studd and Abigail Warren was registered in the Mitford District of Norfolk in the December Quarter of 1851. Mitford District includes East Dereham and some surrounding parishes.
1851 census
The census in 1851 (a few months prior to George and Abigail's marriage) reveals 27 year old Abigail Warren living with her brothers Samuel aged 30 and the head of the household and 12 year old Barnard in Norwich Road, East Dereham. Samuel is described as a Corn and Coal Dealer and Barnard is a scholar.
All three Warren siblings were born in Great Ellingham.
1841 census
Going back 10 years to 1841, the census finds Abigail with her siblings in the household of Samuel Warren, a 45 year old Farmer at Tann Farm, Great Ellingham. Although the 1841 census does not provide the relationship of a person to the head of the household, I think it likely that Samuel Warren was Abigail's father.
Abigail's Father Samuel Warren
The 1851 census shows 56 year old Samuel Warren, his wife Sarah Elizabeth (aged 44) and children Elizar aged 30, Sarah 16, Emily 14, Fredrick 5 and Kate aged 1 living at Low Common, Great Ellingham. Samuel Warren is described as a Farmer of some 83 (or 85?) acres.
Given that Samuel's wife is only 14 years older than his son Elizar, I think it likely that Samuel Warren had previously been married.
A baptism for son 'Eliezer John' appears in the Great Ellingham Parish Baptism Register for January 8th, 1839. Eliezer was aged 18 years when he was baptised.
His parents are stated to be Samuel and Mary Warren. His mother Mary was formerly Mary Townshend. Samuel Warren's occupation is a Farmer and Tanner.
I cannot find any other baptisms for children of Samuel Warren in the Parish Registers. This could mean that either his other children were not baptised or, perhaps more likely, they were baptised elsewhere.
Given that Abigail was born before her brother Eliezer (Elizar), Mary (late Townshend) may also have been her mother but this is assuming that Samuel had not been married prior to his marriage to Mary Townshend.
Conclusion
In conclusion, Abigail Studd's connection to Great Ellingham was that she was born in the village and spent her childhood here.
Her father was local farmer and tanner Samuel Warren who himself was baptised in the Parish Church in Great Ellingham on June 19th, 1794.
Samuel Warren was the son of John Warren and Elizabeth his wife (late Elizabeth Wright).
There are many entries for the names Warren and Wright in the Great Ellingham Parish Registers.
Sources:
1841 census HO107/781/8
1851 census HO107/1823/125; HO107/1825/39
1861 census RG9/1242/92
https://www.freebmd.org.uk/cgi/information.pl?r=18137708:5673&d=bmd_1557134722 accessed 11.05.2019
Great Ellingham Parish Registers Norfolk Record Office PD/609. Also available at FamilySearch.org https://www.familysearch.org/search/image/index?owc=4J8C-CB7%3A29627201%3Fcc%3D1416598