Auction
The edition of the Norwich Mercury dated 14th May 1887, included the announcement of a forthcoming Auction of properties situate in Griston, Scoulton and Great Ellingham belonging to Mr Isaac Lebbell, a Bankrupt.
The Auction, by the firm of Edward Banham & Son of Methwold and Watton, would take place at five o'clock in the afternoon at the George Hotel in Watton.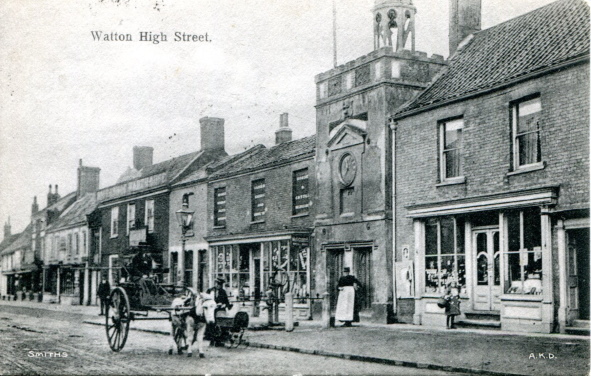 Postcard of Watton High Street. Postmarked 1908
The properties being auctioned were:
Lot 1 – Three newly built cottages together with three roomy thatched cottages and large gardens in Griston. These properties were freehold and said to bring in a rental income of £25 15s.
Lot 2 – 10 acres of arable land called 'the Church Close' at Scoulton with a rental of £18 per annum
Lot 3 – In Great Ellingham, a farm-house with agricultural buildings and nine enclosures of arable and pasture land, containing 15 acres 2 rood and 21 perches with a rental of £32 per annum
Isaac Lebbell
Isaac Lebbell, a blacksmith of Scoulton, Norfolk appeared in the list of debtors with dates for the First Meetings and Public Examinations in connection with a bankruptcy order of February 25th, 1887, which was published in the the London Gazette on March 1st, 1887.
A meeting would be held at 11.30am at the Official Receiver's Office, 8 King Street, Norwich on March 11th, followed by a Public Examination at The Shirehall, Norwich Castle at 12 noon on the 16th March.
The Norfolk Register of Electors of 1879 lists Isaac Lebbell of Scoulton as owning a freehold house and land in Bow Street, Great Ellingham.
The 1881 census finds 67 year old blacksmith Isaac Lebbell with his 64 year old wife Elizabeth in Turnpike Road, Scoulton. Isaac employed one man and one boy.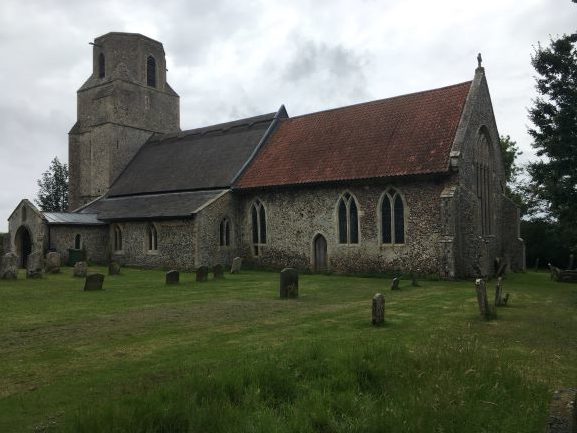 Holy Trinity Scoulton
Isaac Lebbell was born in Scoulton. The son of blacksmith Isaac Lebbell and is wife Mary, Isaac junior was baptised in the parish church of the Holy Trinity at Scoulton on the 6th March, 1814.
By 1891, and following the bankruptcy, Isaac and Elizabeth Lebbell had moved to Attleborough. The census of 1891 captures the couple living with their 44 year old widowed daughter-in-law Hannah M Lebbell in Connaught Road.
Sources:
Scoulton Parish Registers. Norfolk Record Office. PD/366. Transcription Norfolk Family History Society. https://www.norfolkfhs.org.uk accessed 22.03.2020
"England, Norfolk Register of Electors, 1832-1915," database with images, FamilySearch (https://familysearch.org/ark:/61903/3:1:S3HT-D43C-5V?cc=1824705&wc=MX6S-KZ9%3A161034801%2C161824201%2C161379201 : 21 May 2014), Norfolk > Southern division > 1879 > image 8 of 149; Record Office, Central Library, Norwich. Accessed 22.03.2020
The London Gazette. https://www.thegazette.co.uk/ Publication Date 1 March 1887. Issue 25678. Page 133. Accessed 22.03.2020
1881 census RG11/1975/47
1891 census RG12/1549/40
Norwich Mercury 14th May 1887