Police Custody
Between the 13th and 19th November, 1850, Richard Jolly (Jolley), found himself in Police custody in the Lock-Up at Wymondham's Bridewell.
From the Wymondham Police Charge Book 1850-1866 we know that Richard Jolly was a 66 year old labourer of Morley St Botolph. He stood 5 feet 3 inches tall and had 'imperfect' reading ability.
Jolly was charged with stealing a spade the property of Great Ellingham farmer, Robert Brooks.
On the 19th November (and following his committal for trial), Jolly left the custody of the Police in Wymondham. He was transferred to 'the custody of the Sheriff of the County' at Norwich to await his trial.
Quarter Sessions
On the 1st January, 1851, Jolly came before the Quarters Sessions held at the Shirehall at Norwich Castle. He was acquitted on the grounds of 'insufficient evidence to indict'.
Earlier Alleged Offences
Richard Jolly was no stranger to the Police.
Quarter Sessions 4th July 1832
Some sixteen years earlier, his name is amongst the list of prisoners held in custody in Norwich for trial at the General Quarter Sessions. Jolly's charge of being 'an incorrigible rogue from the parish of Morley St Botolph', was heard on the 4th July, 1832.
As it happens, Richard Jolly was acquitted.
Quarter Sessions 18th March 1840
Six years later, Richard Jolly appeared at the Norfolk Quarter Sessions on the 18th March, 1840.
Interestingly, the charge against Jolly is the theft of a three-tined fork from a yard belonging to farmer Robert Brooks of Great Ellingham. Possibly the very same Robert Brooks from whom Jolly was alleged to have stolen a spade some ten years later!
Jolly was once again acquitted (as he was of the later offence brought by Robert Brooks in 1851).
1841 census
At the time of the 1841 census, Jolly is again in Police custody. This time at the Norwich County Gaol and House of Correction.
His 49 year old wife Rebecca (whom he married in 1816), was in Morley St Botolph with their three children – Susan 12, Robert 9 and four year old Martha.
Quarter Sessions 30 June 1841
A few months later, Jolly's name once again appears in a list of prisoners held in the custody of the Sheriff at Norwich awaiting trial.
Richard Jolly aged 38 was charged 'as an incorrigible rogue and vagabond having left his wife and four children chargeable to the parish of Morley St. Botolph'.
At the ensuing Quarter Sessions on the 30th June, 1841, Jolly received a sentence of 12 calendar months (imprisonment). The result of this would mean that his family would continue to need financial support from the parish.
1851 census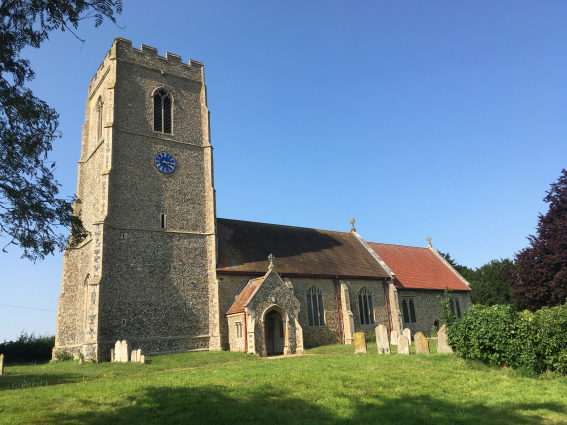 Morley St Botolph Church. Photograph taken July 2021
Ten years later, the 1851 census captures 67 year old Richard Jolly with his children Susan 20, Robert 18, Martha 14, Arthur 13 and one year old grandson John, in Morley St Botolph. Richard's wife Rebecca is not at home on census night. Was Rebecca visiting a friend or relative – or had she left the family home?
Both Richard Jolly and his son Robert are working as agricultural labourers. Youngest son Arthur is described as a 'farmer's boy'. Jolly's daughters are also both working – Susan as a charwoman and Martha a house servant. Accordingly, the family is no longer reliant on the parish for support.
Discrepancy in Age
Despite the inconsistency in the age given for Richard Jolly in the various criminal records, I am reasonably confident that the 'Richard Jolly' referred to in each of the records is one and the same person.
Robert Brooks
Looking at various records to discover the identity of Robert Brooks, the Electoral Registers of 1844 and 1846 lists Robert Brook as owning a freehold house and land in Deopham Road, Great Ellingham.
The two charges brought by Robert Brooks against Richard Jolly in 1840 and ten years later in 1850, failed in that Jolly was acquitted of both charges.
Sources:
UK, Prison Commission Records 1770-1951. The National Archives; Kew, London, England; PCOM 2: Metropolitan Police: Criminal Record Office: Habitual Criminals Registers and Miscellaneous Papers. Ancestry.com. UK, Prison Commission Records, 1770-1951 [database on-line]. Lehi, UT, USA: Ancestry.com Operations, Inc., 2020. Original data: PCOM 2 1770-1951 Home Office and Prison Commission: Prisons Records, Series 1. Kew, Surrey, England: The National Archives. Viewed via www.ancestry.co.uk 10.03.2023
1851 census HO107/1817/281
1841 census HO107/767/17
UK, Poll Books & Electoral Registers, 1538-1893. Ancestry.com. UK, Poll Books and Electoral Registers, 1538-1893 [database on-line]. Provo, UT, USA: Ancestry.com Operations, Inc., 2012.
Original data: London, England, UK and London Poll Books. London, England: London Metropolitan Archives and Guildhall Library. Viewed via www.ancestry.co.uk 10.03.2023
Wymondham Parish Registers. Norfolk Record Office PD184. Also available at www.ancestry.co.uk
Wymondham Police Charge Book 1850-1866. Norfolk Family History Society, Kirby Hall, 70 St Giles Street, Norwich NR2 1LS. Library Ref: R4-11.