Everyday life in Great Ellingham was particularly difficult for many of its inhabitants during the 1830s. James Warren and his family were no exception.
James Warren
Marriage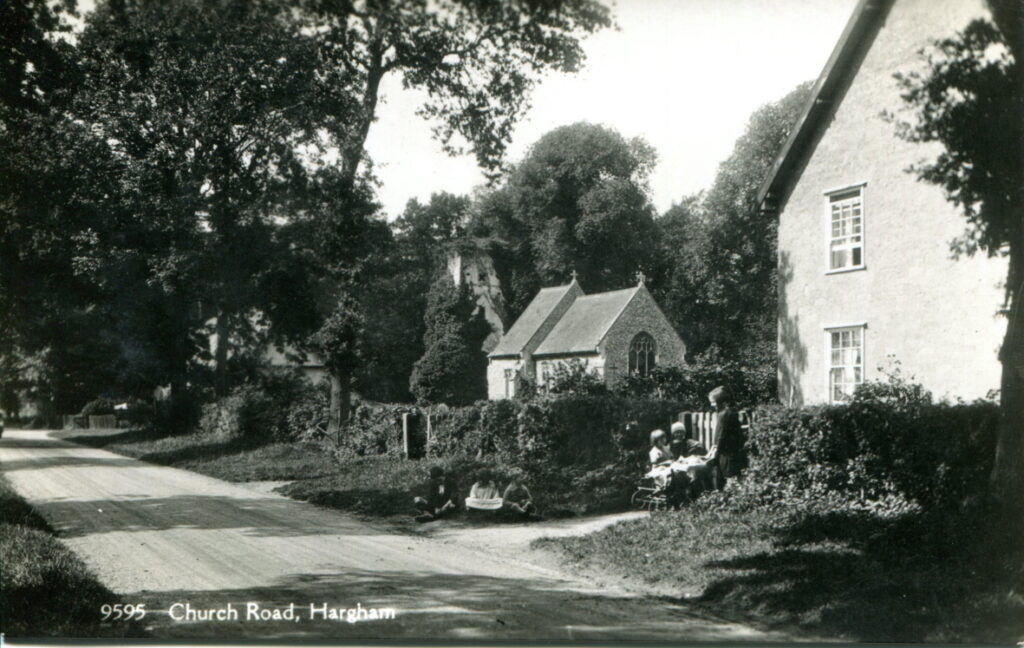 Postcard of Church Road, Hargham with the Church of All Saints in the centre. Author's own collection
On the 21st January, 1814, James Warren of Great Ellingham married Hannah Bowles in her home parish church of All Saints, Hargham.
The announcement of the marriage published in the Norfolk Chronicle a week or so after the wedding, gives James Warren's occupation as a currier.
James's Parents
I had difficulty in establishing the parents of James Warren. I do know that by 1851, Hannah Warren is a widow. Accordingly, it is possible that James is the James Warren aged 61 who was buried on the 14th March, 1842, in the churchyard of St James's Church, Great Ellingham.
Assuming this is correct, then James Warren was born c.1781.
On the 6th June, 1781, James Wright Warren son of John and Elizabeth Warren was baptised in the Church of St James. Therefore, it is likely that this is the James Warren the subject of this blog.
Children
James and Hannah Warren lived in Great Ellingham.
The couple's first child, a son named James Bowles Warren, was baptised in the Parish Church of St James on the 27th July, 1817. Another son, Alonzo, was baptised on the 1st August, 1819.
A daughter, Hannah Eliza, was baptised in the same church on the 3rd May, 1822, followed by Anna Rebecca on the 26th December, 1824.
James and Hannah's youngest son, George Robert, was baptised in the same church on the 4th April, 1830.
This family would experience mixed fortunes in life.
Sale of Small Farm Occupied by James Warren
The Warren family lived at a farm in Great Ellingham. In addition to a dwelling house, the farm comprised a cottage, barn, currier's shop, stable, other buildings, garden and orchard. The farm is identified by the black dot on the extract from an 1802 map (below).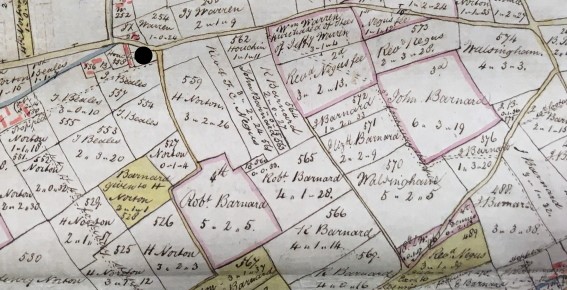 Extract from 1802 Map of Great Ellingham. Original held at Norfolk Record Office. Russell James Colman Plans. Cat. Ref. C/Ca 1/84. With kind permission of NRO
The dwellinghouse had for some time been used as a beer house. It adjoined the Attleborough to Watton Road, and was some distance from the pubs in the centre of the village (i.e. the Chequers and the Crown). The other beer house in the village was on the same road but on the other side of the parish (towards Attleborough).
In February, 1836, the farm together with 8 acres of arable land, was offered for sale by auction. The auction particulars confirm that James Warren was living in the property.
The auction notice appearing in the local paper confirmed that the 'substantially built' barn and currier's shop may 'at trifling expense be converted into excellent cottages'. Further, two thirds of the purchase money could remain on a mortgage.
I do not know whether or not the property sold at auction, or whether the barn was converted to cottages. However, I do know that a William Warren owned the property during the 1830s or 1840s.
I also know that this beer-house was later known as the Currier's Arms Public House.
Insolvent Debtor
A few months after the auction, James Warren's name was amongst a list of 'insolvent debtors' to appear at a court held at Norwich Castle on the 23rd July, 1836. James was described as a publican lately of Great Ellingham. He was previously a currier and leather cutter.
Before the Debtors Act of 1869, insolvent debtors faced a prison sentence. I do not know the outcome of James's appearance at the court (assuming that he did attend the hearing).
Mixed Fortunes
When James found himself in severe financial troubes in February, 1836, his youngest son was around 6, his daughters in their early teens, and his elder sons were fast approaching 20.
Did James Warren serve a term of imprisonment following the court appearance as an insolvent debtor?
The family appear to be elusive on the 1841 census, save for Alonzo who I found living in Norwich.
In any event, I believe James Warren died in March 1842 in Great Ellingham.
The lives of the five children of James and Hannah Warren of Great Ellingham followed very different paths.
Alonzo Warren
During the latter part of 1839, Alonzo married Maria Middleton.
However, just months before the marriage, 19 year old Alonzo appeared at the Norfolk Assizes on the 6th April, 1839. He was charged with robbery with violence. The verdict was 'not guilty'.
The 1841 census captures 20 year old butcher Alonzo Warren living in the Norwich Parish of St John Sepulchure, with his 20 year old wife Maria and their two month old son, George.
Just two years later in 1843, Alonzo again stood in court at the Norfolk Assizes. With three other men, he was charged with larceny in a dwellinghouse. The case against all four men was dismissed, on the grounds of insufficient evidence.
However, on the 25th March, 1844, Alonzo once again appeared at the Norfolk Assizes. Perhaps it was a case of 'third time unlucky' for Alonzo, as this time the result was not a good one for Alonzo.
Together with James Yallop and Richard Quadling, 24 year old Alonzo Warren was charged with burglary in Little Ryburgh. All three men were found guilty, and received a sentence of 10 years' transportation.
On the 6th July, 1844, Alonzo was one of 224 convicts onboard the prison ship Agincourt. The ship was bound for Van Diemen's Land (later Tasmania).
Tragically, Alonzo never arrived at his destination. On the 16th September, 1844, he was placed on the ship's 'Sick List' suffering from dysentry. Alonzo Warren died onboard the Agincourt on the 27th September, 1844, many miles from his birthplace of Great Ellingham.
Did Alonzo's family ever hear of Alonzo's demise?
James Bowles Warren
Two years before his brother Alonzo received a sentence of transportation, James Bowles received a similar sentence.
On the 9th March, 1842, 20 year old James Warren appeared at the Norfolk Assizes charged with burglary. He was sentenced to transportation for a term of 14 years. James had been convicted of poaching, and twice before charged with felony.
James Bowles Warren was onboard the convict ship Moffatt which sailed from Plymouth on the 14th August, 1842. The ship arrived at Van Diemen's Land on the 28th November, 1842, with 387 male convicts.
Did he know that two years later, his brother Alonzo died aboard a convict ship also bound for Van Diemen's Land?
Hannah Eliza Warren
James and Hannah Warren's eldest daugher, Hannah Eliza, married shoemaker Frederick Fenn in 1853.
The 1861 census captures 38 year old Hannah Fenn with her 29 year old husband Frederick Fenn, and one year old daughter Clara living in Norwich. Frederick Fenn is working as a shoemaker, and Hannah is working as a staymaker .
Ten years later, Frederick and Hannah with their family of four daughters (Ellen 17, Clara 11, Emma 8 and Kate 5), are in Bethel Street, Norwich. Frederick is still working as a shoemaker, and Hannah still a staymaker.
By 1891, Hannah is widowed. The census of that year finds 68 year old widow Hannah Eliza Fenn as the head of a large household at 21 St Peter's Street, Norwich (in the centre of the city).
Businesswoman
Hannah is still working as a staymaker. However, at this time she is also an employer of some 20 assistants and three servants. Daughters, 31 year old Clara and 28 year old Emma are living with their mother. Like Hannah, Clara is also a staymaker, and Emma is working as a schoolmistress.
At the age of 35, Clara Fenn died on the 27th June, 1894, at 21 St Peter's Street, Upper Market, Norwich. Just six months later, Hannah Fenn (nee Warren) died on the 3rd December, 1894 aged 72.
George Robert Warren
George Robert Warren, the youngest child of James and Hannah Warren, married Frances Mollett Barnes Gilbert in 1863.
The 1871 census finds 41 year old shoemaker George R Warren with his 34 year old wife Frances at Rosemary Lane in the Norwich Parish of St Michael at Coslany. The couple have four daughters – Alice 7, Frances 5, Anna 2 and four month old Ellen.
George Warren died in the Norwich District in 1894, the same year as his sister, Hannah Eliza.
Anna Rebecca Warren
The youngest daughter of James and Hannah Warren, Anna Rebecca Warren, married Charles Edwin Russell in the Norwich District in the early part of 1850.
Together with their six month old daughter Hannah Margaret, the couple lived with Anna's mother, Hannah, in Norwich in 1851.
Move to Whitechapel
By 1861, Charles and Anna Russell had moved to Whitechapel in Middlesex. The census captures the couple with 8 year old daughter Emma and a visitor, 7 year old Ellen Mary Fenn, presumably a child of Anna's sister Hannah Eliza Fenn (nee Warren).
Ten years later, the 1871 census finds Anna Russell a widow. She is still living in Whitechapel with her 18 year old daughter Emma. Anna is working as a 'needlewoman in city', and Emma as a machinist.
I have not found a corresponding registration of the death of a Charles Edwin Russell in the Whitechapel District.
Order for Removal
However, it seems that Anna's husband may well be the 45 year old Charles Edwin Russell who, in February 1868, was resident in the Shoreditch (St Leonard's) workhouse. As a result of going into the workhouse, Charles became 'chargeable' to the parish.
Unfortunately, Charles was not entitled to receive relief from the parish of St Leonard, Shoreditch.
He only had a right to receive poor relief in the parish of 'legal settlement' which was the parish of his birth – St George Tombland, Norwich.
Charles Russell had a form of dementia. In consequence, and unable to support himself, he would become 'a burden' upon the parish. Therefore, it was no surprise to find that the Poor Law Union of Shoreditch made an application to the magistrates for the removal of Charles Edwin Russell out of the Shoreditch workhouse to the workhouse of the Norwich Incorporation. The order for removal dated 14th February, 1868, was sent by registered post to Norwich.
Presumably on receipt of the order, the Norwich Incorporation arranged for Charles Russell to be brought back to Norfolk, and installed in the workhouse of the Incorporation.
Anna Russell did not follow her husband back to Norfolk, but remained in Whitechapel. If Anna Russell was indeed a widow by the date of the census in 1871 (2nd April), and, assuming that Charles Russell was removed to Norfolk, then Charles died between 1868 and 1871.
I have not found a corresponding registration of the death of a Charles Edwin Russell in Norfolk during this period. However, the death of a 48 year old Charles Edward Russell was registered between January and March 1871. This could be Charles Edwin Russell. It is not uncommon to find discrepancies in recorded names in documentation.
1901
The 1901 census finds 76 year old widow Ann R Russell living with her daughter and son in law, Emma and Francis Lefrance, in the parish of Mile End Old Town London.
The death of an Anna Russell aged 80, was registered in the Mile End District between January and March 1905.
Conclusion
This family certainly experienced mixed fortunes in life.
Did James Warren spend time in prison after his appearance as an insolvent debtor at the court in Norwich in 1836? If so, what effect did this have on him and his family?
In the 1840s, James Bowles Warren and his brother Alonzo Warren were, on separate occasions, found guilty of criminal offences. Each were sentenced to transportation to Van Diemen's Land (Tasmania). What led the brothers to commit the offences?
Sadly, Alonzo died during the long journey to 'the other side of the world'. Did the Warren siblings back home know that only one of the brothers reached Tasmania?
After serving his sentence, did James Bowles Warren keep out of trouble and make a success of his life in Tasmania?
Anna's husband, Charles Russell, had a form of dementia at the age of 45. In 1868, Charles came back to Norfolk (seemingly not his choice), while Anna remained in Whitechapel. Why did Anna not follow her husband back to Norfolk?
Staymaker Hannah Eliza Fenn (née Warren) became a business woman. By 1891, Hannah employed some 20 people in the centre of Norwich.
Sources:
1802 Russell James Colman Plans. Great Ellingham. Norfolk Record Office. Catalogue Ref. C/Ca 1/84
Great Ellingham Parish Registers. Norfolk Record Office. PD609. Also available at www.familysearch.org
Hargham Parish Registers. Norfolk Record Office. PD96. Also available at www.familysearch.org
1841 census HO107/789/4
1851 census HO107/1812/214
1861 census RG9/1219/83; RG9/273/95; RG9/1219/83
1871 census RG10/1807/137; RG10/522/17; RG10/1817/73
1881 census RG11/1947/104
1891 census RG12/1527/93
1901 census RG13/328/98
Norfolk Chronicle. 6th February 1836. Viewed via britishnewspaperarchive.co.uk 15th May 2021
Norfolk Chronicle. 12th February 1814. Viewed via britishnewspaperarchive.co.uk 15th May 2021
Norfolk Chronicle. 4th July 1835. Viewed via britishnewspaperarchive.co.uk 7th May 2021
Norfolk News 30 June 1894. Viewed via britishnewspaperarchive.co.uk 17th May 2021
Thetford & Watton Times. 8th December 1894. Viewed via britishnewspaperarchive.co.uk 17th May 2021
GRO Index. Free BMD website.
https://www.freebmd.org.uk/cgi/information.pl?cite=R9hKntLDaKlnwGiX5or2NA&scan=1
https://www.freebmd.org.uk/cgi/information.pl?cite=K7LDrkw6w8zwXuXpMrOZCg&scan=1
https://www.freebmd.org.uk/cgi/information.pl?cite=TzeFsHaZ3mRgHQzHfsLQxg&scan=1
https://www.freebmd.org.uk/cgi/information.pl?cite=x03PlNBXKzzz4rIYAfDgTg&scan=1
https://www.freebmd.org.uk/cgi/information.pl?cite=ZbSHTDaYX5RRX9Se1PCgVA&scan=1
https://www.freebmd.org.uk/cgi/information.pl?cite=voc3Qolw7D4UHZCol%2Fyj1A&scan=1
https://www.freebmd.org.uk/cgi/information.pl?cite=iLVarCSA10fET2JQElwn2A&scan=1
GRO Index https://www.gro.gov.uk/gro/content/certificates/Login.asp
London, England, Selected Poor Law Removal and Settlement Records 1698-1930
Shoreditch-Orders of Removal-1868-1869. London Metropolitan Archives; London, England; London Poor Law Registers; Reference: SHBG/128/001, Viewed via Ancestry.com 18th May 2021
James Bowles Warren in the UK Prison Hulk Registers and Letter Books 1802-1849. Home Office: Convict Prison Hulks: Registers and Letter Books; Class: HO9; Piece: 15. Viewed via Ancestry.com 18th May 2021
James Warren, in the England & Wales Criminal Registers 1791-1892. Class: HO 27; Piece: 67; Page: 372. Home Office: Criminal Registers, Middlesex and Home Office: Criminal Registers, England and Wales; Records created or inherited by the Home Office, Ministry of Home Security, and related bodies, Series HO 26 and HO 27; The National Archives of the UK (TNA), Kew, Surrey, England. Viewed via Ancestry.com 18th May 2021
James Bowles Warren Australian Convict Transportation Registers – Other Fleets & Ships 1791-1868. Class: HO 11; Piece: 13. Home Office: Convict Transportation Registers; (The National Archives Microfilm Publication HO11); The National Archives of the UK (TNA), Kew, Surrey, England. Viewed via Ancestry.com 18th May 2021
Alonzo Warren in the England & Wales Criminal Registers 1791-1892. Class: HO 27; Piece: 58; Page: 287. Home Office: Criminal Registers, Middlesex and Home Office: Criminal Registers, England and Wales; Records created or inherited by the Home Office, Ministry of Home Security, and related bodies, Series HO 26 and HO 27; The National Archives of the UK (TNA), Kew, Surrey, England. Viewed via Ancestry.com 18th May 2021
Alonzo Warren in the England & Wales Criminal Registers 1791-1892.Date of trial 25 March 1844. Class: HO 27; Piece: 73; Page: 306. Home Office: Criminal Registers, Middlesex and Home Office: Criminal Registers, England and Wales; Records created or inherited by the Home Office, Ministry of Home Security, and related bodies, Series HO 26 and HO 27; The National Archives of the UK (TNA), Kew, Surrey, England. Viewed via Ancestry.com 18th May 2021
Alonzo Warren in the UK Prison Commission Records 1770-1951.The National Archives; Kew, London, England; PCOM 2: Metropolitan Police: Criminal Record Office: Habitual Criminals Registers and Miscellaneous Papers.Original data: PCOM 2 1770-1951 Home Office and Prison Commission: Prisons Records, Series 1. Kew, Surrey, England: The National Archives. Viewed via Ancestry.com 18th May 2021
Alonzo Warren in the UK Royal Naval Medical Journals 1817-1856. Ship Agincourt. The National Archives of the UK (TNA); Admiralty and predecessors: Office of the Director General of the Medical Department of the Navy and predecessors: Medical Journals; Reference Number: ADM 101/1/7.Admiralty and predecessors: Office of the Director General of the Medical Department of the Navy and predecessors: Medical Journals (ADM 101, 804 bundles and volumes). Records of Medical and Prisoner of War Departments. Records of the Admiralty, Naval Forces, Royal Marines, Coastguard, and related bodies. The National Archives. Kew, Richmond, Surrey. Viewed via Ancestry.com
England & Wales Criminal Registers 1791-1892 Alonzo Warren. Class: HO 27; Piece: 70; Page: 363
Home Office: Criminal Registers, Middlesex and Home Office: Criminal Registers, England and Wales; Records created or inherited by the Home Office, Ministry of Home Security, and related bodies, Series HO 26 and HO 27; The National Archives of the UK (TNA), Kew, Surrey, England. Viewed via Ancestry.com 18th May 2021