Emigration
Like many other families and individuals from the eastern counties, several families from Great Ellingham also emigrated in 1836.
This mass emigration was likely as a result of the hardship being suffered by many agricultural workers following the introduction of machinery. Many agricultural labourers were out of work or, those still in work, found a significant decrease in their wages.
Reference to several of these agricultural labourers and their families, whose emigration was funded by the parish, appear in the Great Ellingham Town Books for 1836. However, I have not found any mention of the emigration of George Mitson and his family.
50 year old George Mitson together with his 42 year old wife Elizabeth (née Pease) and children Ann aged 18, Samuel 17, Peter 15, George 13, Robert 10, James 7, William 5 and two year old Sarah Ann, also left Great Ellingham for Quebec, Canada in 1836.
Marriage in St Mary's Church, Attleborough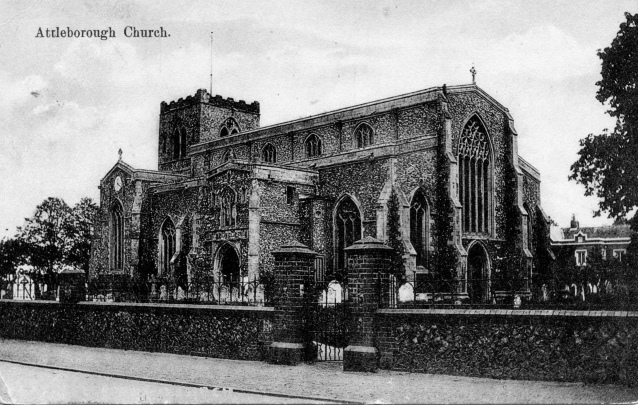 St Marys Church, Attleborough. Postcard courtesy of BCV
George Mitson married Elizabeth Pease in St Mary's Church, Attleborough on the 14th October, 1816. George, a bachelor, was then of Great Ellingham and Elizabeth, also single, was of Attleborough.
The couple may have made their home in Great Ellingham immediately after the marriage. Certainly by 1818, George and Elizabeth were living in the village.
Baptisms of Children
Although marrying in the parish church at Attleborough, George and Elizabeth had their first two children, Elizabeth and Samuel, baptised at a Methodist Church.
Baptisms for Elizabeth on 11th January, 1818 and Samuel on 28th March, 1819, appear in the records for the New Buckenham Methodist Circuit. Their place of abode was given as Great Ellingham.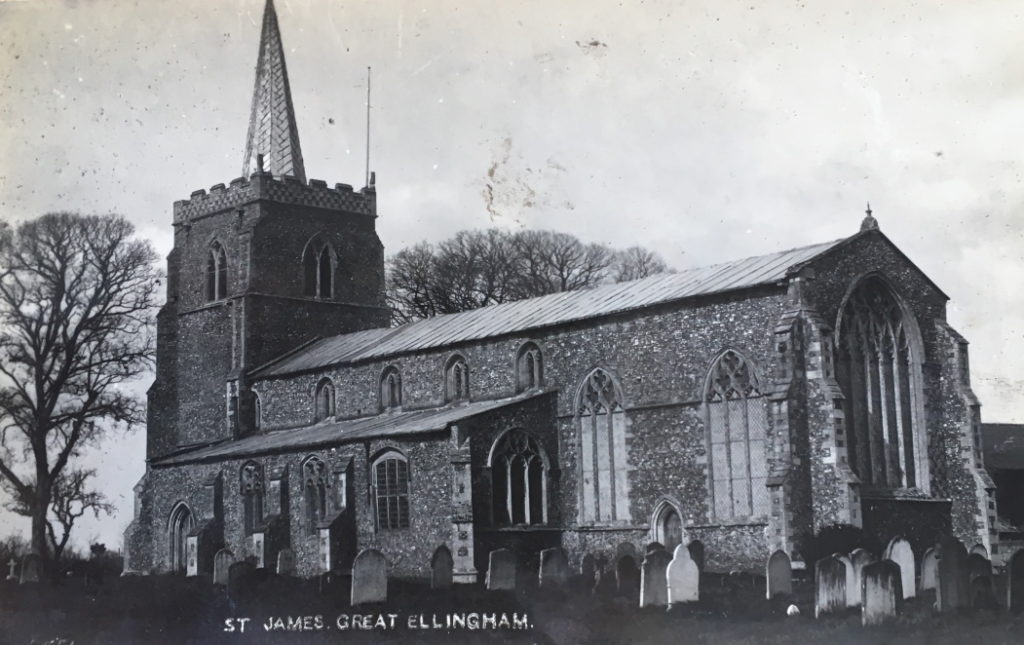 St James Great Ellingham. Postcard Attleborough Heritage Group
However, on the 23rd January, 1831, George and Elizabeth Mitson took their six children for baptism at St James's Church, Great Ellingham. These children included Samuel aged 12 and Ann aged 13 (whom I suspect to be Elizabeth) who were previously baptised at a Methodist chapel. The other children baptised in the parish church (with Samuel and Ann) were Peter aged 10, George aged 7, Robert 5 and one year old James.
The following year, on the 12th February, 1832, George and Elizabeth's son William was baptised in St James's Church, Great Ellingham, followed by Sarah Ann on March 23rd, 1834.
Two year's later, the Mitson family packed their belongings and left Great Ellingham for Canada.
George, son of George & Bridget Mitson
George Mitson was one of at least six children of George and Bridget Mitson.
Marriage of George Mitson & Bridget Chenery
Bachelor George Mitson and widow Bridget Chenery married in the parish church at Tibenham on the 22nd February, 1786. As Bridget Tann, Bridget had married John Chenery in the same church some five years earlier. She had been left a widow on the death of John Chenery (aged just 28 years) in May 1784.
Mitson Children
Six months after his parents' marriage, George was born on 18th August, 1786. He was baptised in the parish church at Tibenham just two days later. George was followed by John in 1788, Samuel 1791, William 1793, Mary 1797 and another John in 1799 (the earlier John having been buried in 1797).
George & Bridget Mitson in Great Ellingham
At some point, George and Bridget moved to Great Ellingham. They may well have been living in Great Ellingham when their son George and his family emigrated in 1836.
83 year old Bridget Mitson was buried in the churchyard of St James on the 24th September, 1839. George survived his wife Bridget by eighteen months. Although living in Little Ellingham at the time of his death, George Mitson was also buried in the churchyard of St James on the 5th March, 1841.
We can only wonder whether George and Bridget received any communication from their son George after his emigration to Canada in 1836.
New Beginnings in Canada
George and Elizabeth Mitson together with their family did indeed arrive safely in Canada. They began a new life some 3,000 miles from their origins in Norfolk, England, UK.
Sources:
Tibenham Parish Registers. Norfolk Record Office.PD 515. Also available at www.familysearch.org and FreeReg www.freereg.org.uk
Atteborough Parish Registers. Norfolk Record Office.PD 438.Transcript of Attleborough Marriages 1552-1930. Norfolk Family History Society. https://www.norfolkfhs.org.uk/
New Buckenham Circuit (Wesleyan). 1812-1858. Norfolk Record Office. Transcript New Buckenham, Wesleyan Methodist Church, Baptisms 1813-1858. Norfolk Family History Society. https://www.norfolkfhs.org.uk/
Great Ellingham Parish Registers PD 609. Also available at www.familysearch.org
Parish Chest Materials of Great Ellingham 1741-1839. Items 1-2 Overseer's Accounts and rates 1804-1819: Vestry Minutes, 1822-1839. Viewed via https://www.familysearch.org/ 08 October 2020
Thanks to 'Lake and Reynolds Genealogy' http://www.reynolds-lake.ca/index.php