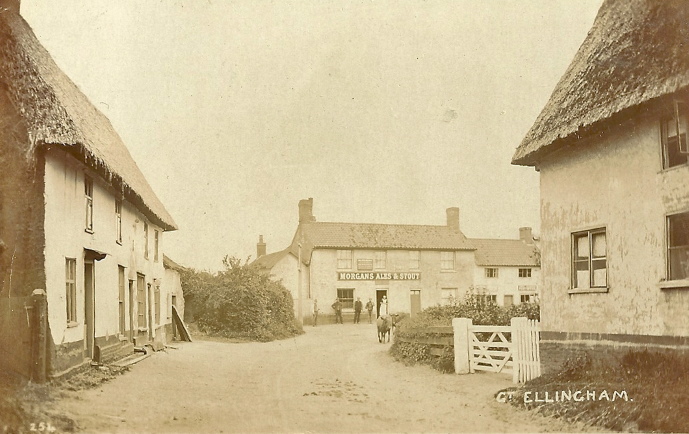 It is possible that Ye Olde Thatche Shoppe to the left or the shop attached to the Crown Public House was the grocer and draper's shop of William Adam Bennett in 1871. Courtesy of Attleborough Heritage Group
Grocer & Draper, William Bennett
Chesterfield born William Adam Bennett was one of at least three grocers and drapers living and trading in Church Street, Great Ellingham in 1871.
The census captures 38 year old William Bennett with his wife Anne Mary and children Elizabeth 9, Isabella 7 and three year old Felix in Church Street. The Bennett family had arrived in Great Ellingham from Middlesex some time after the birth of Felix (around 1867) and the 1871 census date.
Two further children were born to the couple whilst they were in the village. Alice Augustus was baptised in the Parish Church on 6th August, 1871 and Alexander Richard on 6th September, 1874.
By the next census (3rd April 1881), the family had moved to Langley Street in Norwich. A crossed out comment on the census return suggests that grocer William Bennett was unemployed. However by 1891 census, William was again in work as a grocer in the Heigham area of Norwich.
Notice of Intention to Apply for Off-License
A notice dated 13th August, 1873 and signed by William Adam Bennett was published in the Norwich Mercury on 16th August, 1873. The notice, addressed to One of the Overseers of the Poor of the Parish of Great Ellingham, the Superintendent of Police for Guiltcross & Shropham and to 'whom it may concern', stated the intent of William Adam Bennett presently and having resided in Great Ellingham for the last six months and a grocer by occupation, to apply to the General Annual Licensing Meeting for Guiltcross & Shropham being held at East Harling Police Station on 9th September, for a Licence to sell SWEETS to be consumed off the premises, being a shop in the Street at Great Ellingham.
Similar notices in relation to other shop proprietors and premises in the same area appeared in the same newspaper.
The application for an off-licence to sell sweets did not relate to the sale of confectionery but for sweet wines!
At a Magistrates Court sitting in the September, licences to sell sweets were granted to Messrs E W Palmer of New Buckenham, Mr Jonathan Row of Kenninghall and Mr William Adam Bennett of Great Ellingham.
Earlier Court Appearance
William Bennett had appeared before the East Harling Magistrates two years previously. The Norwich Mercury of November 11th, 1871 reported that William Bennett of Great Ellingham, shopkeeper, was convicted of having in his shop an 'unjust flour scale'. Bennett was fined with costs the sum of £1 6s.
Sources:
1891 census RG12/1530/119
1881 census RG11/1953/59
1871 census RG10/1841/87, RG10/1841/88, RG10/1841/89
Great Ellingham Parish Registers. Norfolk Record Office PD/609. Also available at FamilySearch.org https://www.familysearch.org/search/image/index?owc=4J8C-CB7%3A29627201%3Fcc%3D1416598
Norwich Mercury 16th August 1873
Norwich Mercury 11th November, 1871
Norfolk Chronicle & Norwich Gazette 13th September, 1873