Jean B who was grew up in the village in the 1930s recalled that the area opposite the bus shelter on the Attleborough to Watton Road (near the junction with Church Street) was known at that time as "King's Corner" as a Mr King ran a Blacksmith's shop there.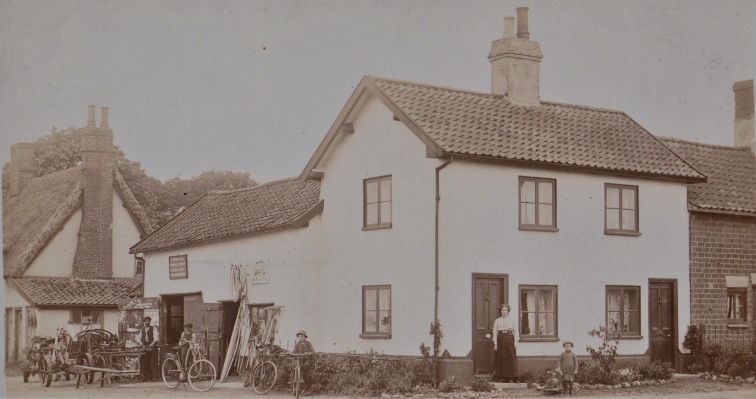 Andrew King outside his Smithy in Great Ellingham. 'A King' on the sign above the door. Photograph courtesy of Patricia Whiteaker
Kelly's Directory of 1925, lists Andrew King as a blacksmith in Great Ellingham. The Directory of 1937 lists Mary Naomi King as blacksmith.
Andrew King, blacksmith, of Great Ellingham was buried in the churchyard of St James on October 21st, 1936. He was 58 years.
The Eastern Daily Press of 23rd October, 1936, reported on the funeral, which was attended by a large gathering. The newspaper article tells us that Mr King, a skilled workman with a high reputation, 'entered business on his own account at Great Ellingham 24 years ago'. He was a respected member of the community, and participated in many Parish Church affairs, including the position of a sidesman. Mr King was a member of the church choir throughout his time in Great Ellingham.
Mary Naomi King (also of Great Ellingham) was buried in the same churchyard on March 20th, 1941.
Who were Andrew & Mary King?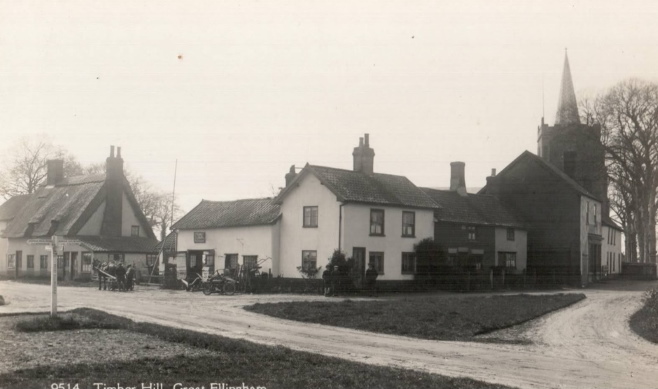 The 1911 census captures Andrew and Mary King with three sons, George aged 11, Andrew 7 and one year old Walter living in Feltwell. Andrew (aged 32) was described as a blacksmith.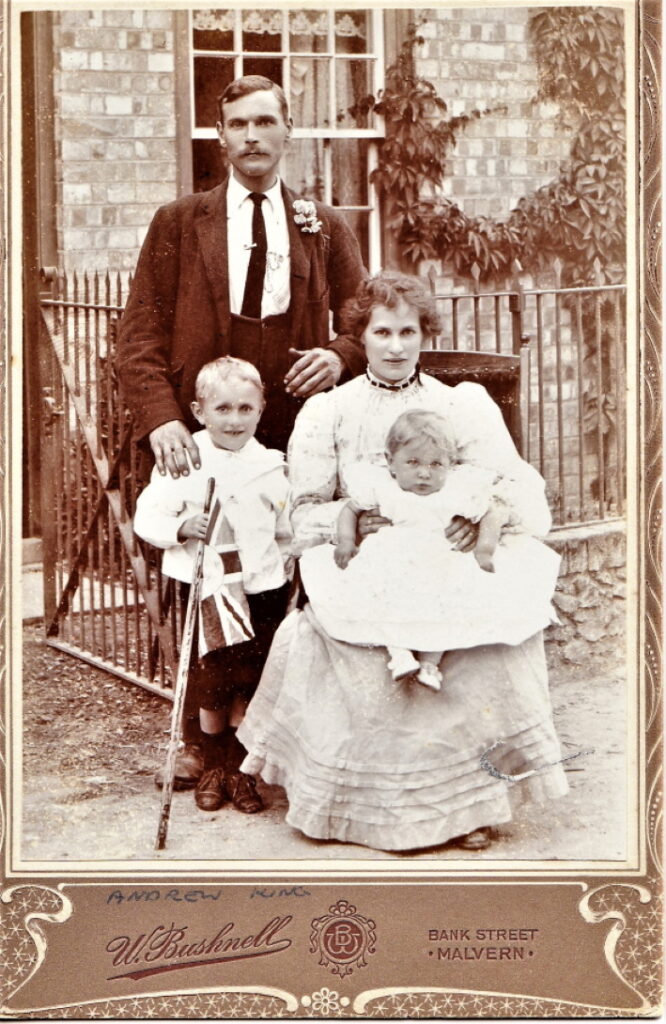 Andrew & Mary Naomi King with two of their children. Photograph taken on Empire Day 1904 whilst the family were living in Feltwell. Courtesy of Patricia Whiteaker
Accordingly, the King family moved to Great Ellingham sometime after 1911.
Kellys Directory of 1925 reveals wheelwright William Kybird in Great Ellingham.
William had a wheelwright's shop which is shown in the above postcard. Given that Andrew King, blacksmith, is also listed in Kelly's Directory of 1925, Andrew King either shared premises with William Kybird or had premises near to William Kybird. Looking at the above postcard of 'Timber Hill', there could be shop premises attached to the large thatched house on the left of the postcard and/or further premises set back between the two properties.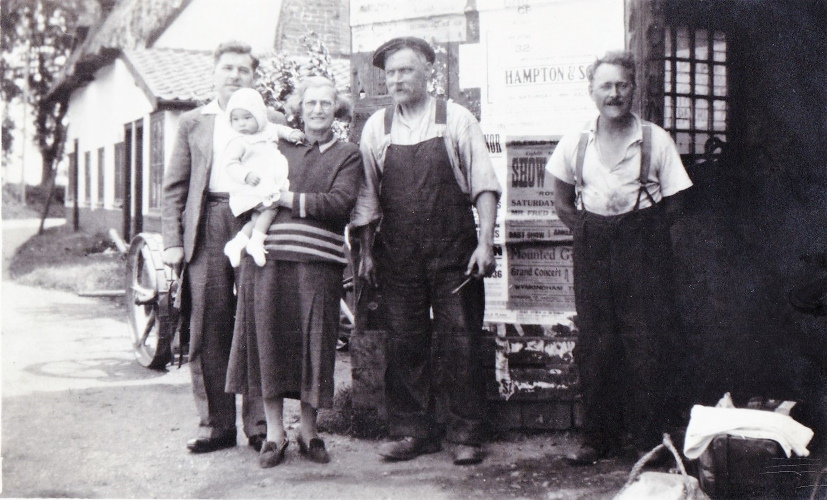 Blacksmith Andrew King in the centre with his wife, Mary Naomi King holding a grandson. Two sons of the couple also in the photograph which was taken outside his Smithy in Great Ellingham. Photograph courtesy of Patricia Whiteaker
Sources:
Great Ellingham Parish Registers Norfolk Record Office PD/609
1911 census RG14/11717/73
Kelly's Directories 1925, 1937
Eastern Daily Press 23rd October 1936. Viewed via localrecall.co.uk 10th August 2020
Updated November 2020