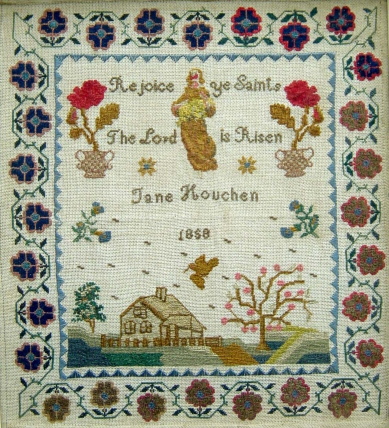 Sampler worked by Jane Houchen in 1858. Courtesy of Pauline Bezant
Jane Houchen may well have been approaching her eleventh birthday when she completed this piece of needlework. In days gone by, 'Samplers' were produced by young girls as a means of showing their skill in needlework. Often worked in embroidery or cross-stitching, some Samplers were quite elaborate.
Who was Jane Houchen?
A daughter of Francis and Matilda Houchen, Jane was baptised in the local Parish Church in Great Ellingham on the 19th December, 1847.
The 1851 census finds three year old Jane with her parents and siblings, 6 year old Sarah Ann and five year old James, in Bow Street, Great Ellingham.
Ten years later, 13 year old Jane is with her family living at the north side of Long Street. Her 41 year old father, Francis Houchen, is described as a thatcher.
The census of 1871 captures 23 year old Jane as a housemaid in the household of 73 year old farmer, Richard Peck, in Wilby. At some point before the next census, Richard Peck moved to Attleborough. The 1881 census finds 33 year old Jane Houchen as a visitor at the home of 83 year old retired farmer, Richard Peck, in Station Road, Attleborough. Jane was either visiting her former employer or one of the servants of the house.
The next census (of 1891), finds 43 year old Jane Houchen as housekeeper to 67 year old single man, Charles Drake in Long Street, Great Ellingham. Jane is still with Charles Drake in 1901. However the census does not give any occupation for Jane.
Jane Houchen remained single. The 1911 census shows 63 year old Jane living on her own means and living alone in Long Street.
I believe Jane's home was not far from the Baptist Church and the former school in Long Street.
A 1910 Auction Particulars and Conditions concerning the sale of Two Semi-Detached Tiled, Clay and Plaster Dwelling Houses (with outbuildings and garden) in Great Ellingham, state that these Houses were in Long Street and adjoined properties of Mr Allan Lincoln, Miss Houchen and the Old Baptist School.
The Particulars further say that the Dwelling Houses would be sold with a right for the owners of the Houses to draw water from the well belonging to the adjoining property of Miss Houchen.
Jane Houchen died on January 18th, 1925 at the age of 77 and was buried in the churchyard of St James.
Sources:
1851 census HO107/1823/115
1861 census RG9/1237/78
1871 census RG10/1839/29
1881 census RG11/1974/56
1891 census RG12/1549/79
1901 census RG13/1867/78
1911 census RG14/11473/82
Great Ellingham Parish Registers. Norfolk Record Office. PD/609. Also available at FamilySearch.org https://www.familysearch.org/search/image/index?owc=4J8C-CB7%3A29627201%3Fcc%3D1416598
1910 December 15th. Particulars and Conditions of Sale. Rockland St Peter, Great Ellingham, Attleborough, Caston, Old Buckenham. Attleborough Heritage Group, Attleborough Community & Enterprise Centre, Church Street, Attleborough NR17 2AH