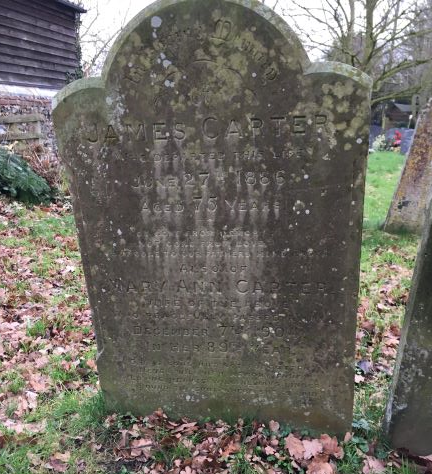 Headstone for James Carter and wife Mary Ann in the churchyard at Great Ellingham
Marriage
The marriage of James Carter and Mary Barnard took place in the Parish Church of Great Ellingham on November 28th, 1837.
Registration
In July of that year, the compulsory registration of births, marriages and deaths was introduced. Accordingly, the couple would have been required to register the marriage. The Registration of their marriage appears in the December Quarter of 1837 in the District of Wayland.
Both Single and Over 21
The Parish Register states that both James and Mary were "of full age" (meaning they were both aged 21 years or more) and both were single. James is described as a labourer and Mary a servant. Both were living in Great Ellingham at the time of their marriage.
Daughter of Charles Barnard
The headstone in Great Ellingham churchyard, gives Mary's full name as Mary Ann. The record of her marriage to James Carter gives her name as Mary Barnard. Mary was the daughter of wheelwright, Charles Barnard.
The various census returns from 1851 provide a person's place of birth – although this can be incorrect! On some of the census returns, Mary's place of birth is given as Great Ellingham, but on others it is stated to be Attleborough. I have not found a baptism entry for Mary in the Great Ellingham Parish Registers.
Carter Family
The son of Samuel Carter and his wife Murrell (late Ashby), James Carter was baptised in the Parish Church of Great Ellingham on 21st July, 1811.
James was one of at least seven children. James Carter's ancestors can be traced back several generations in Great Ellingham. Several Carter families lived in the village in the nineteenth century.
James & Mary Carter and their Family
James and Mary Carter had at least seven children. These children were baptised in the Parish Church between 1838 and 1854: Hannah Eliza baptised 2 December 1838; Barnard Charles 11 April 1841; Elizabeth and Sarah Ann were baptised on 31 May 1846; James on 22 October 1848; Rebecca and Mary Ann on 9 April 1854.
1841
The couple with two year old Hannah and Charles (Barnard Charles) aged 6 months were living in Great Ellingham in 1841. However the census is not specific as to whereabouts they lived.
1851
Ten years later in 1851, the family are in Town Green. James and Mary now have Sarah Ann aged 8, Elizabeth 6, James 3 and two month old Rebecca in addition to 13 year old Hannah and Charles aged 11. James Carter is a 39 year old farm labourer and Mary Ann two years younger, at 37.
1861
The census of 1861 confirms that James and Mary still have three of their children living with them in Long Street.
1871 & 1881
By 1871, the couple are living by themselves at 'The Green'. In 1881, the census shows the couple living in Town Green.
Given that I have found that some of the census returns include parts of Long Street as being Town Green, I think it possible that James and Mary lived in the same area (if not the same house) for most, if not all, of their married life.
Death of James Carter
James Carter died on June 27th, 1886 aged 75 years. He was buried on 1st July.
1891
The 1891 census, finds widow Mary Ann Carter living alone in Town Green. Mary was still living alone in Town Green in 1901.
Death of Mary Ann Carter
Mary Ann Carter died on December 7th, 1904 aged 89 and was buried on 12th December.
Sources:
Great Ellingham Parish Registers Norfolk Record Office PD/609. Also available at FamilySearch.org https://www.familysearch.org/search/image/index?owc=4J8C-CB7%3A29627201%3Fcc%3D1416598
1841 census HO107/781/8
1851 census HO107/1823/110
1861 census RG9/1237/92
1871 census RG10/1841/76
1881 census RG11/1974/80
1891 census RG12/1549/69
1901 census RG13/1867/70
http://www.freebmd.org.uk/cgi/information.pl?cite=wEUOn7chSJ70o7gCn0zmrQ&scan=1 accessed 10.05.2019