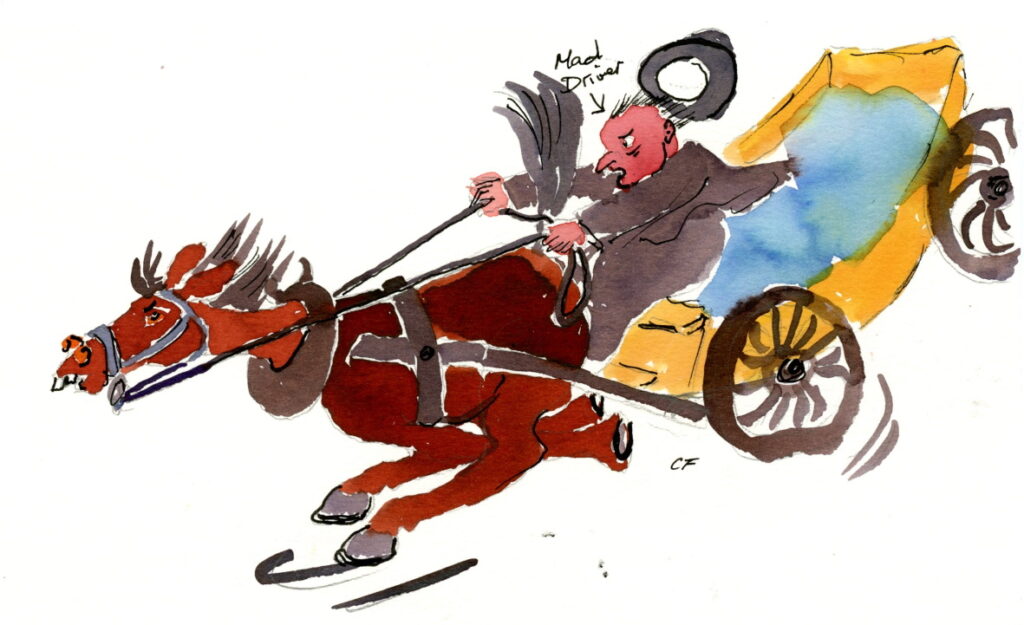 Illustration by Christine Fuller
Charge
In the December of 1865, a James Beales, labourer, of Great Ellingham appeared before the magistrates at East Harling, on a charge of furious driving on the highway leading from Great Ellingham to Attleborough.
He was found guilty and adjudged to pay a penalty and costs of £2, with one month's imprisonment in default.
Being some years away from the introduction of the motor car, James Beales would have been furiously driving a horse and cart!
Which James Beales appeared before the Magistrates?
The census of 1861 reveals two families in Great Ellingham with James Beales as the head of the household. Further, both families were living in Long Street.
James Beales, aged 29, is with his wife Rachel and their one year old daughter Rebecca.
In the same street, is James Beales aged 36, with his wife Sarah and their two children, Jane (10) and two year old William.
Both men are described as agricultural labourers. These two families are still in Long Street in 1871.
First Cousins
Unfortunately, I do not know which person with the name 'James Beales' it was. However, I do know that the two James Beales were first cousins.
James Beales the husband of Rachel, was the son of William and Elizabeth Beales and baptised in the Church of St James on February 13, 1831.
James Beales the husband of Sarah, was baptised in the same church on 15 January 1826, the son of Philip and Sarah Beales.
William Beales and Philip Beales were brothers. Sons of Thomas Beales and his wife Anne, they were also baptised in the Church of St James.
Sources:
Norwich Mercury December 23rd, 1865
1841 census HO107/781/8
1851 census HO107/1823/114 & HO107/1823/117
1861 census RG9/1237/94 & RG1237/95
1871 census RG10/1841/90 & RG10/1841/92
Great Ellingham Parish Registers Norfolk Record Office PD/609. Also available at FamilySearch.org https://www.familysearch.org/search/image/index?owc=4J8C-CB7%3A29627201%3Fcc%3D1416598
Updated September 2020