On the 22nd May, 1780, Great Ellingham farmer Jacob Carter signed an apology to James Barnard junior of Bury Hall, Great Ellingham. Jacob signed the apology in the presence of local man, Daniel Lister.
He then arranged for the publication of the apology in the Norwich newspapers. The apology appeared on page 3 of the Norfolk Chronicle dated June 3rd, 1780, in the following form:
WHEREAS I Jacob Carter of Great Ellingham in the county of Norfolk Farmer did on or about the 8th day of this instant May publickly speak several false and malicious words tending to injure the character and reputation of Mr James Barnard Jnr of Bury-Hall in Great Ellingham aforesaid

Now I do hereby confess and declare those aspersions to be entirely destitute of truth and heartily thank the said Mr Barnard for his leniency and kindness in not commencing an action at law against me for uttering the same and most humbly entrust his Pardon promising never more to offend him in like manner and desire this advertisement may be inserted in the Norwich news-papers at my expense

Whereas my hand this 22nd day of May 1780

JACOB CARTER

Witness - Daniel Lister
I do not know the details of the disagreement between the two men, and what led Jacob Carter to publicly slander James Barnard. Nevertheless, it seems that the 'fall out' was such that Jacob Carter was forced to publicly apologise and 'humbly' seek Barnard's pardon. I wonder whether James Barnard considered issuing a challenge to Carter for a duel!
Who was Jacob Carter?
Birth in Stow Bedon
Jacob was one of six known children of Edward and Dosia (Theodosia?) Carter of Stow Bedon.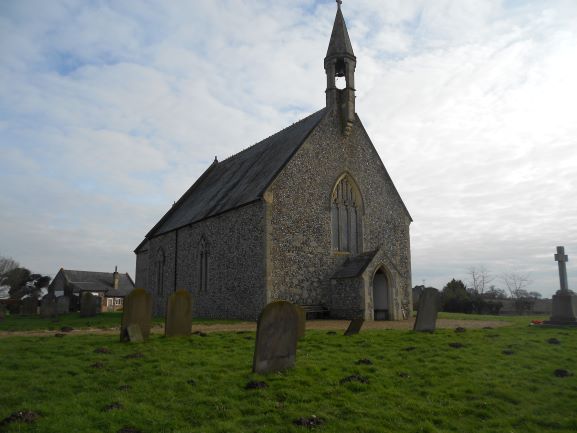 St Botolph's Church, Stow Bedon
He was baptised in the Parish Church at Stow Bedon on the 2nd February, 1728. His elder brother, John, was baptised in the same church some 15 years earlier in 1713.
Jacob was the second son of Edward and Dosia to be given the name Jacob. An earlier Jacob was born to Edward and Dosia Carter in 1723. However, this Jacob was buried within weeks of his baptism.
In 1731, Dosia Carter gave birth to twin sons, Peter and Edmund. Tragically, Dosia Carter died within a couple of weeks of the twins' baptism, which likely took place within weeks (if not days) of the birth.
Dosia Carter was buried in the churchyard at Stow Bedon on the 27th May, 1731. Sadly, on the 2nd June, the infants Peter and Edmund, were also buried.
For Dosia Carter and her contemporaries, the risk of dying following childbirth was very high. In the eighteenth century hygiene, healthcare and nutrition were vastly different than they are today. Infant mortality was also high.
At the end of 1735, Edward Carter buried his son, Edward, in the churchyard at Stow Bedon.
Four years later, when Jacob was 11 years old, his father, Edward Carter, died. On the 20th August, 1739, Edward Carter was buried in the churchyard at Stow Bedon.
Marriage
Ten years after this father's death, on the 12th July, 1749, Jacob Carter married Margaret Dunham in St Mary's Church, Attleborough.
Children in Great Ellingham
The couple were in Great Ellingham by the time their first known child, Theodosia, was born c.1753. I assume that Theodosia was named after Jacob's mother.
On the 26th February, 1753, Theodosia was baptised in the Parish Church at Great Ellingham.
In early 1755, Margaret Carter gave birth to another daughter, Mary. She was also baptised in the Church of St James. Sadly, Mary was buried just two weeks after her baptism.
Another daughter, also given the name Mary, was born in 1756. Mary's baptism took place on the 22nd December, 1756. Mary died at the age of 11 in 1767.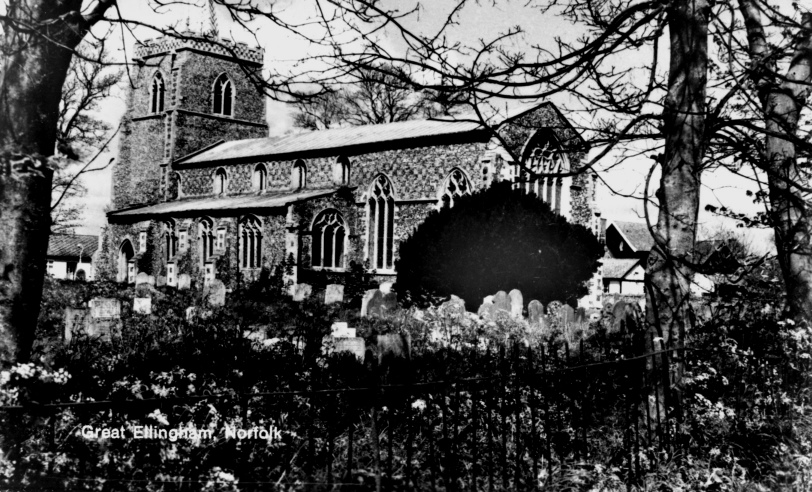 Great Ellingham Church of St James. Postcard courtesy of BCV
A further daughter for Jacob and Margaret arrived in early 1759. On the 18th February, Mary Ann was baptised in St James' Church.
Alice followed in 1761, and was baptised on the 10th October.
In early 1764, having produced five daughters, Margaret gave birth to a son, Cornelius. Sadly, the couple buried Cornelius on the 25th January, 1766.
However, the following year, Margaret gave birth to another son. Baptised in St James's Church on February 22nd, 1767, this child was also give the name Cornelius.
Owner of Property in Great Ellingham
Jacob Carter is listed in the Poll Book for 1768 as owning freehold property (and/or land) in Great Ellingham. He was also living in the village at this time. I also know that Jacob Carter owned copyhold land. Accordingly, I think it reasonable to assume that he was living in his own property. We also know from the apology that Jacob Carter was a farmer.
White House Farm
From my investigations of the Manor Court Books for Buckenham Castle Outsoken, I deduced that it was highly probable that Jacob Carter once owned a farm in Long Street, Great Ellingham. I believe that this property later became known as 'White House Farm'.
This assumption is based on an unbroken chain of ownership of certain pieces of copyhold land which is recorded in the Manor Court Books. I know for sure by the late eighteenth century that these pieces of copyhold land and White House Farm in the same ownership. I think it is reasonable to think that this was also the case much earlier.
The Manor Court Books tell us that following the death of his father Jaco in 1786, Cornelious Carter inherited two pieces of copyhold land of the Manor of Buckenham Castle.
Further, the Manor Court Books tell us that some 26 years earier in 1760, Jacob Carter purchased the same pieces of copyhold land from Adam Margerum. It is therefore possible that at the same time as Jacob Carter purchased the copyhold land, he also purchased the freehold property (White House Farm) from Adam Margerum.
Accordingly, at the time of his 'fall out' with James Barnard of Bury Hall in 1780, Jacob Carter likely lived and farmed at the property to the southern end of Long Street, later known as White House Farm. However, without knowing when the White House Farm was built, Jacob Carter's farmhouse may well have been a different building than it is today.
Death of Jacob Carter
58 year old married man, Jacob Carter, was buried in the churchyard of St James's Church on the 9th March, 1786, just six years after his quarrel with James Barnard.
Sources:
Willis, Simon. (2013) 'Pregnancy and Childbirth' How Our Ancestors Died. Pen & Sword Books Ltd., Page numbers 143 to 144
1753-1847 Manor of Buckenham Castle, Lathes, Close and Priory. Court Book. Norfolk Record Office. Catalogue Ref: MC 1833/8 -MC 1833/16. 1595-1847 also available at https://www.familysearch.org/
Great Ellingham Parish Registers. Norfolk Record Office. PD 609. Also available at https://www.familysearch.org/en/
Stow Bedon Parish Registers. Archdeacon's Transcripts. Norfolk Record Office. PD 562. Viewed via https://www.ancestry.co.uk
Attleborough Parish Registers. Norfolk Record Office. PD 438. Transcript of Attleborough Marriages 1552-1930. Norfolk Family History Society. https://www.norfolkfhs.org.uk
Norfolk Chronicle 3rd June, 1780
Poll Book 1768 Borough: Thetford. Hundred: Shropham. Parish: Ellingham, Great. Poll Books & Electoral Registers 1538-1893. London, England, UK and London Poll Books. London, England: London Metropolitan Archives and Guildhall Library. Viewed via https://www.ancestry.co.uk