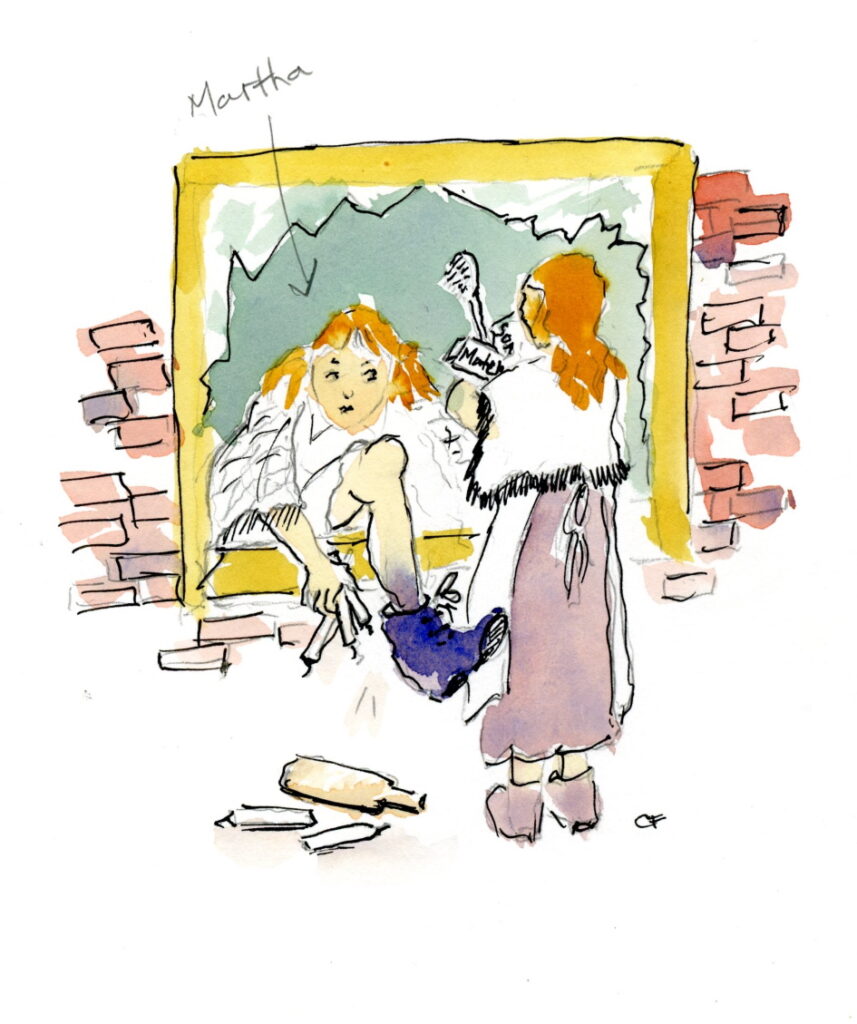 Illustration by Christine Fuller
Martha and Jemima Downes Committed for Trial
Sisters Martha and Jemima Downes (Downs) of Great Ellingham appeared before Mr A Cockell Esq, a local Attleborough Magistrate, in the August of 1878. On the information of Police Constable Gooch, the sisters were charged with housebreaking at Great Ellingham. They were committed for trial at the next Quarter Sessions.
The facts of the case were reported in the Norwich Mercury of August 21st, 1878.
On the 14th of August, Robert Leeder of Great Ellingham discovered that his home had been broken into and a number of articles stolen. The articles included soap, candles, matches, a bottle and a brush.
Police Constable Gooch, stationed at nearby Rockland All Saints, carried out investigations which led him to the home of Martha and Jemima Downes in Great Ellingham. On making a search of the house, Police Constable Gooch discovered most of the stolen property and he at once apprehended the two sisters and they were taken before the Magistrate.
Acquittal
The Norfolk News of October 19th of the same year, reported that Martha Downes had been charged with feloniously breaking into the home of Robert Leeder and stealing several articles, and Jemima Downes with receiving the articles knowing them to be stolen.
The sisters were both acquitted of the charges on the basis of insufficient evidence.
Martha & Jemima Downes
Martha and Jemima Downes were the daughters of Abraham and Ann Downes. The 1881 census finds the sisters aged 18 and 16 respectively, living in Bow Street, Great Ellingham with their widowed mother.
Robert Leeder
The Robert Leeder referred to in the case may well have been the 55 year old Robert Leeder found living in Church Street, Great Ellingham at the time of the 1881 census. Robert was born in Old Buckenham and he was working as a shepherd.
Robert is said to be married. However, the census does not list a wife. It is possible that his wife was merely away from home on census night.
Living with Robert is 29 year old Rebecca Townshend, born Attleborough, and her six year old daughter Mary Ann (born in Middlesbrough). Rebecca is described as a housekeeper. However, it is not clear whether Rebecca is housekeeping for Robert Leeder.
Sources:
1881 census RG11/1974/92, RG11/1974/83
Norwich Mercury 21st August 1878
Norfolk News 19th October, 1878