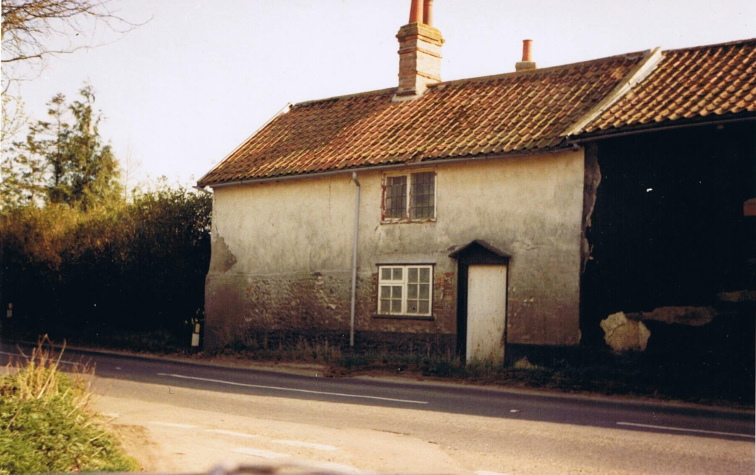 Cottage at Currier's Farm, Watton Road, Great Ellingham, at one time the home of Lilian Clarke. Photograph courtesy of Gerry Speck
Gerry Speck recalls his grandmother, Lilian Clarke, living in the above cottage at Currier's Farm situate along the Watton Road, towards Rocklands.
The 1939 Register captures charwoman, Lilian E Clarke (with a birthdate of 1892), living in Watton Road, Great Ellingham.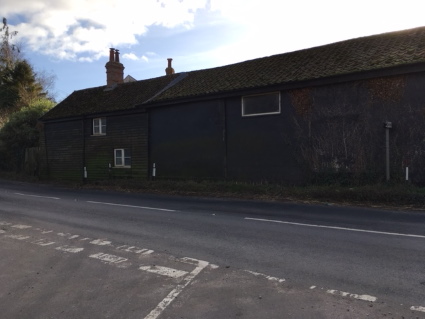 Photograph taken 2019
Lilian Clarke's cottage (or rather, the building itself) still stands today, albeit that it has undergone some changes since Lilian lived there in the 1930s. We can appreciate the wisdom of not having the door to the cottage opening straight onto the busy Watton Road!
Lilian was a daughter of Jacob Clarke and his wife Caroline neé Hammond. Jacob and Caroline married in the Wayland District between October and December in 1891. Lilian was born the following August.
The 1901 census captures 9 year old Lilian with her parents and siblings Walter 7, Edgar 4 and sixteen-month old Hilda, living in Chapel Street, Rockland St Peter.
By 1911, Jacob and Caroline Clarke with five children had moved to 'Views Cottages', Stow Bedon. Caroline's 74 year old widowed mother, Elizabeth Hammond, was living with the family. The same census (of 1911) finds 18 year old Lilian Clarke with her 80 year old widowed grandmother, Frances Clarke, and her uncle, 55 year old farm labourer, William Clarke, in Rockland St Peter. Lilian looks to be keeping house for her grandmother and uncle.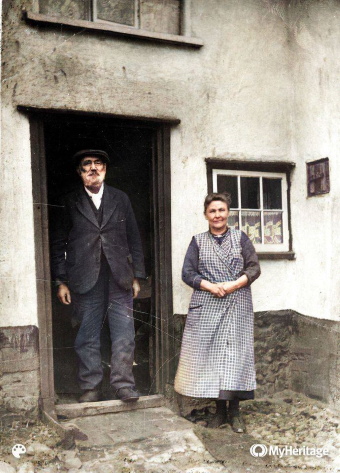 Jacob Clarke born 1858 in Rockland St Peter and his wife Caroline neé Hammond born in Griston in 1871. Photograph courtesy of Gerry Speck
I am indebted to Gerry Speck for the wonderful photograph of his great grandparents, Jacob and Caroline Clarke. The photograph (digitally colorized by MyHeritage) may have been taken whilst they were living in Stow Bedon.
Sources:
1939 Register. The National Archives; Kew, London, England; 1939 Register; Reference: RG 101/6590H Viewed via Ancestry.co.uk 21 December 2020
1901 census RG13/1868/76
1911 census RG14/11483/118, RG14/11486/4
GRO Index. Free BMD website. https://www.freebmd.org.uk/cgi/information.pl?cite=ABmWuSzVZuxo6G6ksExlVA&scan=1 Accessed 21 December 2020
Thanks to Gerry Speck, grandson of Lilian Clarke and great grandson of Jacob & Caroline Clarke