Bankruptcy
The issue of the London Gazette of 28th January, 1862, referred to a Petition for adjudication of Bankruptcy filed in the County Court at Attleborough on 23rd January 1862 whereby Mark Hart, a higgler (an itinerant dealer) of Great Ellingham, was adjudged bankrupt. The first meeting of the creditors was to be held at the same County Court on the 6th February. 
Mark Hart's bankruptcy was also reported in the Norfolk Chronicle of February 1st, 1862.
Who was Mark Hart?
The 1861 census reveals a 44-year-old farmer of six acres, Mark Hart with his wife Julia, aged 46, and six year old son John William living in Wood Lane, Little Ellingham. Mark Hart and his son were born in Little Ellingham and his wife in nearby Caston.
It was in 1861 that Mark Hart brought an action against local innkeeper John Wade of the Crown Public House in Little Ellingham.
By 1862, Mark and Julia Hart were in Great Ellingham when the Bankruptcy was filed.
However, by 1871, Mark Hart with his wife and son had moved again. The census of 1871 captures the family at 12 Beeston Road, Litcham. Mark's occupation is that of an agricultural labourer. Before too long, the family were on the move once again – back to Great Ellingham.
Harrod's Directory of 1878, lists Mark Hartt (Hart) as a farmer and landowner in Great Ellingham. Mark Hart is also listed as a farmer and fowl dealer in Great Ellingham in William White's Directory of 1883.
The 1881 census captures 62 year old Mark Hart with his wife Julia living at a farm at Stalling (Stalland), Great Ellingham. Mark Hart is described as a farmer of 14 acres.
Hart died just weeks before the 1891 census. His burial on the 3rd February 1891 in the churchyard at St James is recorded in the parish registers. Mark Hart was aged 71.
Widow Julia Hart
The 1891 census captures Mark's 73-year-old widow Julia Matilda Hart at a farmhouse in the Stalland area of Great Ellingham. Julia is described as a farmer and owner. Working for Julia as a general servant, is 24-year-old unmarried Susannah Margerson who has a two-year-old daughter Edith.
It is possible that Julia Hart moved to Deopham to live with her son John William Hart and his family at some point after the 1891 census was undertaken but before her death in December 1897.
Julia Hart was also buried in the churchyard at St James. The burial register records that at the time of her death, Julia was living in Deopham. She was buried on the 13th December aged 83.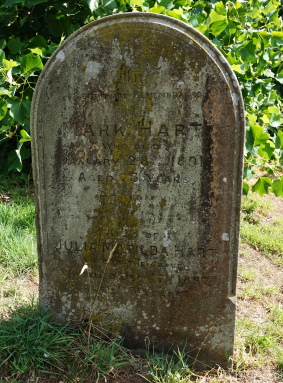 Mark & Julia Hart's Early Life
But what about Mark and Julia Hart's early life? Where did they marry? Did they have any children in addition to their son John William?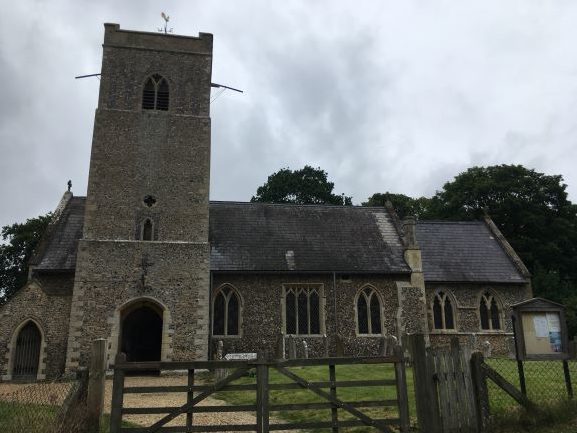 Mark Hart was baptised in St Peter's Church, Little Ellingham on the 15th September, 1816. The parish register records that he was baseborn. His mother was Sarah Hart of Little Ellingham.
Five weeks after Mark's baptism, his parents married in the same church. Singleman John Bowden married spinster Sarah Hart on the 21st October, 1816. The couple were both of Little Ellingham
I can only assume that Mark Hart spend his childhood in Little Ellingham. He married Julia Matilda Davey, the daughter of William Davey, a dauber, in St Peter's Church, Little Ellingham on the 24th October, 1837, nearly 21 years to the day after the marriage of his parents in the same church. The marriage entry records Mark's father as John Bowden, a shepherd. Mark was described as a labourer and Julia, a servant. They were both living in Little Ellingham at the time of their marriage.
Their only child John William (also known as William) was born in 1855 some 18 years after the couple had married. I do not believe that Mark and Julia Hart had any further children.
Sources:
Little Ellingham Parish Registers. Norfolk Record Office PD/568.
Norfolk Family History Society.
Transcription Little Ellingham Marriages 1837-1901. https://www.norfolkonlinerecordsearch.co.uk/search/Hart—-parish–little-ellingham/3455-little-ellingham-marriages/3409676-24.10.1837/ Accessed 13.01.2020
Transcription of Little Ellingham Baptisms 1813 to 1928. https://www.norfolkonlinerecordsearch.co.uk/search/Hart—-parish–little-ellingham/3453-little-ellingham-baptisms/ Accessed 13.01.2020
Transcription of Little Ellingham Marriages 1813-1837.
https://www.norfolkonlinerecordsearch.co.uk/search/Hart—-parish–little-ellingham/3457-little-ellingham-marriages/3410800-21.10.1816/ Accessed 13.01.2020
Great Ellingham Parish Registers.Norfolk Record Office. PD/609. Also available at FamilySearch.org https://www.familysearch.org/search/image/index?owc=4J8C-CB7%3A29627201%3Fcc%3D1416598
The London Gazette. 28th January 1862. Issue 22593. Pg 507. https://www.thegazette.co.uk/London/issue/22593/page/507 accessed 17.01.2020
1851 census HO107/1823/140
1861 census RG9/1237/16
1871 census RG10/1848/21
1881 census RG11/1974/95
1891 census RG12/1549/73
1901 census RG13/1850/70
Norfolk Chronicle February 1st, 1862
Harrod's Directory 1878. Attleborough Heritage Group, Attleborough Community & Enterprise Centre, Church Street, Attleborough. NR17 2AH.
William White's Directory 1883. https://www.genuki.org.uk/big/eng/NFK/Ellingham_Great/White1883 Accessed 14.01.2019
Few, J. (2014). The Family Historian's Enquire Within. Sixth Edition. The Family History Partnership. p135.