Police Custody
On the 1st March, 1854, James Denny of Honingham spent a night in Police custody at the Wymondham Lock-Up at the Bridewell in Wymondham.
James Denny was a 19 years old labourer and stood around 5 feet 4 inches tall. The Lock-Up Records also tell us that Denny could read.
He was charged with 'arrears of bastardy' on information provided by Harriet Fisher, a single woman, of Great Ellingham.
The following day, having paid the arrears as well as expenses which, together, amounted to £7, Denny was released from custody. During his time in the Lock-Up, Denny had taken two meals. Presumably, the expenses included the cost of these meals.
Who was Harriet Fisher?
The 1861 census captures 26 year old unmarried Harriet Fisher with her 9 year old son, James, at the home of her parents, Richard and Elizabeth Fisher, in Hingham Road, Great Ellingham.
Harriet was 20 when she gave birth to James in 1852. James Denny was 17.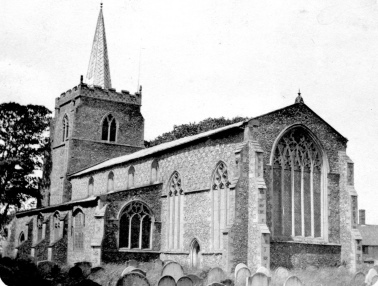 On the 18th April, 1852, James Fisher was baptised at St James' Church, Great Ellingham, where his mother was baptised some 20 years earlier.
Bastardy Order
Given that the charges against Denny were for 'arrears of bastardy', it follows that an earlier court had imposed a Bastardy Order against James Denny.
Without such orders, the expense of bringing up an illegitimate child could fall on the parish. Accordingly, the Overseers of a parish would always be keen to discover the identity of the reputed fathers of illegitimate children, and to make them pay for their upkeep.
Much earlier, a court made Bastardy Orders against Great Ellingham men Robert Downs (in 1806) and William Leeder (1818).
Sources:
Wymondham Police Charge Book 1850-1866. Norfolk Family History Society, Kirby Hall, 70 St Giles Street, Norwich NR2 1LS. Library Ref: R4-11.
1861 census RG9/1237/83
Great Ellingham Parish Registers. Norfolk Record Office PD 609. Also available at www.familysearch.org