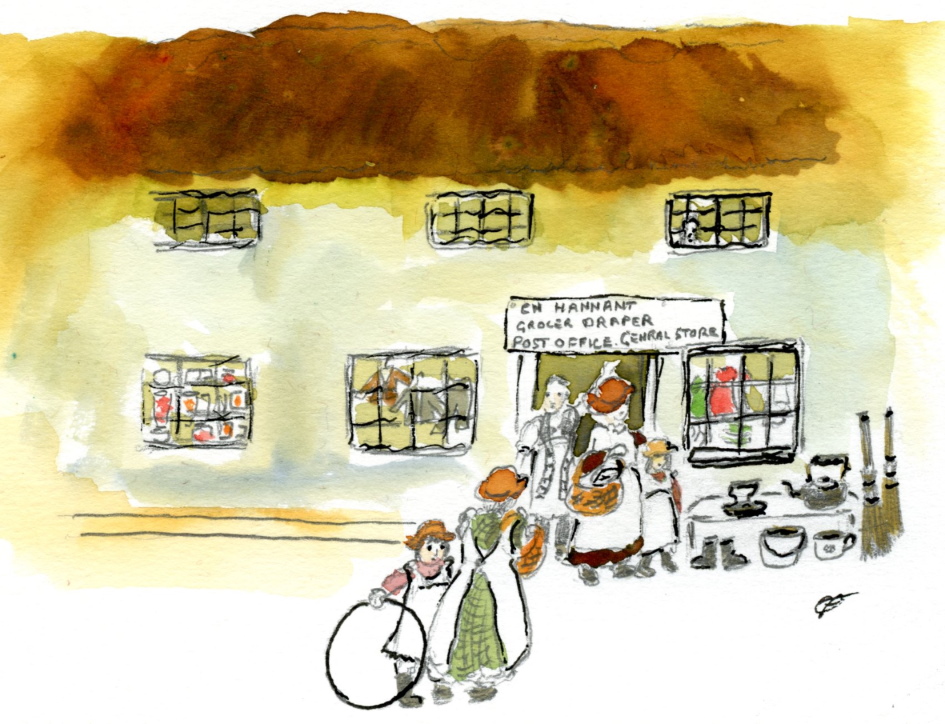 Illustration by Christine Fuller
The 1851 census finds single man, 23 year old Charles Hannant as a grocer and draper in Church Street, Great Ellingham. Charles's father, 51 year old William Hannant, is visiting his son. Although his present home was in Stepney (an area in the East End of London), jeweller William Hannant was born in Great Yarmouth.
Dissolution of Partnership
Stepney born, Charles Hannant, was in partnership with local man James Barnard. Notice of the dissolution of a partnership (by mutual consent) between Charles Henry Hannant and James Barnard, who were both described as 'Grocers, Drapers, Mercers, and General-shop Keepers' of Great Ellingham, appeared in the London Gazette of the 5th August, 1851. The notice confirmed that Charles Hannant would continue as the sole proprietor of the business as from the 2nd August.
Marriage
Two months later, Charles Henry Hannant, married 22 year old Susan Clements Abbot in East Wretham on the 1st October. Susan was the daughter of shopkeeper, William Abbot.
Postmaster at Great Ellingham
Charles Hannant was also the postmaster for the village. White's Directories of 1854 and 1864 state the post office (for Great Ellingham) 'is at C H Hannants'. The same directories also list Charles Hannant as a grocer and draper.
It is not clear from the census returns exactly where Charles Hannant's shop and post office was in Church Street, although the 1861 census suggests that it was quite near to the Church.
Auction of Property occupied by Charles Hannant
A notice of a forthcoming auction of a small farm situate near to the Church at Great Ellingham appearing in the Norfolk News of July 21st, 1855, also included the sale of a double cottage with outbuildings and garden near the farm and which was 'now or late in the occupation of Mr James Long and Mr Charles Hannant'.
Handsome Black Pony for Sale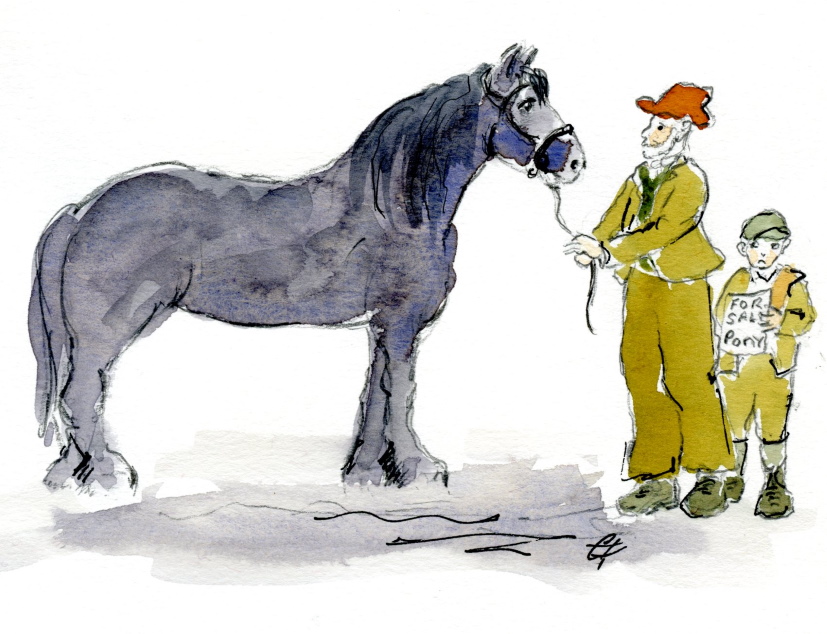 Illustration by Christine Fuller
In the January of 1858, Charles Hannant inserted an advertisement addressed 'To Clergymen & Others' in the Norfolk Chronicle and Norwich Gazette offering for sale 'A Handsome Black Pony about 14 hands high'. The pony was said to be 'perfectly sound and quiet to ride or drive' and was 'suitable for a four-wheel and can be safely driven by a lady'.
From Great Ellingham to Thetford
The 1861 census captures Charles Hannant at the home of his parents in Stepney. His wife, 32 year old Susan Clements Hannant, described as a Shopkeeper's Wife, is in Church Street, Great Ellingham with children William aged 8, Agnes 3 and two year old Charles. The household also includes a shopkeeper's assistant, 18 year old William Ripper, an apprentice, 16 year old William Case, and a twelve year old nursemaid, Elizabeth Bushell. Living not far from the Hannant household is Edmund Fox, the next postmaster in the village.
By 1871, the Hannant family had moved out of Great Ellingham. The 1871 census finds 42 year old Charles Hannant at the home of his parents in Stepney. However in King Street, Thetford is Charles's wife Susan (described as a draper's wife) with their six children, four draper's assistants, a milliner, cook and housemaid.
Sources:
East Wretham Parish Registers. Norfolk Record Office PD/587. Transcript of East Wretham Marriages. Norfolk Family History Society. https://www.norfolkfhs.org.uk Accessed 10.05.2020
1854 White's Directory. Viewed apling.freeservers.com/Villages/EllinghamGreat54.htm accessed 14.01.2019
1864 White's Directory. Attleborough Heritage Group, Attleborough Community & Enterprise Centre, Church Street, Attleborough. NR17 2AH
1841 census HO107/712/8
1851 census HO107/1823/131
1861 census RG9/1237/90
1871 census RG10/578/104, RG10/1875/88
London Gazette. 1851, August 5. Pg 2017. https://www.thegazette.co.uk/London/issue/21233/page/2017 accessed 11/05/2020
Norfolk News July 21st, 1855
Norfolk Chronicle & Norwich Gazette January 9th, 1858