For centuries, children have been given the name 'Valentine' whether or not they actually came into the world on the 14th February.
I wondered whether there had been any 'Valentines' in Great Ellingham?
Valentine Garratt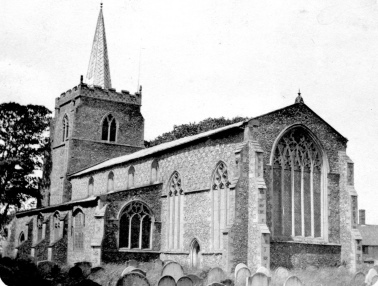 Church of St James, Great Ellingham
Marriage
The marriage between Valentine Garratt of Gressenhall and Elizabeth Frost of Great Ellingham took place at St James's Church, Great Ellingham on the 8th November, 1786.
Both Valentine and his bride were single and, instead of signing their names in the marriage register, they put their mark 'X'. This indicates that neither the bride or groom could write (or read). However, this was not unusual for the times as many people were unable to read and write.
The marriage took place after Valentine and his bride-to-be applied for a licence. By obtaining a licence, banns would not be read out in church.
Further, a marriage by licence can also be an indication of other factors. For example, that there some haste to the marrage or, that the parties wanted to avoid publicity, or that one of the parties was a minor.
The marriage bond in relation to this marriage is held by the Norfolk Record Office [Ref: ANF 12/35/169]. By entering into the marriage bond, Valentine will have confirmed there was no legal impediment to his marriage to Elizabeth Frost. Further, he and his 'bondsman' will have agreed to forfeit a sum of money if the marriage did not take place.
Apprentice
I have found nothing further about Valentine and Elizabeth Garratt following their marriage.
However, some years earlier in Shipdham (a village not 10 miles from Great Ellingham), a Valentine Garritt was apprenticed to cooper Edward Stacey in 1777.
Given that the age at which a child was usually apprenticed to a master was around the age of 12-13 years, then the age would 'fit in' with the Valentine Garratt who married in Great Ellingham in 1786. Valentine Garratt would have been born around 1764, and accordingly, around 22 years old when he married.
Further, as an apprentice is usually bound to his master for 7 years, Valentine Garratt would have been free from the apprenticeship by 1786 and thus free to marry.
Baptism
I found a possible baptism for Valentine Garratt in the registers for the Parish Church of East Dereham: Valentine the son of William and Mary Garret was baptised in February, 1764. The baptims register appears to indicate that his birth date was the 25th February. Accordingly, and assuming that this Valentine Garret went on to marry Elizabeth Frost in Great Ellingham in 1786, then Valentine Garratt was not born on Valentine's Day.
Charles Joseph Valentine Field
Birth & Baptism
A son of Great Ellingham schoolmaster John Field and his wife Annis, Charles was baptised in the Church of St James on the 2nd April, 1899. The baptism entry confirms that his date of birth was the 21st February.
Although it is quite possible that John and Annie Field gave their son the name Valentine as he was born just a week after 'Valentine's Day', it is equally possible that 'Valentine' was a family name, or that the couple just liked the name.
1901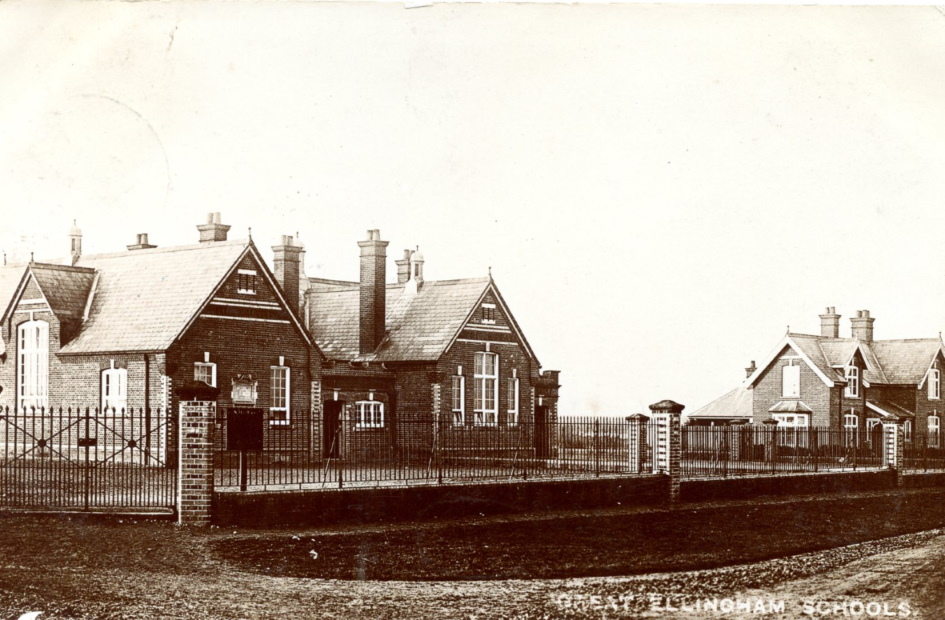 Great Ellingham Board Schools with the School House to the right. Before 1905.
The 1901 census captures two year old Charles J V Field with his parents and seven siblings at the 'Board School House' in Hingham Road. As John Field was the first Headmaster of the Boards Schools (the Boys and Girls were separate at that time) and the school in Hingham Road was opened in 1896, I think it is reasonable to assume that Charles Joseph Valentine was born in the School House.
1911
The Field family is still in the School House in 1911. 48 year old John Field is still the Head School Master and his 22 year old daughter Lilian is the Head School Mistress. John Field's wife Annis is an assistant teacher as is 20 year old daughter Eva. Charles is now 12 and (together with three siblings) is attending school – presumably his father's school.
Royal Navy
Charles Joseph Valentine Field joined the Royal Navy in 1917. He signed up for 12 years. His Service Record describes Charles as having a height of 5′ 3¾", brown eyes, brown hair and a fresh complexion.
1939
The 1939 Register reveals 40 year old Charles J V Field living alone in the Borough of Croydon. Charles's occupation is not particularly legible on the register. However, it is clear that Charles's profession was in crossword and line-writing.
Death at 73
The death of Charles Joseph Field with a birth date of 21st February 1899, was registered in the Wandsworth District between July and September 1972.
George Valentine Lincoln
Born on Valentine's Day
Alice Lincoln, the wife of Alfred William Lincoln, gave birth to a son in Great Ellingham on the 14th February, 1904. The couple named their newborn son George Valentine. I think we can be certain that the child was given the name 'Valentine' as he was born on Valentine's Day!
1911-1921
The 1911 census finds 7 year old George Valentine with his parents, 40 year old farmer Alfred William Lincoln and 34 year old Alice Maria, and five siblings in Besthorpe. By this time, Alice had given birth to 8 children but only 6 were still living.
The Lincoln family were still in Besthorpe at the time of the 1921 census. George appears to be using Valentine as his first name.
Marriage and Move to Hackford
In 1931, George Valentine Lincoln married Violet L Turner. Their marriage was registered in the Forehoe District between October and December. The couple went on to have two daughters.
It may have been just after their marriage that George Valentine and Violet Lincoln moved to Church Farm, Hackford, where they are captured by the 1939 Register. George Valentine as 'Valentine George' is described as a dairy farmer. His mother, 61 year old Alice M Lincoln, is with Valentine, Violet and their two daughters. Alice Lincoln was born on Christmas Day 1877.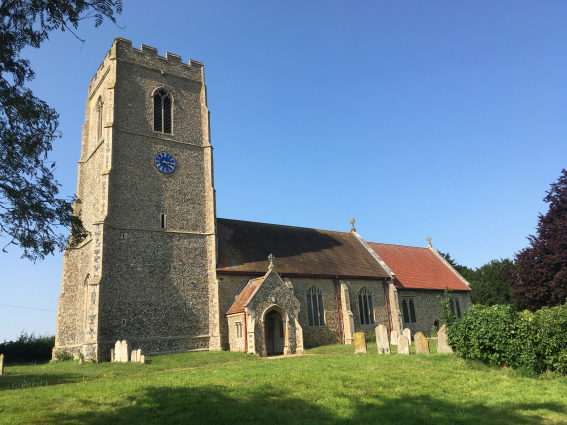 Morley St Botolph Church. Photograph taken July 2021
Burial at Morley St Botolph
George Valentine Lincoln died on the 2nd June,1984 at the age of 80. He is buried in the churchyard at Morley St Botolph.
Sources:
Great Ellingham Parish Registers. Norfolk Record Office. PD 609. Viewed via www.ancestry.co.uk Also available at www.familysearch.org
East Dereham Parish Registers. Norfolk Record Office. PD 86. Viewed via www.ancestry.co.uk
Valentine Garritt. Register of Duties Paid for Apprentices' Indentures 1710-1811. The National Archives of the UK (TNA); Kew, Surrey, England; Collection: Board of Stamps: Apprenticeship Books: Series IR 1; Class: IR 1; Piece: 60. Ancestry.com. UK, Register of Duties Paid for Apprentices' Indentures, 1710-1811 [database on-line]. Provo, UT, USA: Ancestry.com Operations, Inc. This collection was indexed by Ancestry World Archives Project contributors.
1901 census RG13/1867/73
1911 census RG14/11473/24, RG14/11472/91
Charles Josesph Valentine Field. UK Royal Navy Registers of Seamen's Services 1848-1939. The National Archives of the UK; Kew, Surrey, London; Admiralty: Royal Navy Seamen's Services Continuous Record (CR) Cards; Class: ADM 363; Piece: 66. Ancestry.com. UK, Royal Navy Registers of Seamen's Services, 1848-1939 [database on-line]. Provo, UT, USA: Ancestry.com Operations, Inc., 2014.
1939 England and Wales Register. Charles J V Field. The National Archives; Kew, London, England; 1939 Register; Reference: RG 101/1302. Ancestry.com. 1939 England and Wales Register [database on-line]. Lehi, UT, USA: Ancestry.com Operations, Inc., 2018.
Death Charles Joseph Field. GRO Index. Free BMD website https://www.freebmd.org.uk/cgi/information.pl?cite=GfRv3qb82wDfCh16J44P4w&scan=1
1921 census. FindMyPast website. www.findmypast.co.uk
Marriage George Valentine Lincoln & Violet L Turner. GRO Index. Free BMD website https://www.freebmd.org.uk/cgi/information.pl?cite=3dRyiVHDLEiBBIy79tXmdw&scan=1
1939 England & Wales Register. Source Citation
The National Archives; Kew, London, England; 1939 Register; Reference: RG 101/6555E. Ancestry.com. 1939 England and Wales Register [database on-line]. Lehi, UT, USA: Ancestry.com Operations, Inc., 2018.
Morley St Botolph Parish Registers. Norfolk Record Office. PD 3. Viewed via www.ancestry.co.uk