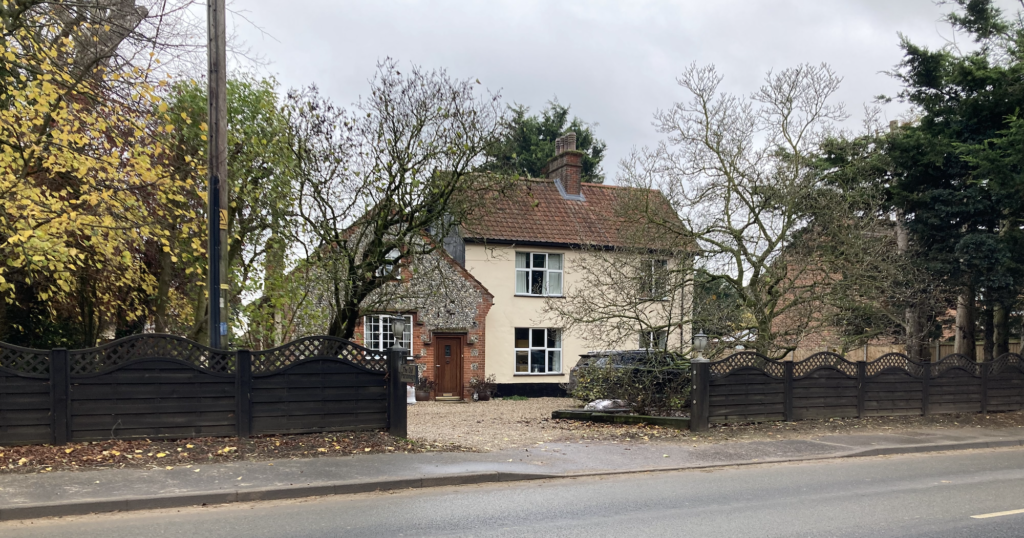 The Old Parsonage. The former home of Avery Luckly Duncan. Photograph taken December 2022
1920 The Parsonage
The Electoral Register for 1920 lists Avery Luckly Duncan and Annie Robinson Duncan at The Parsonage, Great Ellingham.
It was not until the following year, that the Reverend Roger M Boys became the Rector of Great and Little Ellingham. Accordingly, the Reverend James M McDermott may well have still been the incumbent in 1920, having taken up the post in 1909.
1911 census
The 1911 census captures 55 year old single man Avery Luckly Duncan living at 4 Wolseley Gardens, Jesmond, Newcastle upon Tyne. Avery is a schoolmaster at an endowed school. The same census also tells us that Avery was formerly a Captain in the 8th Lancers Royal Garrison Artillery.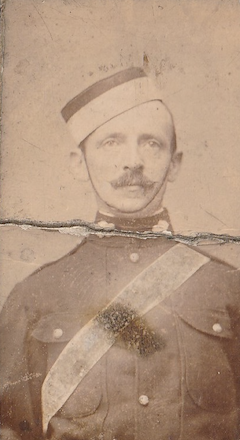 Avery Luckly Duncan in military uniform. Courtesy Steve & Janet Bath
Avery's Early Life
Avery Duncan was born in Kings Lynn c.1855.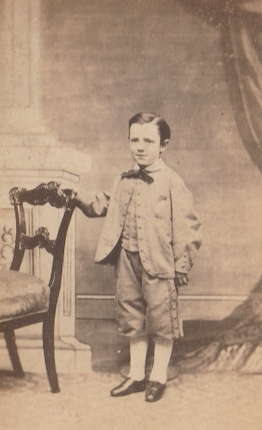 Young Avery Luckly Duncan. Courtesy Steve & Janet Bath
The 1871 census finds 15 year old Avery L Duncan with his parents, Alexander and Jane Duncan, and sisters Jane (8) and Kate (3) in the Parish of St Augustine, Bristol. Avery's maternal grandmother, 70 year old Jane Luckly, is living with the Duncan family along with shop assistant, Emily Payne, and a domestic servant, Lydia Webb.
Bakers & Confectioners
Alexander Duncan appears to be a successful baker and confectioner employing three men and two boys. Indeed it appears that Avery's mother's Luckly family had a bakery and confectioner's business in King's Lynn.
Oxford, Reading, West Winch and the North East
By 1877, Avery Duncan is at Oxford University. Later, he was an Assistant Master at Reading Grammar School.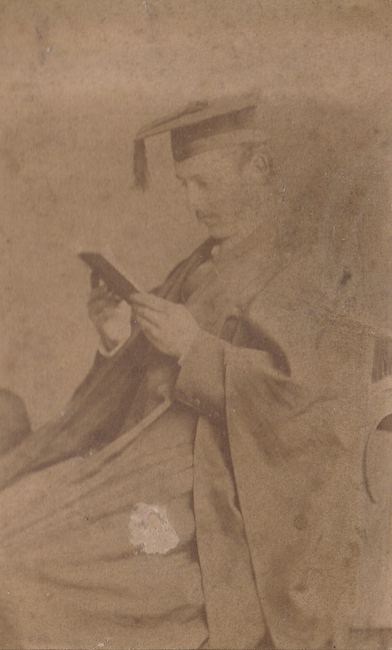 Avery Luckly Duncan. Courtesy Steve & Janet Bath
By 1888, he is living at West Winch (just a few miles from King's Lynn). The Electoral Registers find Avery Duncan still in West Winch in 1895.
However by 1911, Avery has relocated to the North East. Given that the 1911 census states that Avery Duncan was 'late Captain 8th Lancers R.G.A.', I can only assume that his military service took place between 1895 and 1911.
Kelly's Directory for Durham (Hebburn on Tyne) of 1914 lists Avery as 'Duncan Rev. Avery Luck G., B.A. (curate St John's church), 4 Park rd'.
Great Ellingham
Around the age of 64, Avery married Annie Holsgrove. The marriage was registered in the Sunderland District between January and March 1919.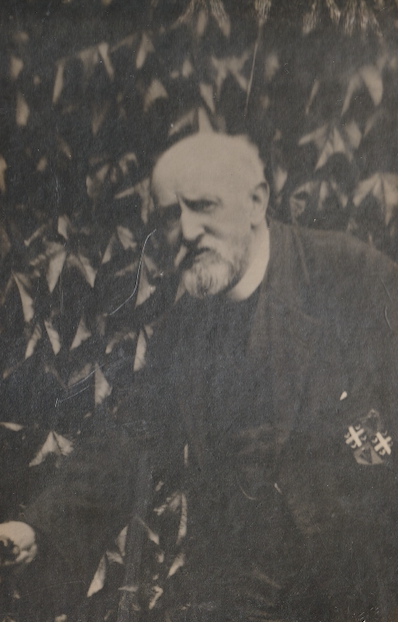 Avery Luckly Duncan. Photograph taken in Sunderland. Courtesy Steve & Janet Bath
It follows that it was not long after the marriage that Avery and Annie Duncan arrived in Great Ellingham. However, their time in the village appears to be short-lived. By 1921, the Parsonage had new occupants, Everilda and Mary Boys.
Wood Norton
Avery's move from Great Ellingham may well have been to take up the position of incumbent at All Saints, Wood Norton. He and Annie lived at the Rectory in Wood Norton.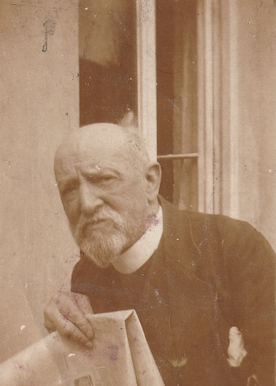 Avery Luckly Duncan. Courtesy Steve & Janet Bath
On the 5th November, 1931, Avery Luckly Duncan died at the age of 76. He is buried in the churchyard of All Saints.
Sources:
1871 census RG10/2535/55
1911 census RG14/558/30569
1920. Electoral Register. Southern Parliamentary Division of the County of Norfolk. Parish of Great Ellingham. Electoral Registers 1832-1932.
1914 Kelly's Directory of Durham: Publisher: Kelly's Directories Ltd. Ancestry.com. UK, City and County Directories, 1766 – 1946 [database on-line]. Provo, UT, USA: Ancestry.com Operations, Inc., 2013.
Find a Grave website. https://www.findagrave.com/memorial/204331105/avery-luckly-duncan?_gl=1*11n1ayc*_ga*MjEyODY0Njc4OC4xNjYxMTAwNTYw*_ga_4QT8FMEX30*MTY2NzEyNDI3OS4yNy4xLjE2NjcxMjcwMDguMzYuMC4w. Accessed 29 October 2022
Tyne and Wear Archives; Newcastle-Upon-Tyne; Collection: Newcastle Electoral Registers; Reference Number: MD.NC/D/2/2/1911. Ancestry.com. Newcastle upon Tyne, England, Electoral Registers, 1741-1974 [database on-line]. Lehi, UT, USA: Ancestry.com Operations, Inc., 2016.
Norfolk, England, Register of Electors, 1832-1915. England, Norfolk Register of Electors, 1844-1952. Salt Lake City, Utah: FamilySearch, 2013. Ancestry.com. Norfolk, England, Register of Electors, 1832-1915 [database on-line]. Lehi, UT, USA: Ancestry.com Operations, Inc., 2016.
Oxford University Alumni, 1500-1886. Foster, Joseph. Alumni Oxonienses: The Members of the University of Oxford, 1715-1886 and Alumni Oxonienses: The Members of the University of Oxford, 1500-1714. Oxford: Parker and Co., 1888-1892. Ancestry.com. Oxford University Alumni, 1500-1886 [database on-line]. Provo, UT, USA: Ancestry.com Operations Inc, 2007.
Wood Norton and the united benefice of Wood Norton and Swanton Covers Parish Registers. Norfolk Record Office PD/ 407. Viewed via www.ancestry.co.uk
1931 21 Dec. Probate. Avery Luckly Duncan. Norwich. England & Wales, National Probate Calendar (Index of Wills & Administrations), 1858-1995. Principal Probate Registry. Calendar of the Grants of Probate and Letters of Administration made in the Probate Registries of the High Court of Justice in England. London, England. Ancestry.com. England & Wales, National Probate Calendar (Index of Wills and Administrations), 1858-1995 [database on-line]. Provo, UT, USA: Ancestry.com Operations, Inc., 2010.
GRO Index. FreeBMD website. Duncan Avery L. Holsgrove. Sunderland 10a 986. https://www.freebmd.org.uk/cgi/information.pl?cite=A29Y7FgUX%2BZZPz9MeiRb%2Fw&scan=1
Thanks to Steve & Janet Bath for the wonderful photographs of Avery