Aged 65, retired miller, James Buck, died at Fakenham in 1892, some 25 miles from his birthplace of Great Ellingham.
Early Life
A son of Benjamin Buck and his wife Frances (née Flowers), James was born c.1817. He spent his early life in Great Ellingham.
The 1841 census captures James (already working as a miller) with his parents, Benjamin and Frances, and (presumably) his sister Martha in Great Ellingham. Also with the household is 9 year old Joseph Lane. Although the census describes Benjamin Buck as a farmer, he was also a baker and a miller.
Other than finding reference to the baptism on January, 8th 1835, of James's brother Joseph at the age of 25, I have not found any other BUCK entries in the Parish Registers for St James, Great Ellingham. This may mean that the Bucks were a family of non-conformists, or, baptisms took place elsewhere, or, not at all.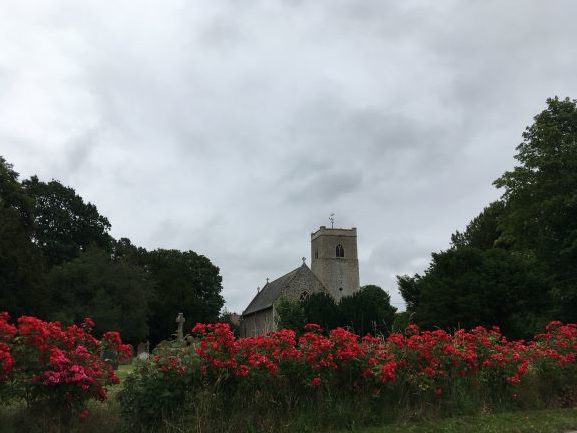 Little Ellingham Parish Church
Marriage & Family
Three years after the death of his father, James Buck of Great Ellingham married Maria Vince in her home parish church of Little Ellingham on the 3rd November, 1846. Both were single and signed the marriage register. Maria was the daugher of blacksmith, William Vince.
Their first son, Alfred, was born in Little Ellingham the following year on the 27th February, 1847. A daughter, Sarah, was born to the couple in Great Ellingham on July 14th, 1848 followed by Fanny (Frances) in Rockland St Peter on April 4th, 1850.
1851 census
The 1851 census captures the Buck family living in Magpie Lane, Rockland St Peter. At 33, James Buck is working as a 'journeyman miller'. His wife Maria is now 32 and children Alfred 4, Sarah 2 and eleven month old Frances.
Although I have mentioned that I believe James Buck's parents to have been non-conformists (perhaps Baptists or Methodists), James and Maria took their four children for baptism at the Parish Church in Holt on the 2nd September, 1855. Alfred was then aged 8, Sarah 7, Fanny 5 and James 2.
Two years later on the 30th August, 1857, James and Maria took their one year old daughter Maria to the same church for baptism. At that time, the family were living at 'Fellmongers Cottages', Letheringsett.
1861 census
By 1861, the family had moved to Wighton (a village between Fakenham and Wells-next-the-Sea). The census finds James and Maria with their children James 7, Sarah 12, Frances 11 and four year old Maria (born in Holt) at 'Bridge Foot', Wighton.
Their eldest son, 14 year old Alfred, is with James's brother 50 year old Joseph Buck and his wife Harriet in Aldeburgh, Suffolk. Joseph Buck was a schoolmaster, printer and newsagent. The census describes Alfred as a scholar.
1871 census
10 years later, James and Maria Buck had moved again. This time nearer to their roots. The 1871 census reveals 54 year old miller journeyman and his 53 year old wife Maria living in Church Road, Snetterton. 14 year old Maria is still with her parents.
1881 census
By the next census, and now in their sixties, James and Maria had moved to a cottage in Fakenham Road, Sculthorpe. None of their children are living 'at home'.
Death of Maria Buck
Maria Buck died in 1888 at the age of 70. Her death was registered in the Walsingham District between October and December 1888.
1891 census
The census of 1891 captures 74 year old widower James Buck with his 34 year old daughter Maria living at Hayes Lane Terrace, Fakenham. James is now retired. Maria is working as a dressmaker.
Death of James Buck
James Buck died the following year having outlived his wife by four years.
Sources:
GRO Index.https://www.gro.gov.uk/gro
GRO Index. FreeBMD website
https://www.freebmd.org.uk/cgi/information.pl?cite=mdw5S%2BEG2zHt7gzkuhJzuQ&scan=1 accessed 3 February 2021
https://www.freebmd.org.uk/cgi/information.pl?cite=pbf6jhihyExEmAzS05elJQ&scan=1 accessed 3 February 2021
https://www.freebmd.org.uk/cgi/information.pl?cite=dZ5m7M8Apv3lxAF4aBytqg&scan=1 accessed 3 February 2021
Little Ellingham Parish Registers. Norfolk Record Office.PD 568. Transcription Marriages 1837-1901, Norfolk Family History Society. www.norfolkfhs.org.uk Accessed 3 February 2021
Great Ellingham Parish Registers. Norfolk Record Office. PD 609. Also available at www.familysearch.org
Holt Parish Registers. Norfolk Record Office. PD 2. Also avaialble at www.familysearch.org
1841 census HO107/781/8
1851 census HO107/1823/256
1861 census RG9/1176/77, RG9/1246/85
1871 census RG10/1841/52
1881 census RG11/1984/98
1891 census RG12/1558/17