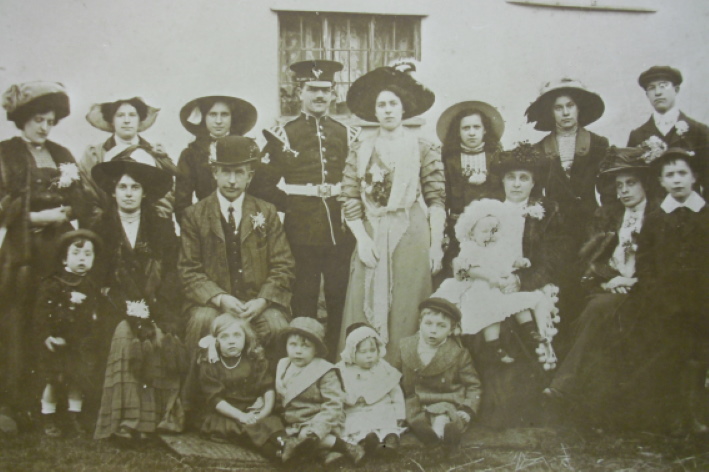 1911 The Wedding of William Ballard & Gertrude Wigby. Courtesy Sue Fay
Photograph
The above photograph captures bride Gertrude Ballard née Wigby surrounded by her family.
Back row (left to right), Ellen Blackman née Wigby, Mabel Downes née Wigby, Flora Wigby, William Ballard, Gertrude Ballard née Wigby, May Wigby, Kate Wigby, Frank Wigby
Middle row Lily Lebbell née Wigby and her son Owen, Obadiah Wigby, Louisa Wigby née Castleton with her baby John in her arms, Amy Jude née Wigby, Edward Wigby
Front row Winifred Blackman, Jack Blackman, Evelyn Downes, Basil Jude Jnr.
Marriage
The marriage between William Samuel Ballard and Gertrude Wigby was registered in the Wayland District between October and December 1911. I think it likely that the marriage took place at St James's Church, Great Ellingham.
Daughter of Obadiah & Louisa Wigby
Gertrude Wigby was born on the 18th December, 1888 in Wicklewood. Her father, Obadiah Wigby, was a wheelwright and dealer. Her mother, Louisa, was formerly Louisa Castleton.
The 1891 census captures two year old Gertrude with her parents, four elder sisters and a baby brother at Wood Houses, Wicklewood.
By 1901, Obadiah and Louisa Wigby moved their family to Morley St Peter. The census of that year finds 12 year old Gertrude with her parents and six siblings at 7 Nut Lane, Morley St Peter. Obadiah Wigby is now a farmer and dealer.
By 1904, the Wigby family were at Mill Farm, Great Ellingham, where Gertrude's parents would remain living for the next 30 or so years.
General Servant in Norwich
With her parents and some of her siblings living in Great Ellingham, the 1911 census finds Gertrude in Norwich. She is employed as a general domestic servant by boarding house keeper, Eliza Stevenson in Earlham Road, Norwich.
Later that year, Gertrude marries Hampshire born William Ballard. The marriage likely took place in Great Ellingham.
Married Life in Wadhurst
The 1921 census finds William and Gertrude with four children – Doris born 1913, Phyllis 1915, Derrick 1918 and William born 1920, in Wadhurst, Sussex. The couple had two more children – Pansy born 1921 and Philip in 1922.
Bury St Edmunds
The 1939 Register lists the couple with three children at 20 Long Brackland, Bury St Edmunds. William Ballard is a shopkeeper.
Later in the 1960s, the couple lived in Attleborough.
Gertrude Ballard nèe Wigby died in her 91st year in 1979.
Sources:
GRO Index. https://www.gro.gov.uk/gro/content/
1891 census RG12/1534/17
1901 census RG13/1850/78
1911 census RG14/11300/123
1921 census. Index only accessed via www.findmypast.co.uk 16.01.2023
1939 England & Wales Register. The National Archives; Kew, London, England; 1939 Register; Reference: Rg 101/6658f. Ancestry.com. 1939 England and Wales Register [database on-line]. Lehi, UT, USA: Ancestry.com Operations, Inc., 2018. Viewed via www.ancestry.co.uk