Marriage
Notice of the marriage of George Lister to Isabella Almond appeared in the Norfok News of the 3rd October, 1874.
The marriage took place at the parish church of St Peter's Southgate in Norwich, and was officiated by the Reverend Porter. George was reported to be the youngest son of the late Samuel Lister of Great Ellingham and Isabella, the second daughter of William Almond of Norwich.
George Lister's Early Life
George Lister was born during the Spring/early Summer of 1852 in Great Ellingham. His birth was registered between April and June of that year.
Some seventeen years earlier, George's parents, Rockland St Peter born Samuel and Little Ellingham born Ann Lister (neé Thompson) had married in the parish church at Great Ellingham on Christmas Eve 1834. They had both been living in Great Ellingham prior to the marriage.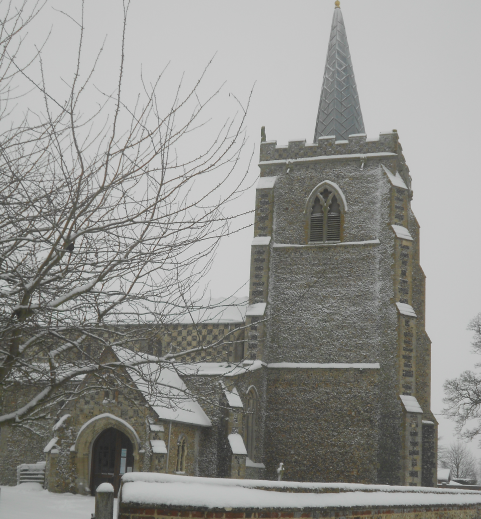 St James' Church, Great Ellingham where Samuel and Ann Lister married on Christmas Eve 1834
Samuel and Ann Lister remained living in Great Ellingham following their wedding. Their son William was baptised in the parish church on January 3rd, 1836. The baptism entry in the parish registers records Samuel Lister's occupation as a shoemaker.
The 1841 census captures Samuel Lister (then described as an agricultural labourer), with his wife Ann(e) and their three young children William 5, James 3 and five month old Jane), in Great Ellingham.
Ten years later in 1851, 40 year old Samuel Lister with his wife Ann aged 36, and children William 15, James 12, Jane 10, Sarah 7, Charlotte 4 and one year old John, were living in Town Green. George was born the following year – perhaps in Town Green?
At the age of 7, George suffered the loss of his father. 48 year old Samuel Lister was buried in the churchyard of St James on July 10th, 1859.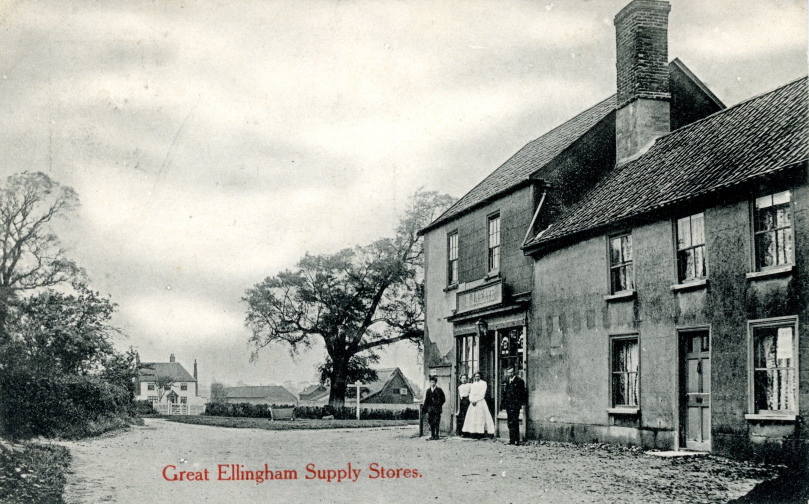 Postcard showing Church Street around 1900
Nearly two years later, the 1861 census finds 8 year old George living with his 45 year old widowed mother Ann and his elder siblings, William 25, James 22, Jane 20, Charlotte 14 and John 11, near to the parish church in Church Street, Great Ellingham.
Move to Norwich
Probably not long before the 1871 census was undertaken, George with his mother and brother John, left Great Ellingham for Norwich.
The 1871 census finds 18 year labourer George Lister, his widowed mother 55 year old Ann and his 21 year old brother John with the household of George's newly wed sister, 29-year-old Sarah Ann, and her husband, 28 year old Robert Wiggett. Nine year old Elizabeth Lister (a niece to Sarah Ann and granddaughter to Ann) was also with the household.
Married Life
Following their marriage in 1874, George and Isabella Lister likely began their married life at Wilderness Place, Norwich. The 1881 census captures the couple with four children, 6 year old Leonard, Herbert (Arthur Herbert) 4, Ernest 2 and one year old Agnes living in Wilderness Place. The census mentions that Isabella's place of birth was Bedford.
The 1880s brought times of joy and sadness for George and Isabella. Isabella gave birth to Sydney Edmund in 1881 and Leah Gertrude followed in 1883. Sadly, their four year old daughter Agnes died in 1884. William Robert was born in 1886 but, sadly, the child died in 1887. The couple had another son in 1888 whom they also named William Robert. Tragically, this child also died the following year.
At the age of 83, George's mother, Ann Lister, died in 1888. Ann Lister was buried in Earlham cemetery on the 3rd September of that year.
The 1891 census finds George and Isabella (now aged 37 and 38 respectively) still living at The Wilderness, Norwich. George is now a stationary engine driver. Two of their sons are working. At 16, Leonard is working as a brewer's messenger and 14 year old Ernest is an office lad. The census also captures 12 year old Arthur, Sidney 9, Leah 8 and one year old Westmore. Tragically, one year old Westmore Almond Lister died within a few months of the census being undertaken.
By 1901, the Lister family had moved to 19 Hughenden Road, Lakenham. The family likely lived in one of the terraced houses which are still standing today.
Some of their children are still living with George and Isabella. At 26, their son Leonard is a furniture traveller. Sydney aged 18 is a draper's assstant and 17 year old Leah is working as a mantle maker. George and Isabella also have six year old May (May Violet) who was born in 1894.
Death of Isabella & Remarriage to Harriet
At the age of 49, Isabella Lister of 19 Hughenden Road, Norwich died on the 20th June, 1902.
Around four years later, in 1906, George Lister married Harriet Mary Clarke, some 23 years his junior.
The 1911 census finds 58 year old stationary engine driver George Lister with his 35 year old wife Harriet Mary living at 46 Carshalton Road, Norwich, which was another terraced property not far from Hughenden Road. With the couple is their two year old daughter Dorothy Mary. The census confirms that the couple had completed five years of marriage and that two children had been born to them – one of whom, Dorothy, was still living.
Not long after the couple had married in 1906, Harriet had given birth to their first daughter whom they had named Dorothy May. Sadly within six months, Dorothy May had died. The birth of their second daughter, also named Dorothy May, was registered between January and March 1909. I believe the couple may have had a further daughter, Lily Flora, in 1913.
Great Ellingham born George Lister died in 1933.
Sources:
3rd October, 1874 Norfolk News
1841 census HO107/781/8
1851 census HO107/1823/111
1861 census RG9/1237/90
1871 census RG10/1814/13
1881 census RG11/1943/70
1891 census RG12/1524/75
1901 census RG13/1847/148
1911 census RG14/11327
GRO Index. https://www.gro.gov.uk
GRO Index via FreeBMD website
https://www.freebmd.org.uk/cgi/information.pl?cite=j5DUf4hUKO4D1gxvQ6wlww&scan=1 accessed 16.11.2020
https://www.freebmd.org.uk/cgi/information.pl?cite=oqa%2B1yW3YuPkM3MT%2FfFFdA&scan=1 Accessed 16.11.2020
Great Ellingham Parish Registers. Norfolk Record Office PD609. Also available at FamilySearch.org https://www.familysearch.org
Transcript of Norwich Death Returns 1901-1902.Transcript of Norwich, Earlham Cemetery, Burials Volume 6, Area 56-1857 to 2009. Norwich St Peter Southgate Marriages 1813 to 1882. (Norfolk Record Office PD163) Norfolk Family History Society, Kirby Hall, 70 St Giles Street, Norwich NR2 1LS. Viewed online www.norfolkfhs.org.uk