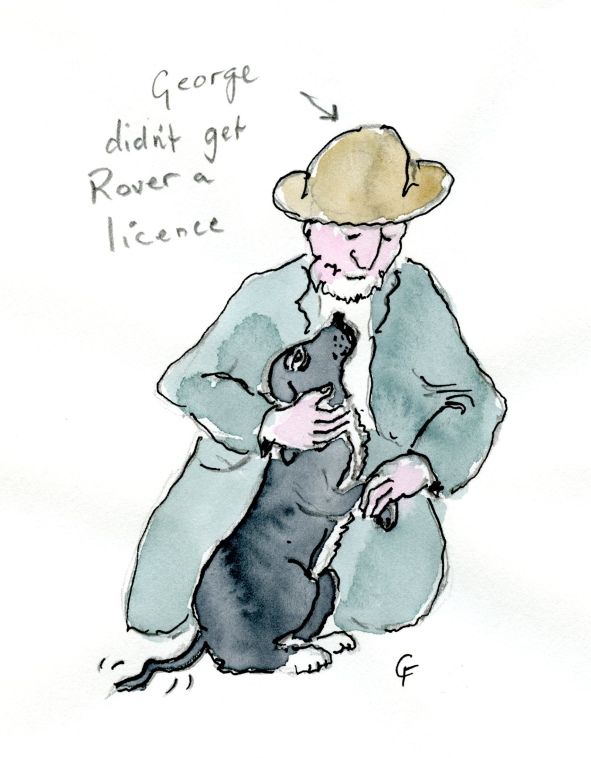 Illustration by Christine Fuller
Court Appearance
George Barlow, a farmer of Great Ellingham, appeared at the Petty Sessions at East Harling in the June of 1876. He was charged by J Tinton, a Supervisor of Excise, for keeping a dog without a licence. George was fined 25s (twenty five shillings).
Whinburgh born George Barlow and his wife Mary Elizabeth arrived in Great Ellingham before the birth of their son Arthur in 1875. Accordingly, George appeared before the Magistrates about a year after settling in the village. A further son, George, was born three years later in 1878.
Appointed Assistant Overseer of Great Ellingham
The Norwich Mercury of 24th April, 1880 reported on a further appearance of George Barlow at the Petty Sessions held in East Harling. On this occasion, George was appointed an Assistant Overseer of Great Ellingham with a yearly salary of £16.
The Barlow Family
1881 census
The 1881 census captures 34 year farmer George Barlow with his wife and two young sons living in Bow Street. Although the census does not specifically say, I believe the family were still living in Bow Street in 1891.
Auction
Details of an Auction of a Farmhouse with buildings and nine inclosures of arable and pasture land in Great Ellingham appeared in the Norwich Mercury of 7th May, 1887.
The property occupied by George Barlow had a rental income of £32 (per annum). The premises (together with property and land at Griston and Scoulton) were being sold as a result of the bankruptcy of Isaac Lebbell.
1901 census
By 1901, the family had moved to Long Street. George was then aged 54, his wife 59 and his sons Arthur and George were 25 and 21 respectively.
Burial of Mary Barlow
George's wife, Mary Elizabeth Barlow, was buried in the churchyard of St James, Great Ellingham on 24th March, 1905.
Widower George Barlow
The 1911 census finds 64 year old widower George Barlow living in a four roomed property in the Street, Great Ellingham. George is an assistant overseer and tax collector for the parish.
In 1911 the area referred to as "the Street" includes the northern end of Long Street. Living with George is his housekeeper, 73 year old widow, Kerridge Tooke.
Did George remarry?
I believe George Barlow remarried.
A marriage between George Barlow and Mary A Gathergood was registered in the Wayland District between July and September 1919.
Death of Mary Ann Barlow
However, it seems that sadly George was again widowed. A burial for Mary Ann Barlow aged 75 years appears in the Great Ellingham Parish Registers for February 3rd, 1921.
1921 census
The 1921 census undertaken on the 19th June, once again lists George Barlow as a widower. At 75 years of age, George Barlow is still an assistant overseer for the Parish Council. He is living in Watton Road along with his 14 year old grandson Sidney George Barlow.
Death of George Barlow
George Barlow was buried in the churchyard of St James on February 8th, 1934. He was 87.
[Updated 30 January 2023]
Sources:
Norfolk News June 17th, 1876
Norwich Mercury 24th April, 1880
Norwich Mercury 7th May, 1887
GRO Index. Free BMD Website. https://www.freebmd.org.uk/cgi/information.pl?cite=2fPHwY3MVp2eu5fQSX0UMg&scan=1 Accessed 21.01.2020
1881 census RG11/1974/85
1891 census RG12/1549/73
1901 census RG13/1867/78
1911 census RG14/11473/119
Great Ellingham Parish Registers. Norfolk Record Office. PD/609
1921 census RG15/26288/59