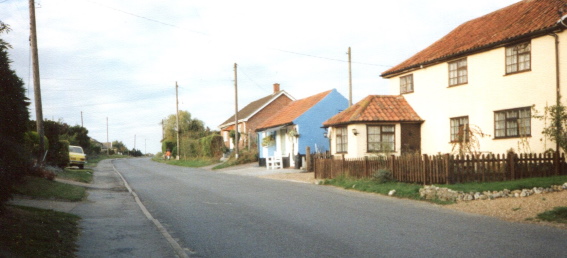 Vic Howlett's Butcher's Shop (blue building) in Chequers Lane. Photograph taken c.1990
If you lived in Great Ellingham during the 1960s to the 1990s, you most likely would have bought your meat from Vic Howlett's Butchers Shop in Chequers Lane. Vic was always cheerful and had a kind word for everyone.
I recently listened to part of a Radio Norfolk recording of Wally Webb's 1984 interviews with a few of the inhabitants of Great Ellingham. One of the interviewees was Vic Howlett. It was lovely to once again hear Vic Howlett's voice – just as I remember him!
During the interview, he gave a brief account of his life and, in particular, he talked about the time that he and his wife Elsie came to Great Ellingham. This has helped me to find out a little more about Vic and his Norfolk roots.
Vic Howlett's Early Life
Vic was one of seven children born to Haze and Edith Howlett.
The 1911 census captures 30 year old Haze Howlett with his 31 year old wife Edith at Common Road, Necton. They have three children – Margery aged 5, Doris 2 and 11 month old Cecil. Hockering born Haze was a baker as well as a corn and offal dealer. With the family is 18 year old Hubert Strowger who is working for Haze as his assistant.
The census also tell us that Edith Howlett was born in Stanfield and the children in Necton. By 1911, Edith Howlett had given birth to five children. Sadly, Cyril Haze (born 1903) and Edgar (born c.1904) had died in infancy.
Victor Herbert Howlett was born on the 6th March 1913, some two years after the 1911 census. He was baptised in the Parish Church at Necton on the 19th May the same year. The arrival of Raymond Ronald in 1915 completed the Howlett family.
Vic spent his early life in Necton. He recalled that two of his brothers followed his father Haze and became bakers – one at North Elmham and the other at Necton.
Leaving Home
However, Vic did not want to be a baker. Instead, he left home and went to work for a butcher in Litcham. He stayed in Litcham for at least a year or so.
In 1929, Vic went to Attleborough and worked at the butchers' shop next to what was then the Angel Public House. He also helped with the slaughtering to earn extra money.
Vic lodged with an elderly lady in Norwich Road, Attleborough. He earned 30s (shillings) a week out of which he paid 25s for his lodgings. Before long, his landlady told him that she would have to increase his lodgings by 2s 6d. This was, she said, to cover the increase in the cost of living. Vic could not afford to stay there, so he gave his landlady a week's notice and moved to a B&B, which only cost him one shilling per day.
Marriage
In 1933, Vic married Elsie Leighton. Their marriage was registered in the Wayland District between October and December of that year.
The 1939 Register finds Victor and Elsie Howlett (now aged 28 and 30 respectively) living in the household of Doris Baker at White Horse Lane, Attleborough. Vic is working as a butcher's roundsman and slaughterman.
Great Ellingham
It was around 1960, that Vic and Elsie Howlett came to Great Ellingham. Vic had already started a butchers business in Attleborough. However, with no suitable premises in Great Ellingham, Vic converted a shed in Chequers Lane with the help of tradesmen. The 'shed' became his well-known Butcher's Shop.
In addition to the shop, Vic also worked two butcher's rounds. However, he later dropped both the rounds to concentrate on the shop.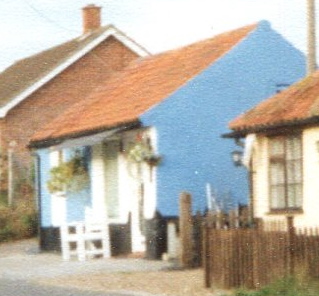 Vic Howlett's Butcher's Shop in Chequers Lane
Vic was 72 when he was interviewed in 1984. He was getting up at 5.30am every day and was in the shop by 6am. He worked a 12 hour day with help from his wife and two employed ladies.
He was proud to mention that the couple then had five grandchildren and one great grandchild. Vic and Elsie lived in a bungalow in Chequers Lane, which was more or less opposite the shop.
Vic died on the 25th August, 1990. Although his father Haze was a baker, Vic's paternal grandfather and great grandfather were both butchers.
Sources:
Radio Norfolk, Great Ellingham. 29th September 1984. Norfolk Record Office Ref: NRO AUD 3/1/51 Great Ellingham. Thanks also to Bob Cobb
Necton Parish Registers. Norfolk Record Office PD 143. Viewed via www.ancestry.co.uk
GRO Index via Free BMD. Marriage Victor H Howlett & Elsie Leighton. 1933 DQ Wayland. https://www.freebmd.org.uk/cgi/information.pl?cite=mH9PO6rYshz0BC9LBFyOpA&scan=1
1911 census RG14/11699/65
1901 census RG13/1875/19
1891 census RG12/1536/127
1851 census HO107/1825/76
1939 England & Wales Register. The National Archives; Kew, London, England; 1939 Register; Reference: RG 101/6590C. Ancestry.com. 1939 England and Wales Register [database on-line]. Lehi, UT, USA: Ancestry.com Operations, Inc., 2018.
Victor Herbert Howlett. England & Wales, National Probate Calendar (Index of Wills and Administrations), 1858-1995. Ancestry.com. England & Wales, National Probate Calendar (Index of Wills and Administrations), 1858-1995 [database on-line]. Provo, UT, USA: Ancestry.com Operations, Inc., 2010. Original data: Principal Probate Registry. Calendar of the Grants of Probate and Letters of Administration made in the Probate Registries of the High Court of Justice in England. London, England