At No.23 of the Statement of Claims to the Commissioners for the Great Ellingham Inclosures c.1799, is a claim by Frances Kerrison.
Frances, the wife of Richard Kerrison, claimed one Messuage and 8 Acres of Land, occupied by Richard Kerrison. Of the whole property, one acre and two roods were copyhold of Bury Hall. Along with other claimants, Frances Kerrison also claimed certain rights over the commons and waste lands in Great Ellingham.
A schedule to a Particulars & Valuation of Great Ellingham dated 1800, shows that Richard Kerrison occupied the following property and land owned by his wife, Frances Kerrison:
375. Tones 2A 1R 28P
378. Three Corner Piece 0A 3R 0P
380. House, Outbuildings, Barn, Stable, Yard & Garden 0A 1R 16P
381. Homestall 2A 0R 24P
383. Hyrne Close 2A 3R 29P
Allotment upon Hyrne Common 1A 2R 24P
Allotment upon Hyrne Common 0A 3R 6P
Allotment upon Burying Ground 0A 2R 28P
(A=acres R=roods P=perches)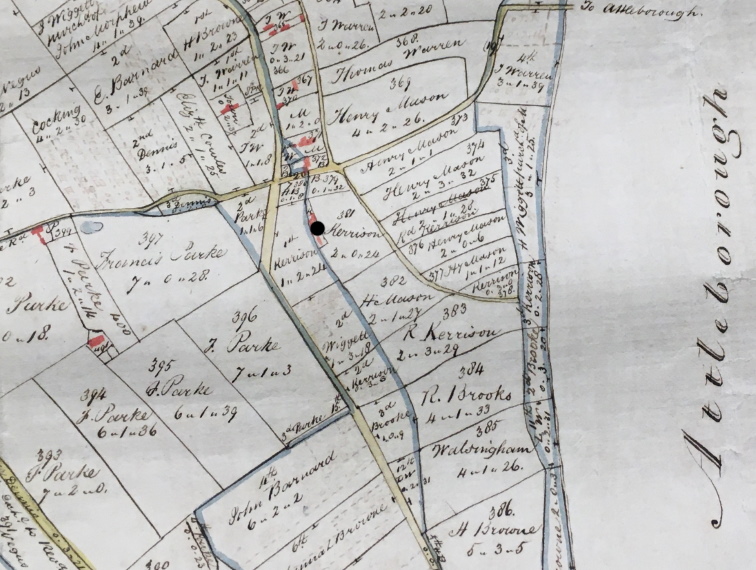 Extract from 1802 Map of Great Ellingham. Original held at Norfolk Record Office. Russell James Colman Plans. Cat. Ref. C/Ca 1/84. With kind permission of NRO
The numbering used in the Schedules to a Particulars & Valuation of 1800 concurs with a Map of Great Ellingham dated 1802. Accordingly, it is possible to pinpoint exactly where in the village the Kerrisons lived.
The black dot on the above extract from the 1802 shows the position of Richard and Frances Kerrison's home at the southern end of Long Street. To the north of the property (northern point being the top of the map), is the old track known as Shruggs Lane which crosses Long Street. The map also shows (to the east) the 'Church Path' footway (which was discontinued at the time of the Inclosures) running parallel with Long Street. This footway also crosses Shruggs Lane.
Between the Kerrison's house and the road (Long Street), is the 'Allotment upon Hyrne Common' measuring 1A 2R 24P. Behind the house is the Homestall 2A 0R 24P. The other pieces of land listed in the Particulars & Valuation are also nearby.
Richard and Frances Kerrison
The reference to the property being owned by Frances Kerrison, suggests that the property may have once been owned by Frances Kerrison's family. It is also worth remembering that in those days, once married, a woman's property was controlled by her husband.
Marriage
Richard Kerrison married Frances Beales in the Parish Church of St Peter & St Paul, Griston on the 25th December, 1768. I believe both Richard and Frances were baptised in the same church – Richard, the son of Richard and Mary Kerrison, on the 26th May, 1735, and Frances, the daughter of Edmund and Mary Beales, on the 20th September, 1741.
Children
The couple had at least four children baptised in the same church: Thomas on the 9th September, 1770, Elizabeth on the 28th August, 1772, Anne on 1st October, 1775 and Mary on the 29th April, 1778.
Richard and Frances Kerrison moved to Great Ellingham before 1780. The couple had at least four further children baptised in the Church of St James, Great Ellingham: Emma on the 11th June, 1780, Richard on the 15th September, 1782, and Edmund and Frances in March, 1788. Sadly, Richard and Frances buried their 17 year old daughter Anne in Great Ellingham on November 29th, 1792.
Death of Frances
Frances Kerrison died at the age of 73 at the end of July, 1814. She was buried in the churchyard in Great Ellingham on the 1st August.
Death of Richard
Following his wife's death, Richard Kerrison moved to Hingham, where he died at the age of 90 in January, 1825. His body was brought from Hingham for burial in the churchyard of St James, Great Ellingham.
What happened to the Kerrison's house and land following the death of both Frances and Richard Kerrison? Did Richard Kerrison dispose of the Great Ellingham property and land before his death?
Richard Kerrison's Will
Richard Kerrison, a yeoman, of Hingham, signed his last Will & Testament on the 23rd October, 1822.
Amy or Emma?
He appointed his then unmarried daughter, Amy Kerrison, his sole executrix. Amy also lived in Hingham at that time.
I believe that Amy Kerrison referred to in Richard Kerrison's Will and Richard and Frances Kerrison's daughter Emma (who was baptised in Great Ellingham on the 11th June, 1780), are one and the same person. This is not the first time that I have encountered the use of the name Amy for Emma!
Property, Mortgages & Legacies
Amy Kerrison inherited all of her father's messuages, lands, tenements and hereditaments in Great Ellingham (or any place adjacent or nearby). However, this legacy was subject to:
a mortgage for £110 plus interest which her father owed to Mary Lock (née Peck). Her husband was James Lock, a farmer, of Shelton.
a mortgage for £100 plus interest which her father owed to Richard Rallison, a linen draper, of Norwich.
In addition, Amy was directed to pay:
£60 to her brother, Edmund Bales (Beales) Kerrison or, in the case of his death, to his wife Elizabeth.
£80 to her sister Mary, the wife of Charles Clarke, a dauber, of Great Ellingham. However, in the event that Mary had died, Amy to pay the £80 to Charles Clarke.
These sums were charged against the property bequeathed to Amy. Richard Kerrison provided in his Will that should Amy default on the payments to Edmund or Mary, then they (Edmund and Mary) each have a right of entry into the property to recover any rents and profits.
Further Legacies
Richard Kerrison also bequeathed the following, which were not charged on his house and land:
£20 to his son Edmund Bales (Beales) Kerrison. Again in the event that Edmund had died, the £20 would be paid to his wife
£80 to Richard Barnes, a farmer, of Hingham or, in the event of his death, to Frances his wife. (Richard Barnes was Richard Kerrison's son in law. He married Richard and Frances's daughter Frances). This £80 represented a sum owed to Richard Kerrison by his son Edmund Bales Kerrison and his son-in-law Richard Barnes. This legacy was on condition that Edmund Kerrison and Richard Barnes pay interest on the £80 debt to Richard Kerrison's estate up to the date of Richard Kerrison's death.
Richard's daughter Frances Barnes received 'the Bedstead upon which I usually sleep and the Hangings, Feather Bed, Bolster, Pillows, Blankets, Sheets and Counterpane thereto belonging"
His daughter Mary Clarke received "my Wainscot Bureau and Drawers and everything therein contained (except a Book entitled 'the Life of Christ') and also the Great Chair in which I usually sit"
Remainder of Goods, Chattels & Personal Effects
The remainder of all Richard Kerrison's goods, chattels and personal effects (including the Book entitled 'the Life of Christ') passed to Amy Kerrison. This was subject to Amy settling all her father's debts and funeral expenses as well as the charges in connection with proving the Will.
Gift in Full Satisfaction and Discharge
Richard Kerrison intended that the gift of all his property (and the residue of his estate) to his daugher Amy to be in full satisfaction and discharge 'of all contracts made by me for the sale and conveyance of the said Estate to her or otherwise."
Further Questions
My research for the blogs usually throws up more questions than are resolved. This blog is no exception.
During his lifetime, did Richard Kerrison promise his property and land in Great Ellingham to his daughter Amy? Was she expecting her father to provide for her future? Was there some other reason why Richard Kerrison chose to leave his property and land to his daughter Amy and not to his other children? Were any other children of Richard and Frances Kerrison (not mentioned in the Will) still living at the time of their father's death? If so, why were they excluded from Richard Kerrison's Will?
Even though Richard Kerrison was living in Hingham at the time of his death, it is clear from the Will that Richard Kerrison only owned property in Great Ellingham.
Did Amy Kerrison inherit the house and land in Long Street, Great Ellingham, which her parents, Richard and Frances Kerrison, occupied from at least 1780 until Frances's death in 1814? Did she discharge the legacies to Edmund and Mary which were charged against the property?
Was Richard Kerrison's book 'the Life of Christ' (which evidently meant much to him) handed down through the generations?
What I do know is that by 1817, Richard and Frances Kerrison's house and land was occupied by their son, Edmund Beales Kerrison.
By the 1830s, not only did Edmund Beales Kerrison occupy the property but he very likely owned it. Nevertheless, it is also likely that Richard Pitcher later purchased the property. Amy Kerrison, the spinster daughter of Richard Kerrison, married widower Richard Pitcher in Griston in 1829.
Sources:
1802 Russell James Colman Plans. Great Ellingham. Norfolk Record Office. Catalogue Ref. C/Ca 1/84.
1799-1842 F W Horner, Records of the Surveyors to Commissioners for Inclosure in Parishes in Norfolk and Suffolk. Great Ellingham (Act 1799). Norfolk Record Office. Catalogue Ref: NRO, BR 90/2
1800 Inclosure Commissioner's Particulars and Valuation, Great Ellingham. Norfolk Record Office. Catalogue Ref: NRO, MC 2213/119
1799 Statement of Claims. Great Ellingham Inclosure. Norfolk Record Office. Catalogue Ref: MC 2213/118
Great Ellingham Parish Registers. Norfolk Record Office. PD609. Also available at https://www.familysearch.org and https://www.ancestry.co.uk
Griston Parish Registers. Norfolk Record Office PD 159. Also available via FreeReg website. Griston: St Peter & St Paul: Archdeacon's Transcript https://www.freereg.org.uk
Kerrison, Richard, of Hingham. Norfolk Record Office. ANF will register 1824-1825 (1825) fo.130 no.65 Viewed via http://www.norfolksources.norfolk.gov.uk