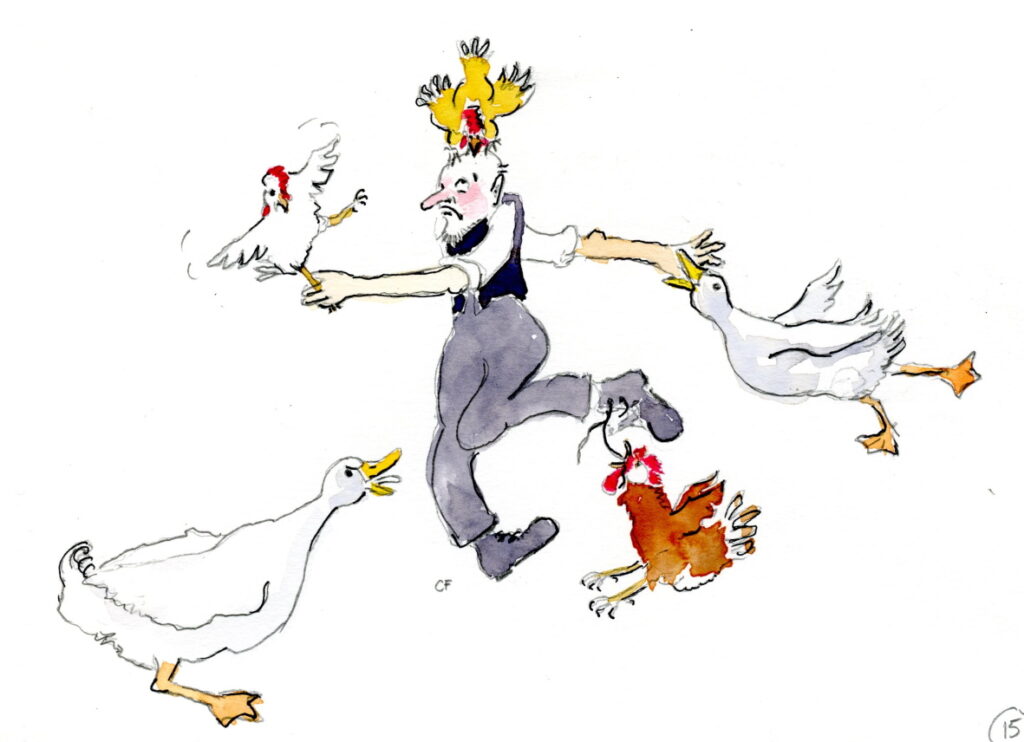 Illustration by Christine Fuller
County Court Hearing
The Norwich Mercury of August 18th, 1887 reported on a recent matter before the Watton County Court.
Robert Bowden of Great Ellingham, a farmer, had previously obtained a judgment against Samuel Harvey, a dealer, of Stow Bedon.
Harvey, represented by a Mr Feltham, made an application to the Court for an Administration Order of his estate for debts amounting to £32 2s 10d. Such an Order would enable him (Samuel Harvey) to pay only what he could afford each month.
On behalf of his client Mr Feltham put forward a proposal of 5s in the £ to be paid by Samuel Harvey in monthly instalments of 5s.
A Frederick Riches had previously obtained a judgment against Harvey for £3 9s. When enquiring about his judgment, Riches was told by the Judge that his debt would come under the Administration Order in the same way as any other debt. Frederick Riches was disgruntled. He told the Judge that he thought Samuel Harvey was able to pay more.
In response, Samuel Harvey told the Court that he had had bad luck. He had been a fowl dealer but was now a fowl killer. He was paid 6d a dozen for killing and plucking ducks and chickens, and his average earnings were from 12s to 15s. He had a wife and family to support.
Frederick Riches pointed out that there would be regular work available to Samuel Harvey between now (August) and Christmas for which he could earn a lot of money. The Judge commented to Riches "You want to pluck him too" to which, it was reported, there was laughter around the Court. Riches was said to reply "I simply want my just debts".
The Judge made an order for 10s in the £ to be paid by Samuel Harvey in 5s monthly instalments.
Who were the Parties in the matter?
The 1881 census finds a 61 year old farmer Robert Bowden living with his 63 year old wife Rebecca (neé Rider) in Bow Street, Great Ellingham. With the couple is their 12 year old grandson William Woods. Whilst Robert Bowden and his grandson were born in Little Ellingham, his wife Rebecca was born in Great Ellingham. The couple were still living in Bow Street in 1891.
The 1891 census captures 28 year old Hockham born Samuel Harvey with his wife Elizabeth and children 6 year old Arthur, 4 year old Florence and Lucy aged 2 in Mere Road, Stow Bedon. Referred to as a dealer at a shop, the census states that Samuel is neither an employer nor employed.
A household headed by 43 year old Frederick Riches is living in Watton Road, Hockham in 1891. Described as a tailor and outfitter, Frederick Riches is living with his wife Elizabeth, 17 year old son Leonard (who is assisting his father) and eleven year old daughter Rachael.
Sources:
Supplement to the Norwich Mercury August 18th, 1887
1891 census RG12/1550/63, RG12/1549/73, RG12/1550/8
1881 census RG11/1974/85
Little Ellingham Parish Registers. Norfolk Record Office PD/568. Transcription of Banns. Norfolk Family History Society. https://www.norfolkfhs.org.uk/. Accessed 29.03.2020