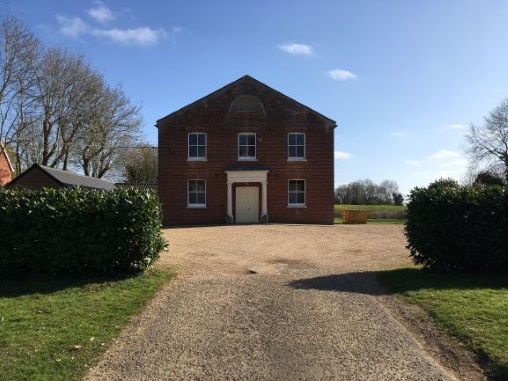 Great Ellingham Baptist Church. Photograph taken July 2019
Baptist Minister Frederick Harvey delivered his farewell sermon at the Baptist Church in Great Ellingham, in the afternoon (and again in the evening) of Sunday 4th September, 1892.
The Eastern Daily Press reported of the 'forthcoming farewell sermons' in their edition of Thursday 1st September, 1892. The Reverend Harvey was leaving Great Ellingham for ministerial work in Canada a week later. Before that, he would attend a public farewell meeting on the Monday evening, when addresses would be given by neighbouring Ministers.
The Reverend Harvey had taken up his post as Baptist Minister in Great Ellingham in 1883. Two years earlier, the 1881 census finds Ipswich born Frederick Harvey with his wife Mary Ann A and six year old son, Archibald L, at the Chapel House, Neatishead. 32 year old Frederick was already a Baptist Minister. He and Mary had married during 1872.
Now aged 42, the 1891 census captures Frederick and Mary Harvey with sons, 6 year old Athelstone and seven month old Clifford, at 11 Long Street, Great Ellingham (I assume at the Manse).
Some eighteen months later, the family were saying their 'goodbyes' to Great Ellingham, and, no doubt, looking forward to their new life in Canada.
In the 'village news' for Great Ellingham appearing in the Eastern Daily Press on the 12th January 1893, reference was made to the appointment of the Reverend F Harvey 'formerly of this parish' and his acceptance of 'a unanimous call to the pastorate of the Baptist Churches at Arkona and Thedford, Ontario, Canada.'
Find a Grave website confirms that the Reverend Frederick Harvey, formerly of Great Ellingham, died on the 27th October, 1936 at the age of 88 in Ballston Spa, Saratoga County, New York, USA. He is buried in Ballston Spa Village cemetery. This website also provides further information about the Harvey family.
Sources:
Bugden, David. The story of 300 years of the Baptist Church at Great Ellingham. Great Ellingham Reformed Baptist Church
Find a Grave website. https://www.findagrave.com/memorial/71109294 Accessed 10th August 2020
GRO Index. FreeBMD website. https://www.freebmd.org.uk/cgi/information.pl?cite=ZCaTLhrQogCJP7Xo8G6BUw&scan=1 Accessed 10th August 2020
1881 census RG11/1919/61
1891 census RG12/1549/78
Eastern Daily Press 12th January 1893 and 1st September 1892. Accessed via localrecall.co.uk 10th August 2020