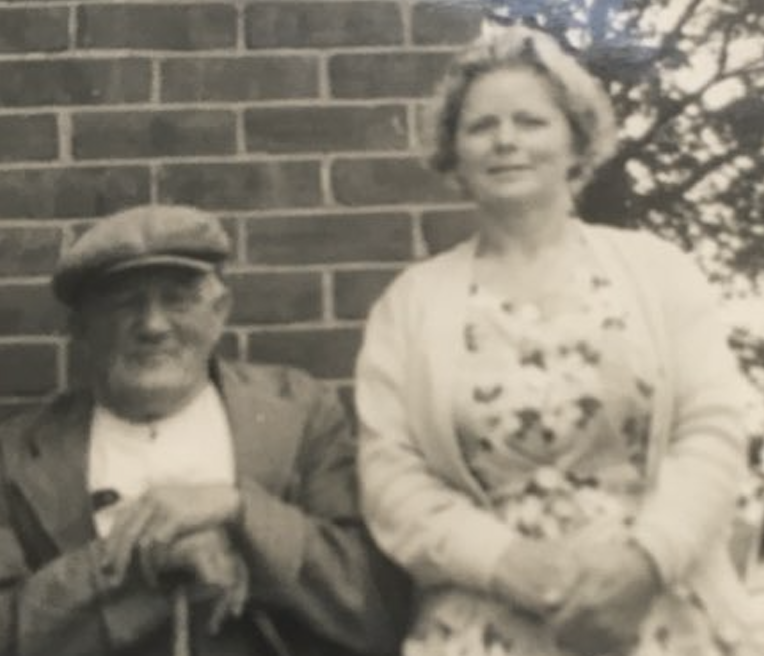 Falcon & Monsie Bilham. Courtesy Sue Gent
Born in Long Street
Falcon Harry Bilham was the only son of John William Bilham and his wife Kathleen (Kate). He was born in Great Ellingham (almost certainly in Long Street), on the 19th September, 1913. Falcon had an elder sister Alma and a younger sister Joy (Joyce).
Lee, Hoy or Bilham?
Falcon was baptised in the Church of St James, Great Ellingham on the 15th October, 1915. The baptism register records his name as 'Falcon Lee'. However, his parents registered his birth as Falcon H Bilham. Both Falcon's sisters were registered with the surname Bilham.
Looking back at the various census returns for John Bilham's paternal family, his father (also John) frequently used the surnames Lee, Hoy and Bilham. At the time of the 1911 census, both John William Bilham and his parents, John and Jane, are using the surname Lee.
Alias Surnames
It is not unusual to come across the use of alias surnames in family history.
The adoption of a particular surname could be an indication of an illegitimate birth further back in the family history. However, there can be other reasons. Sometimes a particular surname was used (or legally adopted) to keep the surname 'alive' and/or perhaps, to take an inheritance. It was also common for young children brought up by their mother and a step-father, to assume the step-father's surname.
1921 census
The 1921 census captures Falcon Bilham aged 7 years 9 months with his parents, John William Bilham and Kathleen Bilham (both aged 35) along with his sisters Alma aged 10 years and 3 months, and Joy aged one year 10 months. The Bilham family are living in Long Street – I suspect at 'Homeleigh'. John W Bilham is working as an agricultural labourer in Great Ellingham for William Dove.
1939 Register
The 1939 Register (for England & Wales) lists John and Kathleen Bilham with Falcon and Joy in Long Street. Again, I suspect that the family is at 'Homeleigh'. John Bilham is working as a news-vendor. At 16, Falcon is working as a team-man on a farm.
1942
However, the 1942 Great Ellingham Invasion Committee Records lists the family with the name Lee. It may be that the person compiling the record (local man William R Lebbell), chose to record the family as Lee. Falcon is listed as a Home Guard with his father, John Lee, part of the village's Fire Service. Falcon's mother and his two sisters – Alma now married and listed as Mrs A Tennant, have general utility duties. In addition to these duties, Joy Lee is part of the casualty service. The Lee family also has evacuated children with them.
Marriage
In 1944, Falcon H Bilham marries Monsie Nobes.
Monsie
In Monsie, we have another example of 'assumed' names.
The 1939 Register (capturing the details of every civilian in England & Wales at 29th September, 1939), lists Monsie as 'Mons A Nobes' with her parents, William J and Amy E Nobes, and sister Sylvia M at 3 Cherry Row, Attleborough.
Born on the 22nd February, 1915, Monsie was one of 8 known children of her parents. Her father worked as a carpenter at the Cyder Works – presumably at the Gaymer's Factory in Station Road. Sylvia and Monsie worked at a local brush factory.
Monsie's birth was registered in the name of 'Amy S Nobes'. The name she used to register her marriage to Falcon Bilham was 'Mons A S Nobes'.
Bilham's Bungalow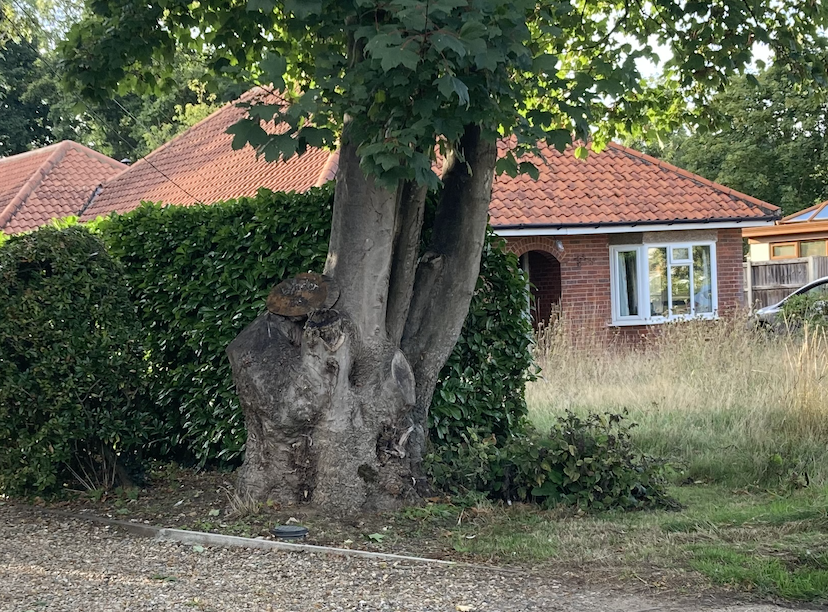 The Bungalow in Long Street. The former home of Falcon & Monsie Bilham. Photograph taken September 2022
It was either in anticipation of their marriage, or shortly afterwards, that Falcon's father purchased a piece of land from the owner of 'Roselands' in Long Street. This piece of land abutted the southern boundary of the Bilham's home 'Homeleigh'. The Bilhams had a bungalow built on this land and this is where Falcon and Monsie Bilham lived.
Death of Kathleen and John Bilham
Falcon's mother Kathleen (as Kathleen Bilham) died aged 67 in June 1950.
His father, John William Bilham – alias Lee alias Hoy, died in 1964. His death was registered in the name of John W Lee. Interestingly, the deaths of John William's parents, John and Jane, were registered in the name Hoy!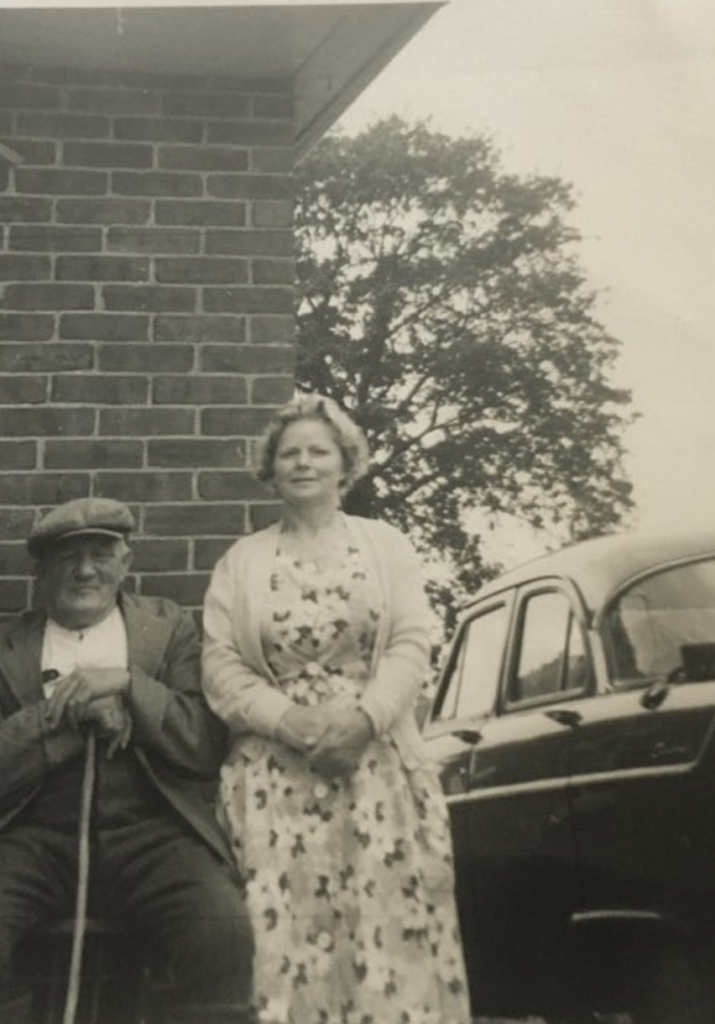 Falcon & Monsie Bilham. Courtesy Sue Gent
Death of Falcon & Monsie Bilham
Falcon Bilham of The Bungalow, Long Street, Great Ellingham died on the 2nd October, 1983.
Monsie died in 1999. Her death was registered as 'Mons Amy S Bilham'.

Sources:
1921 census RG15. Registration District 231. Great Ellingham Sch 90. Viewed via www.findmypast.co.uk
1939 Register England & Wales. The National Archives; Kew, London, England; 1939 Register; Reference: Rg 101/6590h. Ancestry.com. 1939 England and Wales Register [database on-line]. Lehi, UT, USA: Ancestry.com Operations, Inc., 2018.
Great Ellingham Parish Registers. PD 609. Norfolk Record Office.
1911 census RG14/11473/34
1901 census RG13/1867/72
GRO Index. https://www.gro.gov.uk/gro/content/certificates/Login.asp. Also via FreeBMDwebsite
1942 Great Ellingham Invasion Committee Record. Sue Fay
Private Collection Deeds. Many thanks to Drs D & J Richards